Visited porn sites? You are infected! (Top most dangerous sites)
Porn sites' popularity is booming – so is malware's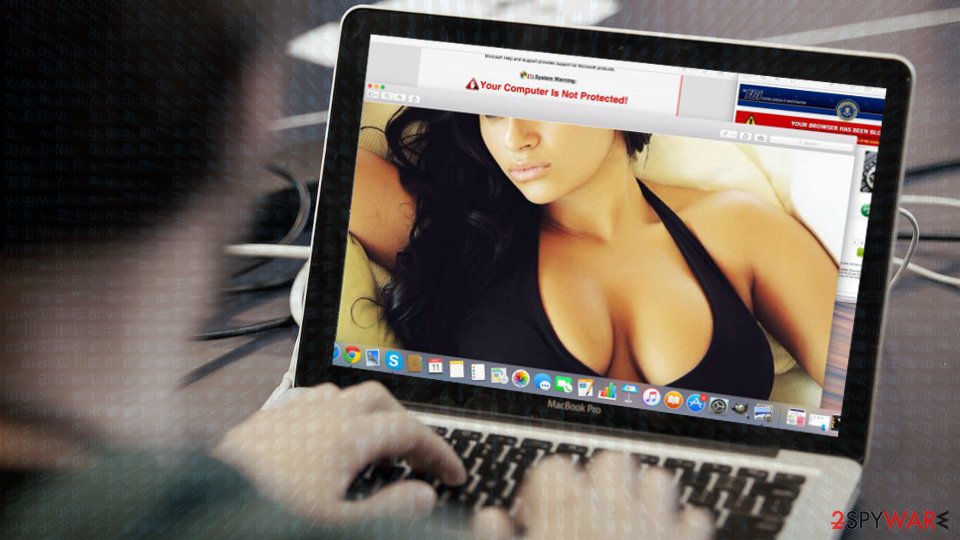 Sex sells, and online porn business has been booming since the early days of the internet. In 2019, numbers are just growing higher, with more porn sites being created, more videos uploaded, and more visitors acquired. According to Pornhub (one of the most successful porn sites worldwide that happens to be 8th most visited site[1] in the world) 2018 statistics report, the domain received a whopping 33.5 billion visitors throughout the year.[2]
There's no doubt that cybercriminals are aware of these statistics and creating new ways to reach people who are looking for visual stimulation and do not use precautionary measures to protect their computer from infections.[3] Nevertheless, cybercrimes are not exclusive to porn – it's the demand that crooks care about.
While porn sites do not really want users to get infected with malicious software (despite the popular belief), they do seek to gain the juicy ad revenue. That is simply how adult-oriented sites are funded, mostly. However, security experts and virus researchers sent out multiple warnings that almost every super-popular porn site can expose users to malware. Additionally, low-scale sites can be loaded with malicious content on purpose.
In fact, there is an enormous possibility to get infected[4] while watching videos or looking through photos of naked women or men on pornographic domains, and it does not matter which platform is being used – Windows, Android,[5] Mac, or iOS. 
Fuq.Com virus is one great example that can flood users' browsers with disturbing advertisements and take over a browser immediately. However, it's not the worst scenario. Viruses that hide in XXX domains are capable of stealing personal information,[6] encrypting files[7] and making their victims share their money with hackers. In other words, one minor threat can lead you to huge problems. 
Dangers that might hide in the popular adult websites
Still thinking that you are too wise to get infected while on an adult site? Above is a list of the most popular sites that have recently been used for spreading malware. We can guess that some of these URLs will be familiar to you.
Hamster. Is this your favorite site? Beware that just several weeks ago this adult-oriented site was caught spreading ransomware via Sex Messenger ads. Those, who were tricked into clicking these ads, were fooled into downloading a serious cyber threat on their computers.

Before it infects the system, ransomware tries to make sure itself that the potential victim is a human. After getting the approval that it is dealing with a right person, a virus blocks the affected PC system and causes a malicious warning filled with invented accusations of illegal activity (distribution of malware, the use of illegal content, etc.). Affected users could also see a requirement to pay a fine, which was said to be the only way to unblock computer.

PornHub and YouPorn. Like visiting PornHub or YouPorn? Make sure to stay away from their banners the next time you are visiting any of these websites. Site developers have removed the malicious code called cookiecheck.js from both of these sites. It is known that the code was used for distributing malware, such as Trojans and ransomware.

Some part of PornHub visitors claim that their PCs were affected by a Trojan horse, others say that they were locked by ransomware. Sincerely, there is no much difference between these two threats because they both are seriously dangerous, and you can lose your money or your personal information (which can also lead you to the money loss as well) when having them on your computer.

Redtube. Have you been opting for RedTube instead of Red Light District? Beware that the homepage of this website was recently infected by hackers, so visiting it can lead you to malicious websites used for spreading Trojan horses, spyware programs, keyloggers and other viruses.

Beware that these threats can hide in your computer as long as they manage to collect a required amount of data. They can additionally transfer this information (your logins, passwords, banking data and so on) to their owners or can even give them remote access to your computer. At the moment of writing, RedTube looks safe.

xvideos. Watching sexy videos is your favorite way to entertain yourself? Be careful with xvideos domain, which was infecting its visitors with ransomware. According to them, they were tricked into downloading this threat to their computers after clicking on a misleading advertisement promoting a sexy chat called Sex Messenger. In fact, that is the same messenger, which was noticed on Hamster as well.
Sextortion – a new trend among cybercriminals used for blackmailing
During 2018, security researchers and even the FBI received thousands of reports of users receiving sextortion emails. Phishing emails that are most likely sent by organized crime groups claim that the recipient's computer is infected with malware and have been filmed while watching porn online.
The message proceeds with explaining, that the compromising material is held on a remote server, and can be sent to friends and family at any time. Thus, by abusing people's feeling of guilt and shame, criminals ask for as much as $7,000 in Bitcoin, in order to keep the videos and photos a secret.
The scam wave started in the middle of summer 2018 and proceeded throughout the year. According to the FBI, they received over 13,000 reports between July 1st and August first.[8] However, these statistics are most likely far from the real number of attacks, because most of such incidents end up unreported.
Cybercriminals play on human emotions and feeling of shame to make victims give in to the scam. Additionally, emails seem more convincing due to crooks using real passwords of users in their messages. However, there is a trick as well. The passwords (usually outdated) are harvested from all the data breaches that affect multiple websites and bought from Dark Web.
Thus, as soon as users see their password in the subject line, they believe the criminal and are more likely to pay the ransom. As evident, it is all a scam, and the computer is not infected with malware or compromised in any other way. However, victims should report these incidents to the authorities and changed their passwords on all their accounts immediately.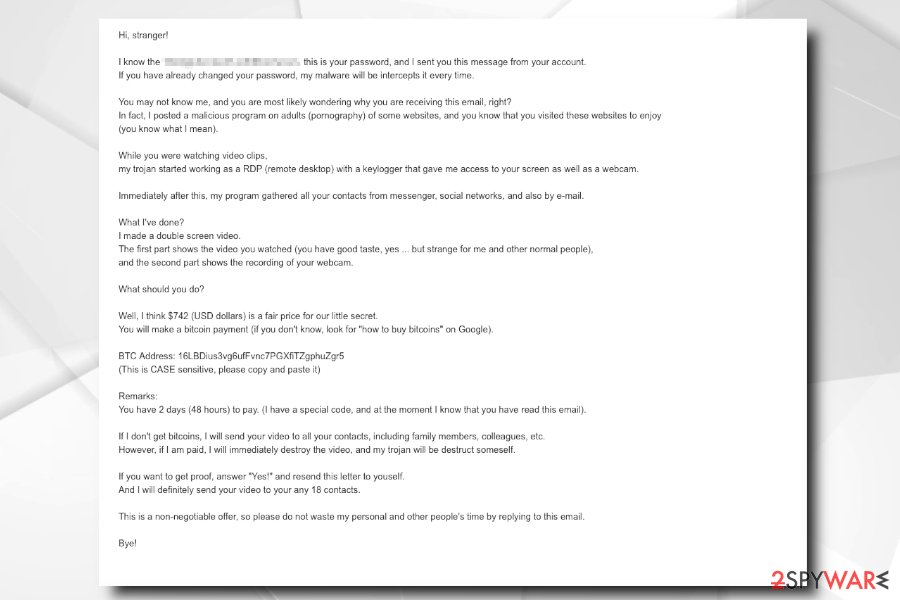 What to do after an unfortunate visit to the pornographic website
Fortunately, each of these sites is already fixed, and you can visit them if you want to. However, you can never be sure when new cyber threats will be injected into previously mentioned or new adult-themed sites. For this reason, would like to give you one simple advice at the end of this post.
If your computer was infected right after visiting a porn site, instead of going to computer technicians for help, try scanning your machine with the reliable anti-spyware. Believe us, everyone is smart enough to understand what activities you were up to when you got infected with your virus.
About the author
References
Read in other languages