A virus is a malicious computer program that spreads around by infecting files, installing related components or removing specific media files. This program usually carries a destructive payload, which is selected by its author depending on his or hers intentions. A typical virus infects the system, corrupts or deletes its files and folders, download other dangerous parasites to it, collects information about user's activity on the Internet or discloses sensitive information. If the system is infected by an extremely dangerous virus, it can also wipe out or encrypt the entire data, which is stored on the hard disk. The most dangerous viruses seek to damage the entire PC system or just some parts of it.
Typically, viruses are divided into three main categories:
1. Parasites that are designed to distribute other viruses or corrupt legitimate system files. Examples:
2. Threats that are capable of initiating dangerous activity in the system. They can cause misleading alerts, fake system scanners, warning messages the lock the entire PC system and other actions. Examples:
3. Other viruses. This category includes:
Some viruses do not belong to any of these categories, as they combine more than one feature and function. Such threats, sometimes even called as hybrid viruses, can be used for showing misleading warnings, encrypting users' files, distribution of other viruses and additional activity, which is considered malicious. It is very hard to find and remove these parasites from the system, as they usually consist of components that automatically reinstall each other after removal. Also, many viruses have extra features, which allow them to hide from antivirus software. Such threats can monitor the activity of the antivirus software and intercept its requests. When the antivirus program tries to check an infected file, the virus immediately passes the original, clean variant of that file and prevents its detection in this way. 
What activities can be caused by a virus?
When a malicious program infiltrates the system, it initiates such activities:
Infects, overwrites or deletes files. It can harm your personal documents, essential system components and useful applications. Also, some viruses can destroy the entire system by erasing all critical files and folders from it.
Inserts a malicious code into the master boot record (MBR) of a hard disk to run a destructive payload before the operating system gets loaded.
Adds harmful components to reputable programs or modifies their settings to infect documents opened or created with these programs.
Severely damages a computer by changing essential hardware settings, clearing the CMOS memory or corrupting the BIOS. This may lead you to critical data loss and the malfunction of a computer system. 
Creates thousands of random files and folders that can consume lots of system resources.
Displays numerous fake messages, changes various system settings, causes redirects and performs other annoying actions to complicate the regular tasks of the user.
Infects the system with trojans, backdoors, keyloggers and other dangerous parasites.
Uses a compromised system to spread other malware.
Steals or encrypts sensitive personal information, valuable documents, passwords, login names, identity details or user contacts.
Avoids the removal by modifying itself, encrypting infected files, intercepting requests from antivirus software and altering normal system behavior.
Causes slow downs, decreases system's security and causes software instability.
Ways that are used by virus creators for spreading their threats:
Viruses infect a computer without user knowledge and consent. There are six major ways these unsolicited parasites can get into the system.
Viruses infect particular documents, executables and other files from trusted sources. Once a victim opens such document or executes it, a virus quietly installs itself to the system.
There are lots of viruses that are distributed as e-mail attachments. They can also arrive in instant messages or can come embedded into letters. These viruses have unsuspicious names and, therefore, can trick a user into opening or executing them. Once the user opens such message or file, the virus silently infects a computer.
Some part of viruses are distributed via removable drives that get automatically executed right after the user inserts the disk.
Pirated software and counterfeit computer games are often filled with various viruses. Once the user starts the installation of such game or a program, the parasite silently infects the system.
Viruses can also get into the computer with the help of other pests, such as trojans, worms or backdoors. They get into the system without user's approval and consent.
What are the most popular viruses on the web?
There are thousands of different viruses. The following examples illustrate how treacherous and extremely dangerous viruses can be.
Trojan.LockScreen, also known as Trojan LockScreen, is a virus designed to spread serious viruses categorized as ransomware. Once such Trojan horse infects the system, it drops predetermined executable files and other components that are needed for the normal functionality of related virus. Mostly, Trojan.LockScreen spreads around with the help of misleading e-mail messages and infected attachments. However, you can also get infected with such cyber infection after clicking on a misleading pop-up ad offering you to update your programs or install "required" software. The virus which spreads with the help of Trojan.LockScreen can lead the victim to huge problems because it is capable of encrypting all files that are kept on it.
Cryptowall is a virus, which belongs to ransomware category. This parasite is capable of modifying essential system settings and then blocking the entire PC. Also, it can cause fake warnings and encryption of each of your files. To give its victims an ability to decrypt their encrypted files, it asks to pay a ransom. Otherwise, it damages the decryption key and leads its victim to the loss of each of his/hers files. Such virus can be removed from the system with the help of reputable anti-spyware, but this activity does not help to unlock blocked files.
Mystartsearch is considered a browser hijacker and a potentially unwanted program. It can infiltrate the computer without people's knowledge because it spreads around as an optional component of other programs. This virus is not an aggressive one. However, it can be very annoying when inside the computer. It can cause a serious mess on your machine because it can show you altered search results that can be filled with commercial content, such as ads leading people to predetermined websites and banners. Also, it can collect non-personally identifiable information and transfer this data to related parties. If you want to get reliable search results, you should stay away from MyStartsearch.com.
Koobface is a seriously dangerous virus used for stealing personal information. It has been spread with the help of social networks, such as Facebook, Twitter and Yahoo Messenger. Once it infiltrates the system, Koobface takes over cookies and uses them for tracking the victim. It can also be used for infecting computer with additional malware. The user cannot remove this threat manually, and it can't notice anything suspicious that could tell him/her that computer is infected. 
How to remove a virus from my computer?
Viruses can be found and removed from the system with the help of various methods. Some of them are not considered aggressive, so you can try to remove them with the help of manual removal method. However, if you want to be sure that each of components that belong to your cyber threat is gone, you need to install a reliable anti-spyware. We highly recommend using these programs that are capable of eliminating every virus from the affected PC system: Reimage, Malwarebytes MalwarebytesCombo Cleaner, Plumbytes Anti-MalwareMalwarebytes Malwarebytes. Beware that sometimes even the most reputable anti-spyware may fail to help you in the removal of your virus. because hackers keep updating their threats. The developers of anti-spyware may fail to notice these changes on time, so their anti-spyware may fail to find each of infected files. If you are dealing with such issue right now, it's not a problem. In this case, you should add your question to Ask us page and we will help you to remove your virus for free.
Latest viruses added to the database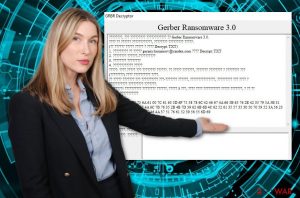 Gerber Ransomware 3.0 – a new variant of Gerber Ransomware 1.0 Gerber Ransomware 3.0 is a file locking cyber threat that is related to Gerber Ransomware 1.0.
More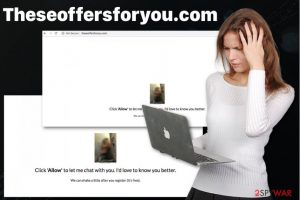 Theseoffersforyou.com is a push notification virus that asks users to click "Allow" in order to chat inject malicious pop-ups into browsers.
More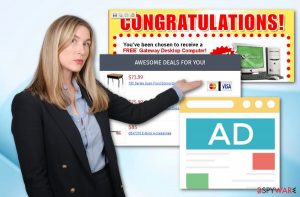 Ads by Aura – an adware program which can be brought to the PC by shareware or freeware.
More
Information updated: 2017-05-11