Yahoo Anti Spy review, free download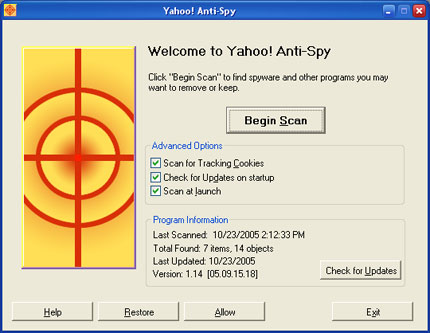 Yahoo! Anti-Spy is a spyware detection and removal tool integrated into popular Yahoo! Toolbar for Internet Explorer and Firefox web browsers. The program is based on the same spyware definition database used in reputable eTrust PestPatrol anti-spyware. However, Yahoo! Anti-Spy is a fully legitimate application and cannot be called a clone. Its vendor Yahoo! is a PestPatrol official partner.
The program examines the Windows registry, running processes, cookies, files and folders. The user is not allowed to perform configurable scans. Yahoo! Anti-Spy checks only common parasite locations for known threats. This is why full system scan performed on our test computers did not take more than one minute. The program doesn't thoroughly examine content of each file and relies only on its spyware definitions database, which is updated on a regular basis. Such detection technique has a lot of disadvantages and may be quite ineffective against the most recent pests. However, such issues are quite rare, because PestPatrol spyware database is one of the most largest and currently contains signatures of approximately 30,000 different security and privacy risks.
Yahoo! Anti-Spy is an integrated component of the web browser's toolbar and therefore does not provide any additional functions and tools.
The program's interface is very simplistic, but yet easy-to-use. However, it may be quite inconvenient for advanced users who would definitely need more power configuring and controlling the spyware remover.
Yahoo! Anti-Spy is a free tool. It can be downloaded by any user of Yahoo! Toolbar.
The official web site is toolbar.yahoo.com.
About the author