How to remove a browser hijacker
Browser hijacker is a potentially unwanted program, usually a web browser add-on or plugin, which causes modifications in web browser's settings. Such programs start their activity from changing the start page, the default search engine, and the new tab page. As soon as browser hijacker finishes these alterations, it gets the ability to redirect people to predetermined websites that are trying to increase their popularity. By promoting required websites and helping them improve their visitor traffic, the developers of browser hijackers earn the money. Unfortunately, but there is no guarantee that all of such websites are legitimate and harmless.
Almost of each of browser hijackers is capable of collecting information about people's browsing habits. Such programs can know what search terms you use, what sites you visit the most, what files you upload, what information you enter and similar data, which is considered non-personally identifiable information (Non-PII). However, fraudulent versions of browser hijackers can try to collect personally identifiable information and reveal it to unrelated parties. It can be said that all programs categorized as hijackers are released for commercial reasons. If you want to protect your privacy and improve your PC's security, you should remove browser hijacker type program from the system.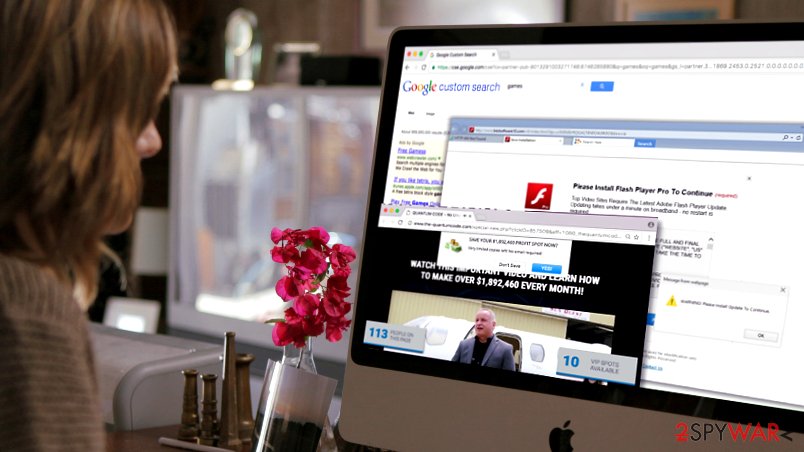 Effect on the system and computer's performance
Once the browser hijacker enters its target PC system, it typically causes these activities:
Modifications on each of web browsers. When infected with the browser hijacker, you can expect to discover an unknown home page, the default search engine, and the new tab page. Besides, browser hijackers can also add or remove entries in your bookmark list and fill it with unknown or even unwanted bookmarks. It initiates these system changes without users' approval.
Redirects to unknown domains. Browser hijackers are mostly used for redirecting people to predetermined websites and promoting them in this way. This effect is achieved by showing altered search results and sometimes even blocking reputable websites. Beware that there is no guarantee that each of such websites is harmless, so redirects can seriously decrease your computer's security.
Collection of personally non-identifiable information. Similarly to adware-type programs, browser hijackers can try to record information, which is related to people's activity on the web. According to the developers of such programs, they mostly collect data about people's activity on the web, like visited websites, information that is added there, computer's IP address, its location, browser's type, etc. However, fraudulent people may use such software for collecting login data, contact information, and other confidential details.
Preventing the removal from the system. Typically, browser hijackers provide no uninstall option for preventing their removal. They can also rely on browser helper objects that may cause their reappearance on your browser after rebooting the affected PC system.
Causing problems related to system's stability and performance. The most of browser hijackers slow down the web browser and computer's performance because some of them are poorly developed. When infected with such version of browser hijacker, you can also notice instability issues, errors and overall performance problems on your computer.
Browser hijacker distribution methods
Four major ways have been exploited in the distribution of browser hijacker:
Freeware, shareware or ad-supported programs. Beware that there are lots of different download managers, video streaming programs, video recording programs and similar free programs that have been bundled with suspicious browser add-ons or toolbars. Even reliable products can be set to trick people into changing their default browser's settings.
Misleading official websites. You can be convinced to download a misleading program, which is considered browser hijacker, manually. Please, double check search engines, toolbars, browser add-ons and extensions before installing them on your computer. You can always google their name and see what other people think about them.
Adware-type programs. These potentially unwanted programs have also been used for spreading browser hijackers as optional components. First of all, we do not recommend downloading adware to the system. Also, if you think that intrusive ads are not a bad thing, you should monitor installation of such software because you can easily install the browser hijacker on your PC.
Fake pop-up ads. Some part of browser hijackers have been spreading around with the help of fake ads that report about missing updates. If a pop-up notification is claiming that your Java, Flash Player or FLV Player is out of date, you should ignore it because there might be that it is used just for distributing the unsafe program. Once the victim clicks such pop-up ad, harmful script installs a browser hijacker or similar PUP.
The most typical browser hijackers
delta-homes.com: Thousands of people have been affected by this malicious browser hijacker. It has been actively spread in a bundle with both, legitimate and malicious programs, so there is no surprise that there are so many users who have discovered it on their computers without approving its installation. The latest versions of Delta Homes virus can be removed only with the help of updated anti-spyware.
mystartsearch.com: Another clear example of browser hijacker. No matter how attractive it looks, ads that are displayed thru it can be dangerous. Mystartsearch can be removed either manually or automatically, but 2spyware researchers recommend using the second removal option. Otherwise, you cannot be sure that all additional components, including browser helper objects, are removed from your computer.
dregol.com: You should be careful with this search engine because it can hijack each of your web browsers without your authorization. After doing so, it may start tracking you behind your back and may collect information about you. You can never guess what kind of data is collected with the help of this program and what parties are capable of using it for their needs.
What to do if you think that your computer is infected
You can remove browser hijacker with the help of automatic removal and manual removal methods. Here is more about both of them:
Automatic removal: The easiest way to prevent infiltration of a browser hijacker is to install a reputable anti-spyware. The same can be said about the removal of such potentially unwanted software. You should think about the manual removal of browser hijacker only if you are a tech savvy person and an experienced PC user. Such programs are typically spread in a bundle with different components that can hardly be found in typical locations, like Task Manager.
Manual removal: 2spyware team is always trying to test each of examples of browser hijackers. However, on rare occasions, even the most accurate removal steps fail to help. That is because their developers periodically update browser hijackers and similar PUPs. If you feel that you are advanced enough to find each component of browser hijacker, you are more than welcome to use manual removal guides that are provided on every browser hijacker's description.
Latest browser hijackers added to the database
Database of browser hijackers
Information updated: 2017-05-11