Anti-spyware software is one of virus-fighting tools being created and improved every day. It aims at helping the users remove malware and protect themselves from viruses capable of stealing their private information, data and even finances. It can sometimes be difficult to differentiate between this vast number of anti-spyware programs and decide which ones you should choose for your personal computer's protection. Therefore, we have prepared this short introduction to this virus-fighting utility.
Anti-spyware vs. antivirus: what do these tools have in common and how do they differ?
Anti-spyware, antivirus, anti-malware and similar terms may seem rather confusing if you are new to cyber security. Really, there is no mystery. All these programs are capable of eliminating computer threats. What differs between these programs, is the range of the viruses they can detect and the technology they employ to achieve that. Talking about anti-spyware in particular, it should be noted that this technology can be a great tool for the detection of different spyware programs. However, unlike what a large number of users may think, anti-spyware programs not limited to the fighting spyware only. It can effectively detect and eliminate different adware threats and other kinds of computer parasites from the system as well. In fact, anti-spyware software is often combined with antivirus tools and vice versa. However, you should remember that the attempts to combine all the possible technology into one product can sometimes not live up to the expectations. Therefore, it is advisable to obtain both, a sophisticated anti-spyware software and a reliable antivirus utility.
What viruses is anti-spyware capable of fending off?
As we already mentioned, anti-spyware does not only remove spyware as you may think looking at its title. There are multiple other threats these virus-fighting utilities can easily banish from the infected computer. Let us take a look at a few most common threats this software manage:
Adware. These type of viruses are very common. Even though they are not malicious, they can inject multiple sponsored advertisements into the infected computer's browser, redirect the user to potentially dangerous sites and, most importantly, spy on the user's browsing habits.
Browser hijackers. Hijackers are similar to adware type programs in a sense that they also spy on the users, track information about their most visited websites, frequently viewed pages and also collect hardware data.
Ransomware. Ransomware-type viruses are the most aggressive of the already mentioned ones. They infiltrate the users' computer, lock the files on it and demand to pay the ransom, otherwise, threatening to delete them for good. Even though anti-spyware cannot unlock the data, it can remove the malicious virus components from the infected computer and ensure the safety of the future files.
Rogue anti-spyware. Viruses that are categorized as rogue anti-spyware present themselves as reliable anti-spyware programs. However, as soon as they finish their system checkup, they inform the victim that computer is seriously infected. Usually, they report about tens or even hundreds of different viruses and claim that the only way to remove them is to buy their license.
Of course, the anti-spyware software has limitations too. For instance, it may encounter difficulties with the removal of Trojans and some more complex malicious programs as well. You should also keep in mind that the reason why anti-spyware may fail to detect and remove threats from your computer does not necessarily have to be related to the program's capacities. Just like antivirus, anti-spyware tools need regular updating. If the program is not updated to its latest version, there is a great chance that the newest viruses and the updated versions of some older threats will not be detected simply because they are not in your anti-spyware's virus database just yet. Of course, most of the reliable tools will have an automatic update function enabled, but regular check-ups to make sure your equipment is really up-to-date are highly advisable. If your anti-spyware does not have an automatic update function, do not forget to schedule updates at least once a month and run a system scan after each one of them.
As you can see, anti-spyware tools are capable of fending off a variety of malware. Naturally, they have some limitations too. But so do other anti-malware and antivirus software. For this reason, we recommend using anti-spyware tools interchangeably with some reputable antivirus software for some extra protection. We have already pointed out that each of these tools use slightly different methods of scanning the system. So, combining the antivirus and anti-spyware tools together will make sure that viruses of all types and categories will not escape the elimination from your computer.
What anti-spyware tools should you trust?
The Internet may be full of anti-spyware software promising to provide their users with the best protection against viruses. However, you should keep in mind that not every software is worth trusting. There are numerous fake anti-spyware tools which workings are similar to the previously mentioned viruses. Thus, having such software installed on the system may not improve its security but rather violate it. Therefore, you should always do a little research before downloading and installing new anti-spyware on your computer. To facilitate this task for you, our team of experts is constantly analyzing different software that appears on the web and reports all the suspicious programs that are found. So if you cannot find information about some particular spyware remover, take a look at the category of corrupt tools. It contains the list of rogue, fake, illegal, even harmful applications that definitely cannot correctly detect and remove various security and privacy threats and therefore must be avoided.
Despite the potentially dangerous programs, there is a great number of reliable anti-spyware tools, which you can trust. All of them can quite precisely recognize a particular pest, completely disable it by terminating its processes, deleting its essential files, registry entries, and other related objects and eventually clean the infected system ensuring that no unsolicited programs will stay and attempt to violate your privacy and harm your computer. The most reliable anti-spyware programs is SpyHunter 4. This program is free to download and effectively removes computer threats from the infected devices. 
Latest Software Reviews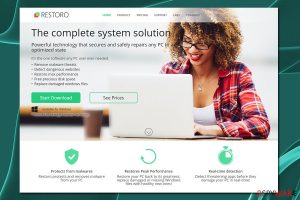 Restoro – a powerful system repair and maintenance tool for Windows platforms.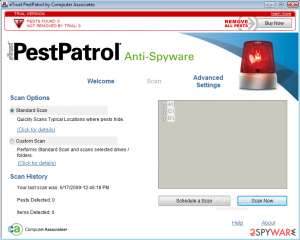 eTrust PestPatrol – a security application showing decent malware detection results.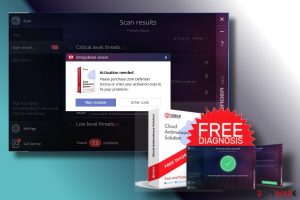 UPDATE: Based on reports from the developers of OSHI Defender, the program seems to be discontinued.
Information updated: 2017-05-11