How to remove a Trojan horse
A trojan (or a trojan horse) is a malicious computer program that is used to infect the target PC system and cause malicious activity on it. Usually, such programs are used for stealing personal information, spreading other viruses or simply disrupting computer's performance. In addition, hackers can use them for getting an unauthorized remote access to a compromised computer, infecting files and damaging the system. As soon as a trojan horse infiltrates computer, it starts hiding from the victim. Trojans are very similar to the regular viruses and, therefore, are quite difficult to detect. That's why you should rely on reputable anti-spyware. Originally, trojans are not intended to spread by themselves. However, the recent versions have additional components that can enable their propagation. The activity of each of trojan horse depends on its author's intentions.
Ways that are used for infiltrating the system
One part of trojans are able to propagate themselves and infect the system without users' knowledge. Others must be manually installed on computer as any other software. In fact, there are five major ways used by such parasites for entering the system.
Many trojans are distributed with the help of e-mail messages, file sharing networks and online chats (such as ICQ, AIM or IRC). They can arrive as useful attachments, instant messages, links in emails or the additions of peer-to-peer applications. These trojans have unsuspicious names and, therefore, trick users into opening them. Once the user opens such message, the trojan horse silently installs itself on the system.
Some trojans can get into the system using web browser vulnerabilities. Their authors run insecure web sites filled with malicious code or distribute unsafe advertising pop-ups. Whenever the user visits such a site or clicks on such a pop-up, harmful scripts instantly install a parasite. The user cannot notice anything suspicious, as a threat does not display any setup wizards, dialogs or warnings.
Trojans sometimes get installed by other parasites like viruses, worms, backdoors or even spyware. They get into the system without user knowledge and consent and affect everybody who uses a compromised computer. Some threats can be manually installed by malicious computer users who have sufficient privileges for the software installation. Very few trojans are able to spread by exploiting remote systems with certain security vulnerabilities.
Some trojans are already integrated into particular applications. Even legitimate programs may have undocumented functions like remote access feature. The attacker needs to contact a computer with such software installed in order to instantly get full unauthorized access to the system or take over control over certain program.
Activities that can be caused by a trojan horse
The most of trojan horses are capable of causing such activity:
Infecting, corrupting and overwriting files, essential system components and installed applications. They can also destroy the entire system by erasing critical files or formatting hard disks.
Stealing financial data, such as credit card numbers, login names, passwords, valuable personal documents and other user sensitive information.
Tracking the user and each of the keystrokes he or she enters on a keyboard. Trojan horse can also take screenshots and initiate other activity for stealing specific information. 
Sending all gathered data to a predefined e-mail address, uploading it to a predetermined FTP server or transferring it through a background Internet connection to a remote host.
Installing a backdoor or activating its own component for letting the remote attacker take over a compromised computer.
Dropping other dangerous parasites.
Performing Denial of Service (DoS) or other network attacks against certain remote hosts or sending out excessive amount of e-mail messages in order to flood predefined computers.
Installing a hidden FTP server that can be used by malicious persons for various illegal purposes.
Terminating antivirus, anti-spyware and other security-related software. Trojan horse can also disable essential system services and prevent standard system tools from running.
Blocking user's access to reputable websites and security-related resources.
Displaying undesirable commercial advertisements and pop-ups.
Degrading Internet connection and computer's speed. It can also decrease system's security and can cause its instability. 
Examples of Trojan horses
There are thousands of different trojans. The following examples illustrate how harmful these threats can be.
Trojan.Cryptolocker is a trojan, which has been used for spreading very dangerous viruses called Cryptolocker and Cryptowall. It is believed that this trojan can also be used for the distribution of other malware, such as rogue anti-spyware programs, backdoors and similar threats. It spreads around with the help of fake security message claiming that computer is infected with possible virus. When the user clicks such a message, the trojan enters the system and quietly installs ransomware. In addition, it blocks the system and causes a fake warning message on victim's desktop. You can also download this threat to your computer as a useful email attachment or a pop-up ad that offers updating your Java or Flash Player.
Trojan.ZeroAccess is another seriously dangerous trojan horse, which is also known as max++. Note that there are many versions of this trojan and that they all seek the same aim – to steal people's personal information. Seeking this aim, they record every keystroke of the victim and can also make continuous screenshots. This trojan usually sneaks into the system from various Internet resources such as insecure web pages or peer-to-peer networks, and starts its work without wasting its time.
12Trojan.Win32.Krepper.ab is a very dangerous and extremely destructive parasite, which can cause serious issues related to your PC's stability. Usually, it gets into the system from insecure Internet resources, file sharing networks or online chats. It silently works in background waiting for the specified date to run its payload. On the specified date, Krepper virus can try to affect Windows Registry, deleting several critical system folders and initiate other destructive actions. The parasite detects, terminates and totally disables running antivirus software installed on the target computer. Moreover, the trojan is able to connect to various malicious servers and download other harmful parasites from there.
Removal of Trojan horse and other cyber threats
Trojans work in the same manner as the regular computer viruses and, therefore, should be removed from computer with the help of reliable security software. You should never try to remove a trojan horse from your computer manually because you can lead your machine to a serious issues and system damage. In order to get an ability to scan the system properly and find all questionable components on it, you should install any of these programs: SpyHunter, STOPzilla,Malwarebytes Anti Malware. They have already been approved for their capability to detect various trojans and their components.
Beware that sometimes even an advanced spyware remover can fail to help you in the removal of a particular trojan. Each of these threats is constantly updated and sometimes these updates are added before they are noticed by the developers of anti-spyware software. If one of these recommended tools failed to fix your computer, you can always contact our team and ask for advice. 
Latest Trojans added to the database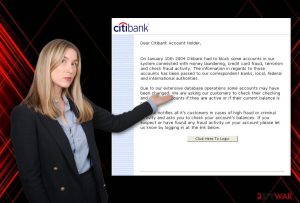 CitiBank virus – a set of phishing emails that pretend to come from the official bank but deliver Emotet malware instead.
More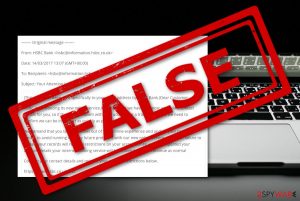 HSBC virus – a spam campaign that includes TrickBot Trojan virus and NanoCore RAT.
More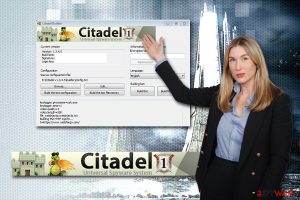 Citadel virus is a notorious banking trojan that stole the credentials of millions and caused immense financial losses.
More
Information updated: 2017-05-11