Christmas present from Mozilla Firefox: support for Windows XP and Vista extended
Representatives of Mozilla Firefox have just announced that they are extending the support for Windows XP and Vista operating systems [1] . Mozilla is one of the most popular Web browsers out there and one of the last ones to continue sending security updates for these older Windows versions [2]. Chrome has stopped providing support for Windows XP, Vista and a bunch of OS X versions back in April, leaving millions of computer users overboard. According to the netmarketshare.com statistics, Windows XP users comprise around 8.63% of the market share while Vista is still being run by 1.10% [3]. For some users, letting go of the operating system they are accustomed to may be just a step too far, but secure online browsing still remains a priority. If you are one of these people, rest assured — Mozilla will continue sending updates till September 2017. In the meanwhile, you will have a chance to upgrade your operating system to some later and Microsoft-supported Windows version and ensure future protection.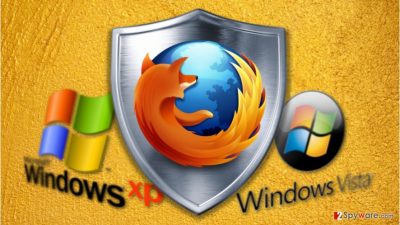 In the upcoming March, Mozilla team is planning on transferring Windows XP and Vista users to the Firefox Extended Support Release (ESR) network [4]. Users are not required to take any actions themselves as the updates will be delivered automatically. At the end of the support period, there will be a reevaluation after which the final support termination date will be announced. We urge you not to wait until the last minute and consider your options some time before the deadline. Unsupported operating systems are unstable, unpredictable and highly vulnerable thus, they are more susceptible to malware infections and are dangerous to use [5]. Storing sensitive data on devices running outdated systems may even result in data leaks, privacy infringements, and even financial loss. On top of it all, parasites like Locky ransomware or Osiris virus can destroy your data completely. Do not wave these security chores off and stay secure!
About the author
References