OSHI Defender review, free download
UPDATE: Based on reports from the developers of OSHI Defender, the program seems to be discontinued. Although numerous third-party download sources are still listing its download among available anti-malware tools, it's official website oshidefender.com is no longer active.
If you are still using OSHI Defender, note that the old version of this tool fails to recognize and immunize cyber threats. Additionally, many reputable security vendors included it in the international list of PUP due to the delivery of false positives finding of dangerous objects on virus-free devices.
While several years ago OSHI Defender was a useful tool in its nature, it's current state, support, and capabilities are in question. Therefore, we would recommend switching to another security tool to ensure full system's protection. Our top pick tool is ReimageIntego.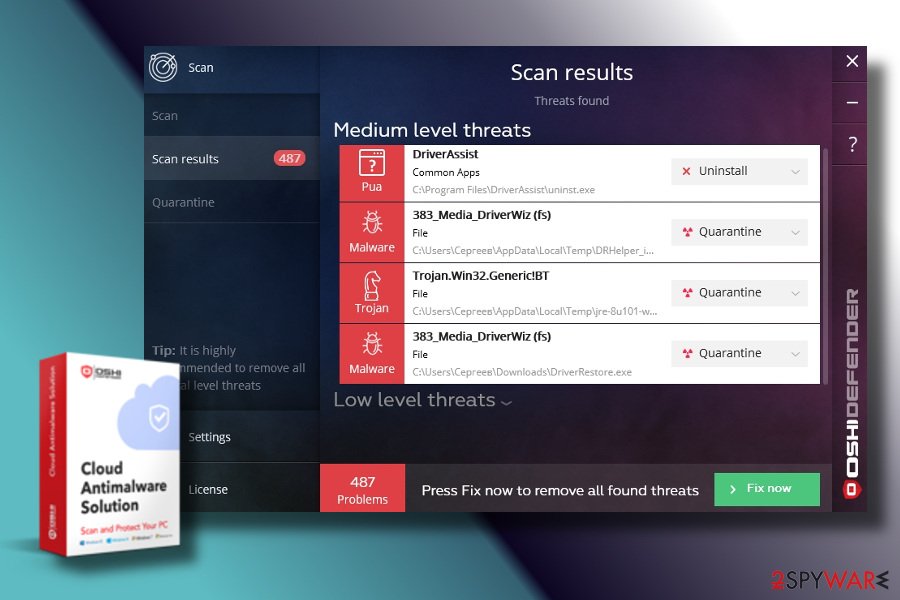 OSHI Defender – anti-malware solution for Windows based computers
OSHI Defender is a good-value anti-malware solution that has been developed by OSHI LIMITED, and it has proved to be a beneficial tool that provides superb protection from spyware and malware, plus has a simplified user interface that makes it an easy-to-use tool. Unlike other anti-malware programs, it does not overload the user with numerous buttons and customizable settings, which means that users with any experience will be able to use it.
The program has three main panels – Scan, which splits into Scan and Quarantine sections, then Settings, which splits into Settings and Exclusions panels, and finally – License section. The interface is very straightforward and easy to use. The user can choose whether to scan the entire system with the Full Scan feature or just check the most important parts with the Quick Scan feature.
What is more, the user can customize the scan and check whether a specific folder or file is dangerous or not. On top of that, the user can adjust a desirable security level, which controls the sensitivity of OSHI Defender. All these settings give the opportunity for the user to quickly check areas of concern in a rush or run a full scan and let the Defender check the system thoroughly. It is clear that OSHI Defender is a customizable anti-malware tool but it is very easy to use it at the same time.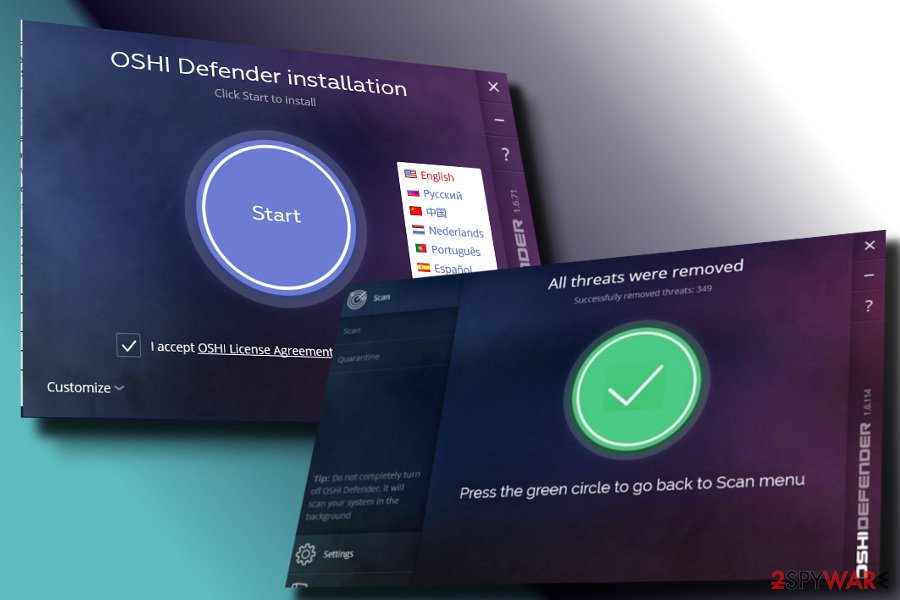 The friendly user interface is not the only advantageous feature that OSHI Defender has. Another beneficial feature is external access protection, which builds barriers from hackers, or simply from spyware and malware type programs that lurk on untrusted Internet sites.
Please bear in mind that many anti-malware programs do not have this feature, which makes OSHI Defender stand out from other no-frills programs. To put it simply, this program can block malicious attacks and protect you in case you click on a corrupted link or try to enter a malicious website, and what is more, it ensures the safety of user's online payments, digital life, and also assures that user's personal information stays private. The program is able to detect pesky programs like adware, browser hijackers and other potentially unwanted programs as well as malignant computer programs like Trojans and so forth.
Finally, OSHI Defender boasts a cloud-based scanning feature, which makes this anti-malware program a lightweight product that scans the system without causing any slowdowns. This anti-malware software is a lightweight agent itself, which offloads the vast majority of data investigation to the OSHI Defender's developers' infrastructure.
Then the information about analyzed files is sent back to client's computer, and OSHI Defender software presents the list of dangerous ones to the user. Such technique allows the anti-malware software to scan the system faster, provide more accurate malware detection and real-time protection, and, of course, avoid unpleasant scan effects such as computer slowdowns.
OSHI Defender download
Users who want to get OSHI Defender can download this program by clicking on download link. It is very easy to install the program – the user-friendly setup guides users through the installation process, and it takes only a few clicks to finish the installation. The program is compatible with Windows XP, 7, 8, and 10.
At the moment, there is no version for Mac users, but one might appear shortly. The program's free trial version can be downloaded from many sources and scan the system thoroughly. After examining the system, it provides the list of detected threats. Each entry shows the location where the suspicious or dangerous file has been found.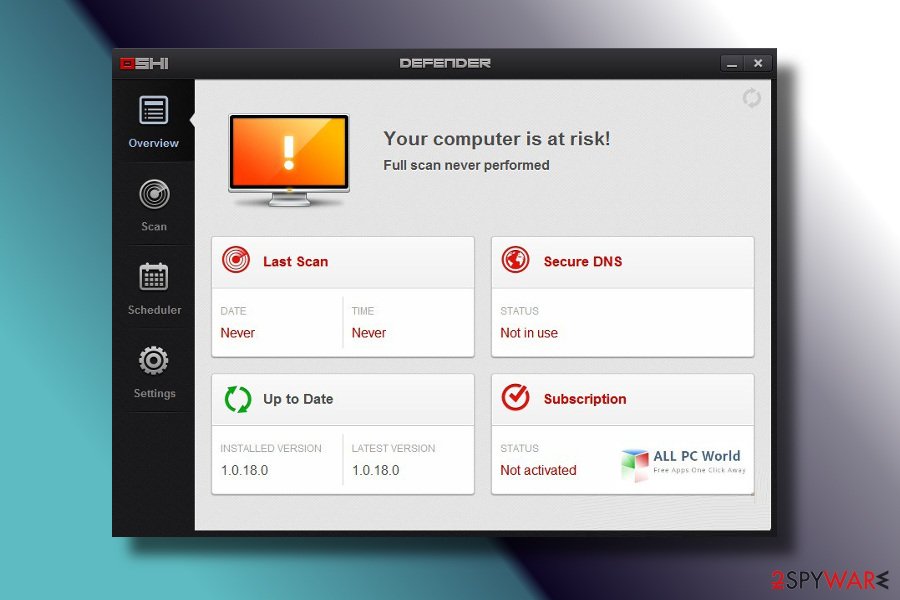 The free version of OSHI Defender does not provide spyware and malware removal service, but the full OSHI Defender version does. You can purchase Oshi Defender serial key for $39.99 USD (or 38,02 EUR + 7,98 EUR VAT for residents of any EU country).
The software subscription is valid for six months, and if the user does not opt-out of the auto-renew service, the software provider automatically renews the software license. It is not some shady marketing technique – all information about this is provided on OSHI Defender's "Buy" page. Users who are dissatisfied with the product can get their money back no later that 30 days after the purchase date, so users are free to test the full version of this computer protection software and get a refund in case they do not like it.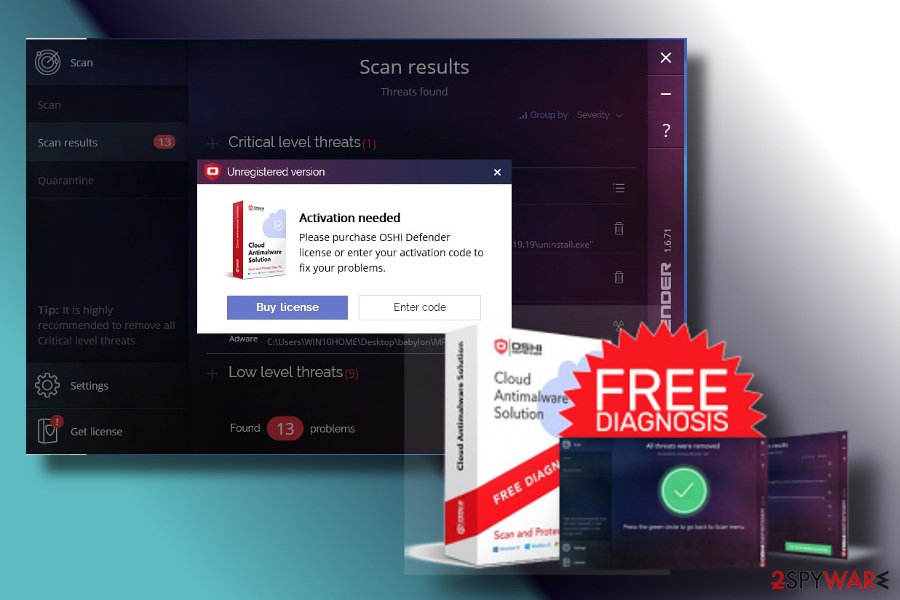 Beware of fake or pirated versions of anti-spyware software!
OSHI Defender is a quality product, so it is no surprise that computer users seek to get it. However, we want to warn you that attempts to obtain the full version of this program can lead to dire consequences.
First of all, using pirated software is a copyright infringement, and clearly, it is a crime that incurs criminal liability.
Second, you run the risk of adding a malware-laden file to your PC. For example, that innocent-looking OSHI Defender crack can contain new and critical malware such as trojans, ransomware, or even RATs (Remote Administration Tools). These programs might be designed to deactivate the pirated version of the anti-malware software and start illegal activities on the compromised computer right away.
The third reason to avoid pirated OSHI's versions is that such fake software cannot be updated. It goes without saying that updates are essential for anti-malware programs because they expand malware database with new virus definitions, which make the program capable of detecting and removing the latest spyware and malware examples. Apparently, there is no point of keeping a pirated version of anti-malware on a computer because most likely it will be unable to identify and remove the majority of computer threats.
Frequently asked questions about OSHI Defender
Question by Martha, 19: Hello. I have just bought a new personal computer, and my friend recommended me to protect it with some kind of anti-malware or antivirus. I have heard a lot of positive feedback on OSHI Defender, but I am not sure what type of program it is. Is it anti-malware, antivirus or anti-spyware program?
Answer: Hello, dear Martha. Your friend was right – it is highly advisable to protect the system with powerful software in advance – it is an essential step in keeping the computer safe and at its peak performance. OSHI Defender is an anti-spyware software, which means it is capable of removing both spyware type and malware type programs. Therefore, it can remove potentially unwanted programs that initiate pesky activities on the computer system, and also critical viruses that perform illegal activities.
Question by Richard, 47: I want to purchase OSHI Defender activation code, but I am unsure what this program actually does. What am I going to get in return for spending $39.99?
Answer: Dear Richard, OSHI Defender full version gives access to all beneficial features of OSHI Defender. It means that this program will protect your browser and computer from malware and cyber attacks, block unauthorized attempts to access your computer externally, ensure safe online payments and protect your personal data. Besides, you will be able to contact experienced IT experts anytime you want and ask them for help in case the software fails to remove a certain virus or a program.
Question by Jordyn, 25: Can I rely on OSHI Defender? How do I know if this program can actually remove viruses from my computer?
Answer: Dear Jordyn, it is very simple. Just install OSHI Defender and run a system scan with it. The system scan is free – you do not have to pay to see if the system is infected. However, to remove the viruses, you have to obtain the licensed version of the software. All users can get a refund in case they do not like the functionality of this software – however, we are sure that you will be satisfied with this product and rightly assess its capabilities.
About the author
Reviews in other languages