eTrust PestPatrol – a security application showing decent malware detection results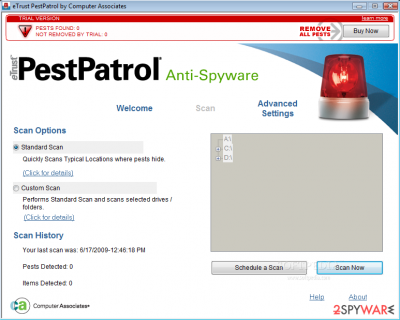 eTrust PestPatrol is an effective and easy-to-use spyware remover. It is one of the most popular security products available because of its accurate spyware detection and huge parasite reference database.
The application scans the Windows registry, running processes and web browser cookies. It can thoroughly examine each file on every fixed and removable disk. eTrust PestPatrol offers two scan modes:
Standard Scan
Custom Scan.
The first one runs with lightning speed – it needs only 10-15 seconds to scan a regular computer. Furthermore, it is very effective. Custom Scan allows the user to select which directories or drives to check. Depending on the user's selection, Custom Scan can be very thorough (requires up to 25 minutes to complete) or as fast as Standard Scan.
Scan reports provide detailed information on detected objects and their exact location. The program uses an extensive spyware definitions database updated regularly.
eTrust PestPatrol implements reliable real-time protection that automatically identifies and terminates malicious running processes. It also prevents malware installation attempts.
The application does not have any additional tools. It comes with basic functions only: Exclusions, Quarantined Pests, Log, Prevalence Research (allows the user to help the vendor analyzing emerging threats).
The program's interface is simple, clean, and quite attractive. It is designed to suit inexperienced users.
The fully functional trial version expires after 30 days.
Official websites associated with eTrust PestPatrol are www.pestpatrol.com and www.ca.com. Purchases are made via a secure connection, so there is an extra layer of protection for your payment details. If you decide to purchase this product, you should rely on official websites for security reasons.
About the author