Prevx1 review, free download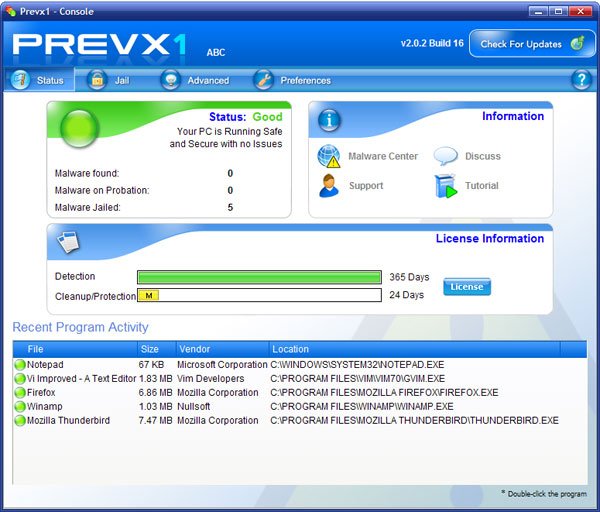 Prevx1 is a unique anti-malware product of Retendo Ltd., a privately held English company with 5 years experience in developing host intrusion prevention software (HIPS). Prevx1 is its flagship product launched in July, 2005. Despite its young age, the program is really powerful and highly effective, and what is more surprising is that half-a-million of people are already using it.
Prevx1 is not a typical spyware remover. It is a smart combination of powerful antivirus, anti-spyware and anti-malware removal tools complemented with strong intrusion prevention techniques. The program was designed to be used as a standalone product replacing any other security software. However, it can also be used along with any major antivirus and anti-spyware applications making the system even more secure.
What's so interesting about Prevx1? First of all, it relies on a special online database, which is filled in real-time with latest reports from systems running Prevx1. Each Prevx1 machine reports details of emerging, yet unknown malware or suspicious, yet uncategorized software to the automated security center, where signatures of new threats are being analyzed and classified. Other Prevx1-running systems access new information in real-time, so that they can compare it with their own scan reports. Such technique allows Prevx1 to detect and eliminate absolutely new parasites long before major antivirus and anti-spyware companies will update their malware definitions databases.
But that's in theory. In practice, parasite removal also depends on implemented removal techniques. In our opinion, in this field Prevx1 is not any better than other popular anti-spyware products.
Apart from being a powerful real-time monitor, Prevx1 is also an on-demand scanner capable of checking local files and active processes, but not the Windows registry or tracking cookies.
The program offers three different scan modes. Smart System Scan is recommended by the vendor. It searches vital Windows areas and folders of installed software for malicious files. Scans in this mode usually take up to 4-6 minutes. Full System Scan is a similar mode, but it's more thorough, as it checks all local hard drives, not only the system disk. Scans in this mode need 10-15 minutes to complete. The third mode is Custom Scan, which allows the user to specify locations, where to search malware for. Custom scans can be either rapidly fast or relatively long depending on the user's choice.
We have used Prevx1 to scan several badly infected computers. The program did not produce any false positives and detected nearly all preinstalled malware showing outstanding detection rate. However, it had some difficulties removing sophisticated parasites. However, those parasites were not regular spyware or adware, but rather viral threats, so most anti-spyware programs couldn't eliminate them as well. Speaking about removal of regular spyware, Prevx1 is almost unrivalled in this field. Our tests revealed that the program is capable of eliminating virtually all known spyware infections.
Prevx1 is very strong in real-time monitoring and protection. Generally speaking, it's more like a real-time monitor with additional on-demand scanner than a regular spyware remover with extra monitoring features. The program detects any new files executed or already running. It automatically determines whether a process is bad, and if it really is, terminates it and moves into Jail preventing from running next time. If a process is unknown to Prevx1, the application notifies the user and asks to take an action – allow or disallow a suspicious application to run.
Prevx1 not only monitors program execution, but also keeps a close watch on loaded drivers, web browser settings, e-mail, network connections and various system events. This allows the program to disable backdoors, stop Internet viruses, terminate keyloggers, prevent hijacks and unauthorized system modification.
The application's interface is simple and quite attractive. It isn't very convenient, though.
Prevx1 has a fully functional trial version that expires after 28 days. Thereafter, the program continues to work, but parasite removal becomes a paid function.
The official web site is www.prevx.com. This resource provides useful educational services. Here you can find the program's tutorial, a library of malicious files and the Virus Info Center with details on latest parasites.
Conclusion
Prevx1 is an outstanding security solution that can replace both your antivirus and anti-spyware programs. This product reliably detects and removes most widely spread parasites and even emerging, yet unknown threats. Nevertheless, Prevx1 is not a very versatile program. It effectively stops malware from infiltrating into your system, but can fail eliminating infections, which are already there. Furthermore, this product depends on Internet connection too much, and sometimes it's a disadvantage.
About the author