MASTR SCAN review, free download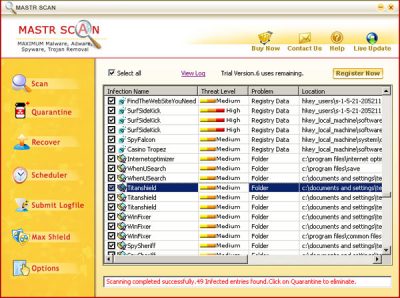 MASTR SCAN is an anti-spyware program made by the Indian-based Max Secure Software company specializing in security and privacy protection software. Although the company is relatively small, not very well-known, and its other products were prone to false positives, it really shown its best releasing MASTR SCAN, which is effective security solution demonstrating high parasite detection and removal rate.
The application's free version can be downloaded from official web sites www.mastrscan.com and www.maxspywareremover.com. It's a fully functional program that expires after 6 malware removal procedures. However, it does not provide free parasite definition database updates. That's why it's not an actual trial.
Installation is simple and quick. MASTR SCAN is launched as any other regular program.
Once the application is running, you can start scanning your system. No initial configuration is required. The program offers two scan modes – Quick Scan and Full Scan. The first one examines only the main system drive (usually, it's the C: disk), while the second one allows to scan each hard drive and removable disk. Naturally, Quick Scan is much faster – it usually takes up to 30-40 seconds, while Full Scan needs from 2 to 20 minutes.
In both scan modes MASTR SCAN not only checks files, folders and web browser cookies, but also examines running processes and Windows registry entries. It uses large parasite definition database updated on a regular basis. Currently, it contains almost 155,000 signatures of different threats.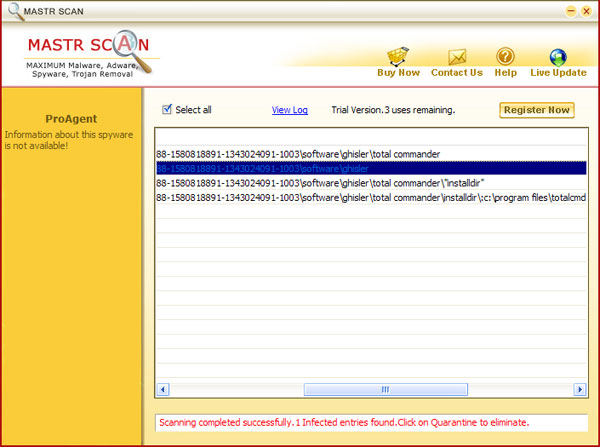 Scan reports are informative enough, but quite inconvenient. The program displays parasite files, registry keys, folders and other related objects unorganized. Even generated log files sometimes are easier to read.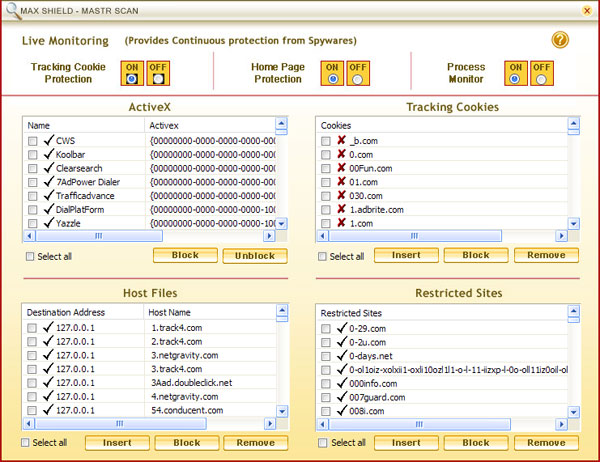 MASTR SCAN comes with Max Shield, an integrated real-time monitor. It provides continuous protection from spyware by terminating malicious processes, preventing web browser home page hijacks and blocking tracking cookies. Furthermore, Max Shield restricts access to known malware sites and blocks harmful ActiveX controls. Live monitoring can be customized by disabling certain monitors or modifying lists of known bad ActiveX controls, web sites and cookies.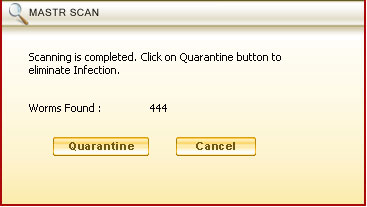 The program comes with useful additional tools that allow deleting tracking cookies, blocking bad web browser add-ons, making startup and registry backups and restoring default Windows settings. Furthermore, these tools can be used to fix Internet access, terminate malicious processes and remove parasite-related startup entries.
We have used MASTR SCAN to scan a badly infected machine. The program did not produce false positives and, to our great surprise, identified the larger part of pre-installed parasites. It couldn't find a few downloader trojans, several backdoors and one worm, though. Nevertheless, we didn't expect such great results from an average-looking program like this.
It must be noted, that MASTR SCAN couldn't completely remove some difficult parasites like Qoologic and Look2Me. However, it wasn't so bad, as the program demonstrated interesting approach eliminating parasites like these. During our tests, the Vundo infection has been detected, and MASTR SCAN failed to get rid of it. Then the spyware remover asked to download a standalone Vundo removal utility made by the same company. We did so, and this eliminated Vundo.
Unfortunately, MASTR SCAN, much like another Max Secure product Max Spyware Detector, is prone to minor false positives. We have used the program to scan an absolutely clean computer that was never infected with any spyware or malware pests. However, the application managed to find signs of the ProAgent infection in the Windows registry. Further analysis revealed that identified keys were actually related to Total Commander, a fully legitimate file manager. Take a look on one of the screenshots below.
The program's interface is quite attractive, but not very convenient and user-friendly. Furthermore, there is a strange mistake in it. Instead of "spyware", "malware" or simply "parasites" developers decided to use the word "worms". Does this mean that MASTR SCAN finds only worms? No, it doesn't, but why "worms"?
Conclusion
From the first sight, MASTR SCAN is an average product that doesn't differ from numerous similar spyware removers made by small companies. However, as tests show, this program is better. It demonstrates high parasite detection and removal rate, so it can eliminate most widely spread parasites. Nevertheless, MASTR SCAN's real-time protection is too far from being perfect. The program's interface also deserves a healthy dose of criticism.
MASTR SCAN costs $29.95. It's not too much for a product like this, but you can find more powerful and though-out anti-spyware solutions of the same price.
About the author