How to stop malicious processes?
Why should you end malicious processes?
Anti-malware, system security, and antivirus programs can act as malicious software removal tools and get rid of programs, applications, direct malware. However, some processes cannot get killed automatically. Bad processes often get hidden and cannot be recognized by such AV tools, so it is not that easy to end malicious processes yourself.
Such a rogue or suspicious process is the malicious computer program that runs on your computer. This application can be adware, spyware, Trojans, malware, or worms,[1] otherwise related to anything possibly dangerous or damaging. The simple way to end a malicious process is to right-click on a process in Task Manager and choosing the End Process option.
However, when it comes to such issues, it is important to determine if the file and process are dangerous and to know what is a malicious threat found on the machine. This diagnosis part is more difficult. You need to check additional parts of the system and various folders, programs, so the determination can be done.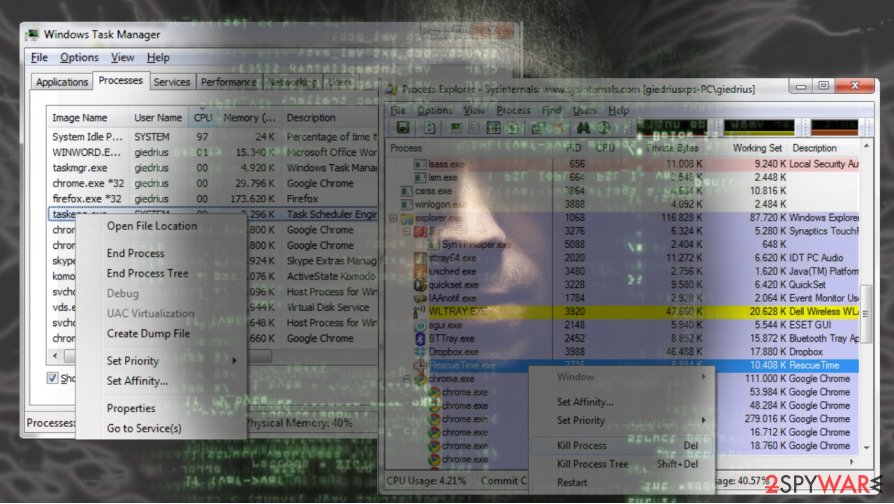 How to kill malicious processes?
If your computer is infected and you decided to remove your virus manually, let's check your device for malicious software first. If something dangerous gets detected, you will need to kill malicious processes too. Of course, we don't recommend eliminating viruses manually if you are not computer savvy because you can easily damage your PC system.[2]
In this case, you should use reputable anti-malware, such as SpyHunter 5Combo Cleaner or Malwarebytes, that can easily help you to remove viruses automatically. However, what can be done when a virus, which is inside your computer, doesn't allow you to install an anti-malware program on the system or blocks it when you try to launch it for its removal? The answer is the same – you will need to stop malicious processes. For that, you have various options, depending on the operating system[3] and particular malware if there is any involved.
While checking for affected files or trying to determine if the broken processes that appear running in the background are related to damaged or affected system/program files, you can rely on system optimizers, PC repair tools, or apps like Reimage Reimage Cleaner Intego that might indicate affected files. Registry entries, startup files, and other data that gets affected by the questionable intruder. Some tools can even fix those affected files automatically. 
How to end the malicious process in Windows?
Kill malicious processes using Task Manager
In order to open Task Manager, you should press ctrl+shift+esc or ctrl+alt+del at the same time.
As soon as Task Manager shows up, select the Process tab, and look for malicious processes on the menu.
Right-click them and select End Process. For the best results, you should select these processes just after windows login.
If your virus acts aggressively and keeps Task Manager disabled, go to Start -> Run and type 'taskmgr' without the commas or go straight to C:\\Windows\\System32, copy taskmgr, and rename it to iexplorer.exe or similar name. Now launch the tool and perform previously explained steps.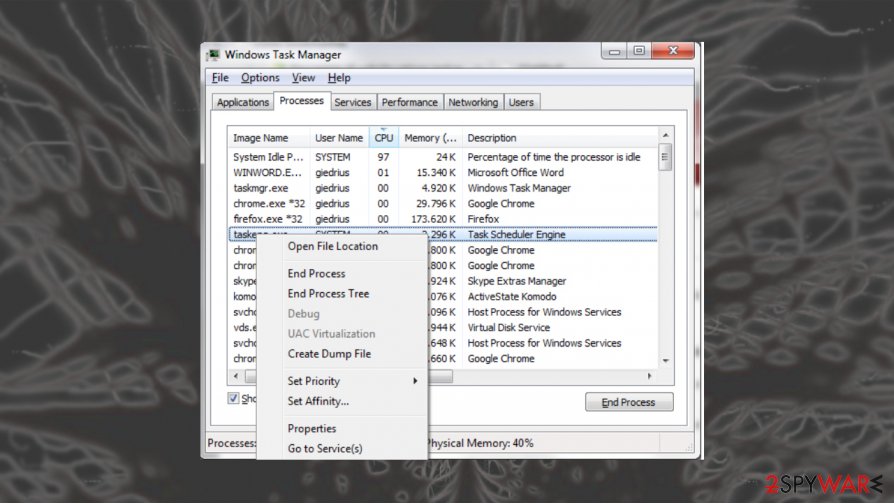 If you disabled correct malicious processes, you should notice how annoying alerts and similar virus symptoms disappear. However, keep in mind that this procedure doesn't REMOVE the virus completely. In order to do that, you should continue malware removal by scanning the system with reliable anti-spyware.
Stop malicious processes using Safe Mode
For stopping malicious processes, you can also use safe mode with networking. To enter this mode, follow these steps:
Reboot your computer and start pressing F8 as soon as your PC starts booting up.
Now select Safe Mode or Safe Mode with Networking.
Now you should notice that your virus with all its symptoms disappeared. This means that you have successfully killed malicious processes.
Now it's time to launch your anti-spyware and run a full system scan in order to remove infected files and folders.
Kill malicious processes using Taskkill
If your affected computer runs Windows, you can try using Taskkill and its /IM option that allows killing processes by process ID or image name. This tool is very effective when trying to kill a rogue application. However, you should note that this command tool is available only when you exactly know the names of malicious processes.
In order to open taskkill, click Start → run.
Now enter taskkill/f/im [malicious process name].
Press Enter.
Once you finish this procedure, you should scan your computer with reliable anti-spyware to finish your virus removal.
Disable malicious processes using Process Explorer
Process Explorer not only helps people to kill malicious processes. It also shows information about currently active processes and their locations. In order to use it for blocking malicious processes, follow these steps:
Download Process Explorer by entering this link to your browser.
Launch process explorer (executable procexp.exe) and then look for malicious processes.
Select them and press DEL to remove them.
Now scan your computer with SpyHunter 5Combo Cleaner, Malwarebytes, or other reputable anti-spyware and complete virus removal.
How to kill malicious processes on Mac?
There are some assumptions that you do not need to use malicious software removal tools on the Mac operating system because such devices are immune to malware and any other intruders.[5] There are particular malware creators that target such machines and try to obtain users' information or infect the machine with damaging programs. You should also determine the particular malicious computer program and once you know what is a malicious threat that affects your device, you can remove it and kill the malicious processes when and where needed. You can do that with these options.
Enter Safe Mode
Start or Restart the machine and press and hold the Shift key.
Apple logo should appear and then release the key once you see the login window.
Check Processes via Activity Monitor
Via Finder click on Applications and then Utilities.
There you should find Activity Monitor, so you can select the application and choose to quit.
You can end processes there when something raises any questions for you.
Click the suspicious process and then on X int he Toolbar.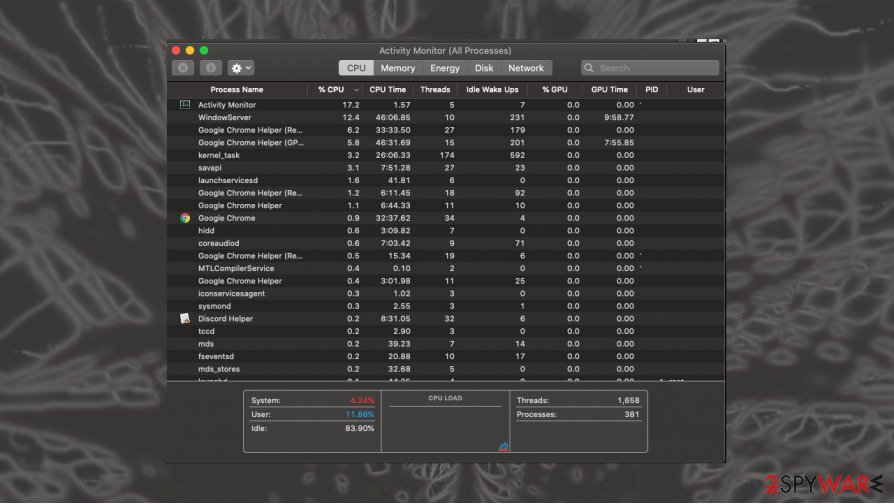 Kill malicious processes via Terminal
Launch Terminal by pressing Command and spacebar that launches the Spotlight, and you can search for it.
Type top into the Terminal window, and then you can see the list of processes running. 
Kill the process that causes problems by typing kill- PID number of the process.
Press Enter.
About the author
References
Read in other languages

May 11th, 2014 at 9:34 am

Best way to control and kill processes by third-party software "Process lasso" or "AnVir Task manager".
These programs free of charge and they will help you to see and control(and kill forever) all malicious processes in your system.