SpyHunter and McAfee are well-known security applications that have experienced many ups and downs thru their years on functionality. Fortunately, now we cannot even doubt that they are respectable security tools that are filled with useful features. If you are choosing between McAfee and SpyHunter 4, you should pay close attention to this comparison that reveals every positive and negative side of these security programs.
Latest versions: SpyHunter 4; McAfee Antivirus Plus.
Free versions: SpyHunter Free; McAfee Free Antivirus.
Paid options: SpyHunter 4 Full version; McAfee Antivirus Plus (2016).
Installation: You can install SpyHunter on your Windows by clicking the download button and going thru Setup Wizard. Typically, this process takes less than a minute. To download McAfee Free Antivirus, you need to follow the same steps. However, you should be ready to spend ten or more minutes while installing of this program. Also, be prepared for a significant drop in your system speed which can be noticed each time you download or update the software.
Scanners: SpyHunter starts its first scan once it is installed and updated. It's a great feature that allows you to know the weakest points in your system right after selecting the software. To scan your PC with McAfee, you need to launch it yourself. Beware that the weakest link in its scanner is its ability to detect potentially unwanted programs – the program failed to detect more than 1K of potentially unwanted objects. While we must admit that PUPs are not typical viruses, we should also take into account that they are the most active cyber threats spreading on the Internet right now. If your PC's security is important to you, you should think twice before selecting McAfee Total Protection.
When discussing scanners, we should also warn you about a significant system slowdown noticed when running McAfee Antivirus. To get the best result, make sure you set a scan to run when you do not need to work on your computer. Scan schedule is available on SpyHunter as well. However, we should exclude its vulnerability scan, which is not a typical feature in anti-virus software. By using it, you can know which of your software is outdated.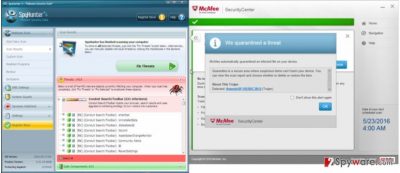 Malware removal: As soon as programs finish their scan, they return a scan report filled with the list of identified viruses. Neither SpyHunter 4, nor McAfee lets you remove malware without purchasing the licensed version. If money is important to you, you should consider buying SpyHunter which offers its full license for less than $40. We should also add that by getting SpyHunter license, you are granted with an exceptional feature called Spyware Helpdesk that allows you to get professional help from company's technicians when you can't remove malware from the system. Does it work? Definitely. Is it free? Yes. Unfortunately, but McAfee support is not impressive at all – there are hundreds of bad reviews written on the Internet regarding it. Besides, you can be asked to pay for their assistance when trying to remove stubborn malware from your computer.
Final notes: No matter how attractive and versatile McAfee Antivirus looks, we recommend SpyHunter. It provides the highest protection against the most active malware, ransomware and potentially unwanted programs. Besides, it comes hand in hand with a great feature called Spyware HelpDesk, which is capable of helping people remove as much viruses as they need. Finally, you may be disappointed by McAfee tech support which can charge you for virus removal and significant system slow downs.
More comparisons of SpyHunter and anti-virus/anti-spyware programs are provided in SpyHunter review.

About the author