Doctor Alex review, free download
Doctor Alex review
Doctor Alex is a simple, but yet quite effective anti-spyware program. Its most recent version, which now is absolutely free, successfully passed most our tests and produced sufficiently good results. However, previous release of Doctor Alex was classified as a corrupt spyware remover because of numerous false positives and use of fake privacy seal of reputable TRUSTe company. Although the program was improved and related issues were satisfactorly resolved, it still suffers from few negligible false positives, so to date we cannot recommend it for everyday use.

The program thoroughly checks the Windows registry, running processes, essential system components, the web browser's cookies and the entire file system. Full Disk Scan takes a little more than 10 minutes and allows to detect most of installed parasites. The application uses an extensive spyware definitions database updated on a regular basis. Scan reports are accurate and informative enough. Doctor Alex doesn't offer any additional features. It even doesn't implement a real-time monitoring. Nevertheless, it performs well as an on-demand scanner.

As it was said above, Doctor Alex is still prone to false positives. During our tests the spyware remover found the stdio.dll library file related to the IRC.Cloner.v backdoor. Further analysis revealed that this file actually is a harmless part of mIRC, legitimate chat client. See a screenshot provided below.

The program's interface is clean, simple and highly user-friendly.

The official web site is www.doctor-alex.com.


Doctor Alex download:
NOT RECOMMENDED
Anti-spyware Doctor Alex spyware remover was carefully tested by 2-spyware.com research center. The review is the result of our test. If you know additional information about Doctor Alex please
send us the note
.
Advice
If your Computer seems Sluggish, or you see some unwanted Advertisements, redirects to the strange websites, then we recommend you to scan the system with reputable anti-spyware program. Do some FREE scan tests and you will see if there are some unwanted applications, whitch might be responsible for the tab stability of the system.
We might be affiliated with any product we recommend on the site. Full disclosure in our Agreement of Use.
By Downloading any provided Anti-spyware software you agree to our
privacy policy
and
agreement of use
.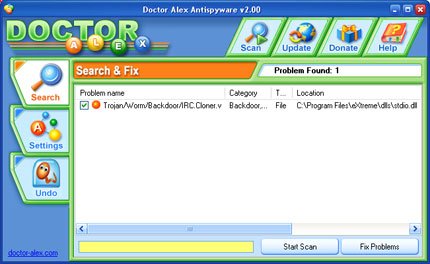 Information updated:

Comments on Doctor Alex
Post a comment
Attention: Use this form only if you have additional information about a parasite, its removal instructions, additional resources or behavior. By clicking "post comment" button you agree not to post any copyrighted, unlawful, harmful, threatening, abusive, harassing, defamatory, vulgar, obscene, profane, hateful, racially, ethnically or otherwise objectionable material of any kind.