SpyHunter virus: false claims or malware
SpyHunter virus is an anti-spyware program that gets called malicious due to suspicious activities and other AV tool detections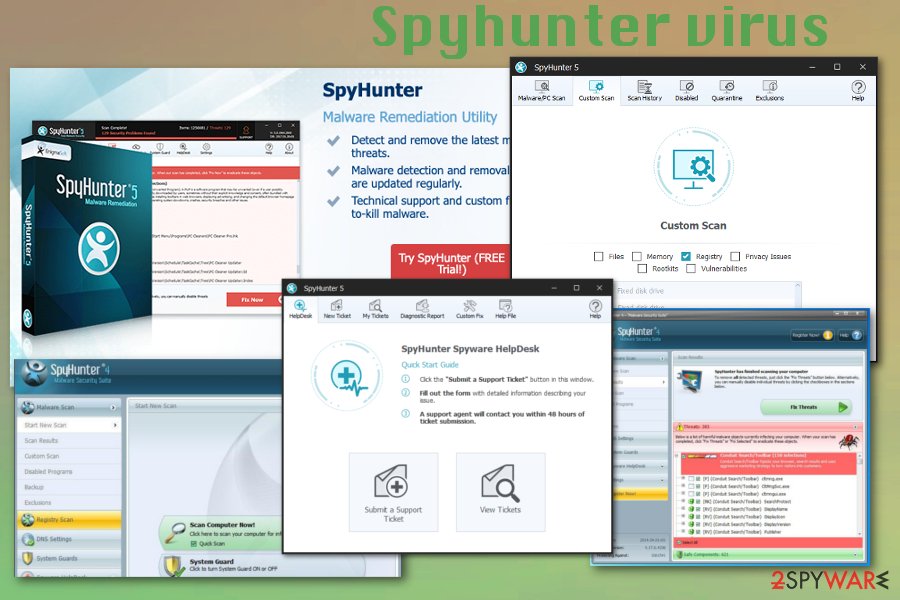 Spyhunter virus is not the correct name for the tool that is designed to fight malware.
SpyHunter is the application capable of fixing errors, improving the performance, and even removing malware, not a virus. However, people use this term to describe the anti-malware program because other tools may detect the software as PUP or even malware due to interaction via databases. SpyHunter is a program developed for Microsoft Windows operating system running devices that should remove trojans, worms, malicious software, and other cyber threats. This is a legitimate program that has more than one version of the tool, which is considered a useful addition to PCs.
The only instance when Spyhunter virus term can be used is when talking about Spyhunter ransomware – a real threat affecting users' files and devices with malicious activities. This malware is not related to the software providers because it is a version of another cryptovirus[1] that only poses as a product from Enigma software company to create additional frustration.
Name
Spyhunter virus
Type 
Software
Purpose 
Anti-spyware tool
Possible misconception
Spyhunter ransomware or other malicious programs misusing the name of the legitimate software
Versions

Spyhunter 4
Spyhunter 5
Spyhunter HelpDesk
Spyhunter virus/malware scanner has quite many results when searched on the internet due to the frustration and questions regarding the purpose and legitimacy or usefulness. This is a malware detection and removal tool that can scan the computer for malware, vulnerabilities, and block threats to protect your machine in advance. 
The usage of a term Spyhunter virus comes up when the lawsuit with a computer support website comes in search results.[2] Enigma Software – developers of SpyHunter software filed a lawsuit against Bleeping Computer because the company used various techniques to drive people from getting the anti-malware tool.[3]
During the so-called smear campaign, the Spyhunter legitimate tool was named a rogue software and malware by the website in many negative comments and articles. Later on, Engima Software also got sued by the Bleeping Computer for the alleged violation of trademarking.[4]
Spyhunter virus-regarding legal battles ended when both cases were dismissed. However, Enigma Software also sued another security software vendor when the program appeared to detect the SpyHunter tool as a potentially unwanted program.[5]
This is the reason why the term Spyhunter virus became popular on the internet. Often such instances when one anti-malware engine detects the other tool of the same type are caused by counteracting databases and functionalities. The US District Court dismissed the particular lawsuit against Malwarebytes.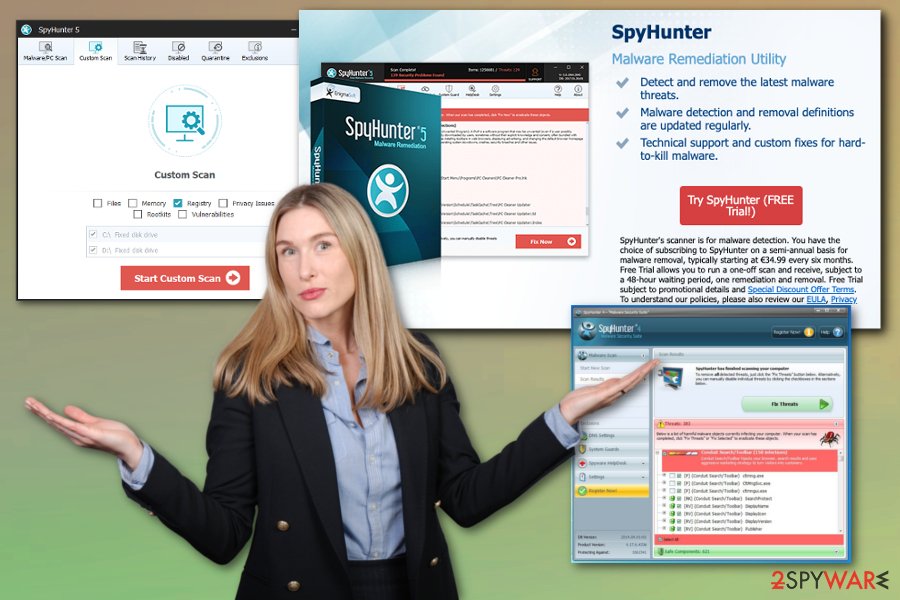 Spyhunter malware scanner is the program that various people indicates as a rogue and recommend uninstalling it.
This is a useful malware removal tool that is easy-to-use for everyday PC users and cybersecurity experts. Used for malware like adware, ransomware, browser hijacker removal, the device gets occasionally improves and has more than one versions with additional functions.
This is a tool that offers a free trial for users and has a full version for 30-40$ per six months. Some people may distribute rogue versions of the tool or even create a malicious tool and spread it with the identical to a legal name online. Nevertheless, Spyhunter malware/virus is not the correct term for the program since these activities are not related to the official system tool.
You need to remove Spyhunter virus if the tool is causing suspicious symptoms, acting as malware or launching questionable processes on the system. There are various possibilities to get a malicious version of the program if you are not relying on the official Enigma Software page or trustworthy software distributor. 
Spyhunter virus: possible legitimate program misconception with malware 
Unfortunately, Spyhunter virus has this name due to all the negative reviews, false articles, and the association with malicious actors. Also, the fact that two AV engines cannot work on the same system since their scans interrupt the work of another program, cause frustration and questions regarding the SpyHunter software.
Spyhunter virus can be used for the ransomware or other programs that get developed to pose as a real tool to gain more victims. Such tactics can work because people search for:
cracks,
free tools,
versions of the program,
duplicated variants. 
This is how you can get Spyhunter virus instead of the legitimate malware scanner, so beware that malicious actors pose as software developers exactly for that purpose –  to trick people into downloading their malware. Although the name of Enigma SpyHunter gets used in these campaigns, the software developer is not responsible for these activities. 
SpyHunter virus can appear on your system when you download software or application cracks and non-legitimate programs. You need to note that various freeware downloads include the unwanted or even harmful programs in the installation setups. This is the most significant danger of free download sites, p2p services, or torrent pages – extra applications.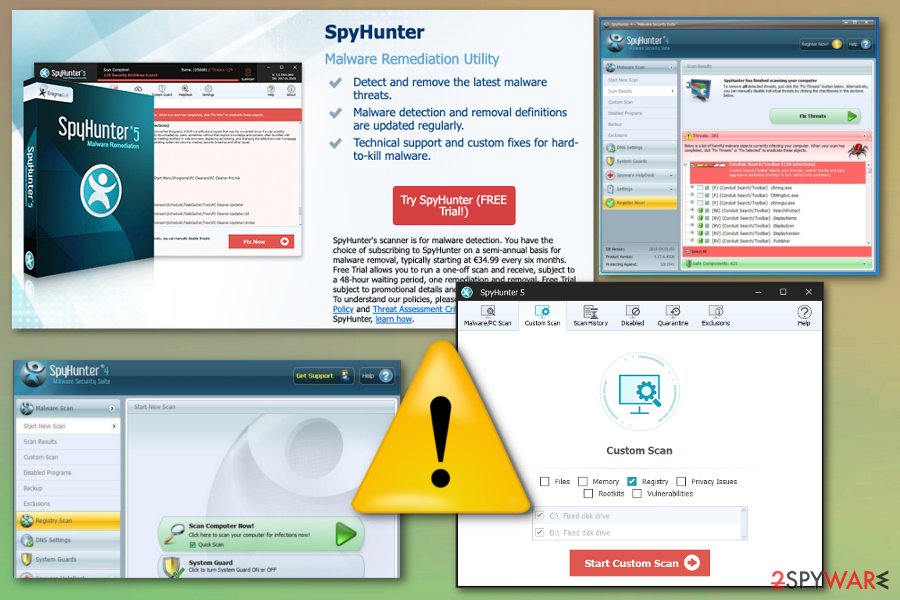 When it comes to Spyhunter virus removal, you need to get a legitimate anti-malware tool from the trustworthy provider or official developer and clean the machine thoroughly. If you have Spyhunter malware removal tool that was downloaded from the lawful source and your AV detects it as a potentially unwanted program or a suspicious application, disable the scanner while cleaning the machine.
Get rid of the Spyhunter virus if your anti-malware tool found any truly malicious programs and malware. This name of the software is misused on the crypto-demanding virus that mainly affects the reputation of the legitimate malware removal tool. Pay close attention to system scanning results and be aware of the programs you remove.
Pay attention to sources of the system tools to avoid false anti-spyware
Getting anti-malware tools or any other applications from the internet can be safe and useful if you choose reliable sources, the software provider, official website. Unfortunately, people tend to get such programs from freeware delivering services, download sites, or even search for illegal cracks and keys.
This behavior, other tactics used to get around paying for the legitimately licensed versions of such tools causes risks of getting even more malicious programs. You should rely on official sources and pay close attention to downloading processes by opting for Advanced or Custom installations.
The best way to avoid any potentially unwanted programs, malware, and more severe viruses is to get a tool that can block such threats in advance when the program has not entered on the PC yet. Reimage or SpyHunter 5Combo Cleaner can help with such PUP infiltrations and avoid entering malicious sites or freeware providers' pages.
Possible ways to eliminate Spyhunter virus and uninstall questionable versions of the software
Users get eager to remove Spyhunter virus when they read all those false negative reviews or come about suspicious comments online from unsatisfied users or even bots. The software may not be the tool that everyone needs or can benefit from, but the anti-malware tools can block malicious programs it founds active on the device. It is a useful program that everyday users and even security experts should at least try.
However, the Spyhunter virus removal process may get tricky as the initial uninstallation of the software. You should read more into this SpyHunter malware removal tool review that goes in-depth about the functionality of the malware scanner, before trying anything to eliminate the software or suspicious program.
Alternative Software
Different security software includes different virus database. If you didn't succeed in finding malware with SpyHunter 5, try running alternative scan with Reimage.
Alternative Software
Different security software includes different virus database. If you didn't succeed in finding malware with Reimage, try running alternative scan with Combo Cleaner.
About the author
References