Remove Antivirus Defender 2015
What is Antivirus Defender 2015?
Antivirus Defender 2015 is a rogue anti-spyware, which is used for stealing people's money. No, it doesn't hide deep inside the system waiting for the moment to steal victim's banking data and similar information. It does that using other technique and this technique relies on fake alerts reporting about 'serious PC issues'. In reality, all problems that are listed in Antivirus Defender 2015 are fake because this program has no virus database and other things that are needed for anti-virus. This means that it has no ability to check the system and discover malware that is hiding in it. After scaring its victims and tricking them into believing that their computers are infected, Antivirus Defender 2015 virus offers to purchase its license. Please, do NOT do that because that's how scammers steal people's money. Besides, by making this useless payment, you can easily reveal your personally identifiable information and lead yourself to identity theft and similar issues. If you have just discovered this fake anti-spyware on your computer, you should firstly think have you ever downloaded it to your computer. We believe that you have never done that. That's the first sign showing that you are dealing with the virus. If you want to get rid of it, run a full system scan with Reimage or other reputable anti-spyware. That's the easiest way to remove Antivirus Defender 2015 malware from the system and make sure that each of its malicious files was totally eliminated.
How can Antivirus Defender 2015 infect my computer?
According to PC security experts, people can easily be tricked into downloading this rogue anti-spyware to their computers because hackers are using lots of tricky techniques for spreading it. The most important thing that you should keep in mind is that this program can easily infiltrate your computer thru misleading emails, illegal websites, tricky pop-up ads, etc. Please, double check each of emails and never download an attachment if you see that email's body is full of grammar or typo mistakes. Also, stay away from illegal websites because they can be filled with Antivirus Defender 2015 installers and never click suspicious pop-up ads. If an ad tells you that you have just won an amazing prize or that you should update your Java, Flash Player, FLV Player or similar program, you should ignore it because clicking on such warning can easily infect your PC with Antivirus Defender 2015 rogue. As soon as it enters its target PC system, it starts causing fake system scanners and pop-up ads that report about invented viruses. Please, do NOT fall for them because they are fake! Of course, you should also avoid ignoring them because it's one of the clearest signs showing that your computer is infected and that you need to scan it with the reputable anti-spyware. If you can't launch your security software, please try a guide below and complete Antivirus Defender 2015 removal:
How to remove Antivirus Defender 2015 virus?
If you think that your PC was infected by Antivirus Defender 2015 virus, you should scan it with Reimage, SpyHunter 5Combo Cleaner or Malwarebytes. We recommend you to select AUTOMATIC REMOVAL OPTION because you will have to do only several steps. You will have to download a reputable anti-spyware, update it and run a full system scan. This will help you to avoid system damage and other issues. If you need a detailed guide explaining how to download and install anti-spyware, read this guide.
ATTENTION! As we have already mentioned previously, Antivirus Defender 2015 may try to block installation and activity of legitimate security programs, including SpyHunter and StopZilla. If you can't download or launch any them, try these options:
1. USING SYSTEM RESTORE TO DISABLE VIRUS:
Click Start -> All Programs -> Accessories -> System Tools -> System Restore.
As soon as Restore system files and settings window shows up, select Next.
Choose the restore point that you want and click Next .
Click Finish to confirm and wait until your PC reboots.
Now download Reimage and run a full system scan after updating it.
If you are using Windows 8, then follow these steps:
Go to the Windows 8 Start Screen and type restore point in the Search section.
Now click on Settings -> Create a restore point.
When in System Protection tab, select System Restore.
Click Next button to see your restore points and left click on the entry you need.
Now select Scan for affected programs -> Close -> Next -> Finish.
Once your PC reboots, download Reimage and run a full system scan after updating it.
2. REBOOTING TO SAFE MODE WITH NETWORKING:
Restart your computer
As soon as your computer becomes active, start pressing the F8 key continuously until you see Advanced Boot Options screen.
Here, select Safe Mode with Networking (for that, use the arrow keys) and then hit Enter.
Login as the same user as you were in normal Windows mode
Now right click on IE or other browser's icon and select Run As or Run As administrator. Enter your Administrator account password (if needed).
Enter this link to your address bar: https://www.2-spyware.com/download/hunter.exe and download a program on your desktop. Launch it to remove malicious files.
3. CREATING GUEST ACCOUNT FOR SCANNING COMPUTER:
If you have another user (guest) account, you can try to run a full system scan from it. You just need to log into it and download Reimage for a full system scan. You can activate your guest account with a help of these steps:
Click Start -> Control Panel and select User Accounts and Family Safety.
After a new window shows up, click on Add or Remove User Accounts -> Guest Account.
Now click on Turn On button and restart your computer
Now wait until you see Windows log on screen and select Guest account for downloading recommended anti-spyware.
4. USING ANOTHER PC FOR DOWNLOADING ANTI-SPYWARE:
Take another computer that is not infected by this virus and download Reimage or SpyHunter 5Combo Cleaner to it.
After completing the procedure, transfer this anti-malware to the CD/DVD, external drive, or USB flash drive.
In the meanwhile, kill malicious processes on your infected computer. For that you can use this tutorial.
Stick the device you used for transferring anti-spyware program to your infected PC and launch it.
5. BLOCKING Antivirus Defender 2015 BEFORE A SCAN:
Let Antivirus Defender 2015 start its work and finish its fake system scan.
Click on Allow unprotected and close the warning message.
Open File Explorer (click Start -> Documents) and enter %AppData% in the location bar. Click enter.
Rename guard-agas or similar entry.
Reboot your machine and enter this link to your address bar: https://www.2-spyware.com/download/hunter.exe
Download SpyHunter and remove malicious files that belong to Antivirus Defender 2015.
Alternative Software
Different security software includes different virus database. If you didn't succeed in finding malware with Reimage, try running alternative scan with SpyHunter 5.
Alternative Software
Different security software includes different virus database. If you didn't succeed in finding malware with Reimage, try running alternative scan with Combo Cleaner.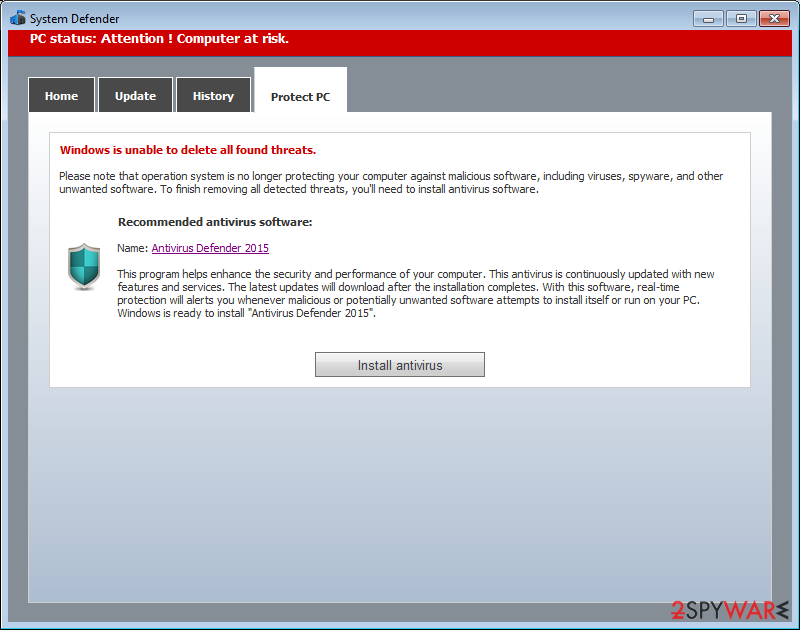 About the author
Removal guides in other languages