Windows Protection Suite. How to remove? (Uninstall guide)
Windows Protection Suite is a misleading anti-virus application that uses false scan results and fake security alerts to make you think your computer is infected with spyware, Trojans and other malware. The rogue program provides exaggerated scan results and then suggests buying a full version of this fake program to remove non-existing system security threats. Windows Protection Suite is from the same family as Windows Security Suite, Malware Destructor 2009, Virus Shield 2009, Extra Antivirus, Virus Sweeper, Virus Doctor, Virus Melt.
Windows Protection Suite is promoted through the use of Trojan viruses and fake online anti-malware scanners. The security threat can be also downloaded and installed manually from its homepage windowsprotectionsuite.com. Once installed, this parasite will be configured to scan your computer automatically each time you log on into Windows. WindowsProtection Suite will report a variety of infections and privacy issues ans state that you must purchase the program in order to fix those problems. What is more, it will constantly display legitimately looking security alerts from Windows task bar. The misleading program will also impersonate Windows Security center. It may display security warnings and notifications about unprotected computer and possible attacks from a remote machine. Fake notification from Windows task bar reads:
"System Alert
malicious applications, which can contain trojans, were found on your PC and need to be immediately removed. Click here to remove these potentially harmful items using Windows Protection Suite"
While running, WindowsProtectionSuite will dramatically decrease system performance. Likely it will delete system restore points and block all found security applications. To make things worse, Windows Protection Suite will hijack Internet browsers and search results. If you wind that your computer is infected with this bogus software, please use the manual removal guide below to remove Windows Protection Suite from the system for free.
Alternate Software
We have tested Malwarebytes's efficiency in removing Windows Protection Suite (2012-02-04)
We have tested Malwarebytes's efficiency in removing Windows Protection Suite (2012-02-04)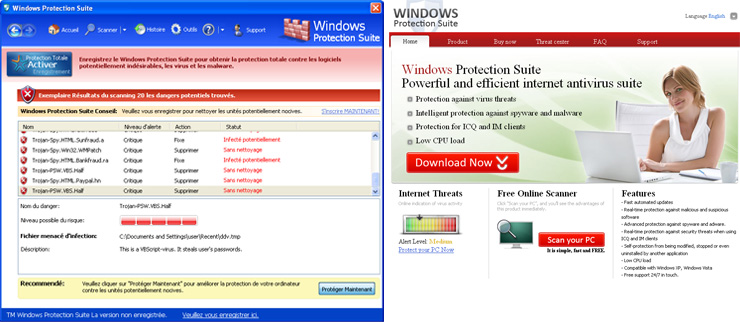 Windows Protection Suite manual removal:
Kill processes:
snl2w.exe
std.exe
WindowsProtectionSuite.exe
WI345d.exe
ppal.exe
uninstall.exe
WI345d.exe
CLSV.exe
Unregister DLLs:
energy.dll
grid.dll
kernel32.dll
tempdoc.dll
PE.dll
runddl.dll
SM.dll
mozcrt19.dll
sqlite3.dll
cid.dll
CLSV.dll
ddv.dll
Delete files:
WI345d.exe
CLSV.exe
snl2w.exe
std.exe
WindowsProtectionSuite.exe
WI345d.exe
ppal.exe
tempdoc.dll
energy.dll
mozcrt19.dll
sqlite3.dll
cid.dll
CLSV.dll
ddv.dll
tempdoc.dll
WINPS.ico
working.log
vd952342.bd
winps.cfg
cookies.sqlite
Instructions.ini
cb.sys
cid.tmp
CLSV.tmp
DBOLE.sys
Delete directories:
%UserProfile%Application DataWindows Protection Suite
About the author