Adware Away review, free download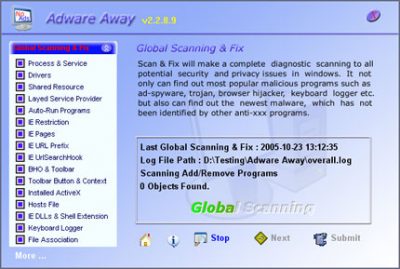 Adware Away is a quite effective, but not very popular anti-spyware program specially designed to eliminate the most infamous, widely spread and hard to get rid of browser hijackers, viruses, worms, keyloggers, spyware and adware parasites. It was carefully tested on several computers including already infected systems. The application passed all our test and showed passable, but not perfect results.
Adware Away examines the Windows registry, running processes, active services, system drivers, files and some specific locations. The user is allowed to reconfigure system scan in order to check only specified objects and components. The program also provides almost 150 specialized removers. Each of them deletes one particular parasite or its variants. These removers are especially useful when the user knows what pest is the system infected with, and an antivirus or anti-spyware program detects it, but cannot delete it. On our test computers full system scan does not take more than 30 seconds. Apparently Adware Away does not thouroughly examine content of each file or object and relies only on its malware definitions database, which although is updated on a regular basis, but still includes too little signatures – only of roughly 200 different parasites. Such detection technique allows to easily find known widely spread pests, but may be quite ineffective against the most recent threats.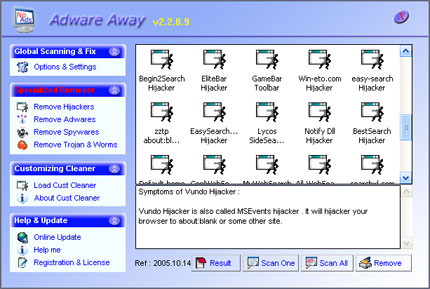 The program includes the unique Customizing Cleaner function. This tool is useful when the system is infected with a particular parasite that cannot be removed using current Adware Away version. It allows the user to create a log and send it by e-mail to the program's developers. After short time developers should make a customized cleaner and send it back to the user.
The application comes with more additional utilities. One of them is a stand-alone remover designed to eliminate one hard-to-kill variant of CoolWebSearch browser hijacker. Another utility – ListDlls is diagnostic. It should be used to produce a log for the Adware Away support team.
While testing the spyware remover we noticed that sometimes it can be prone to produce false positives. On one of our test computers Adware Away found a keylogger component that actually was a legitimate file (shellextension.dll) associated with installed Microsoft AntiSpyware Beta1.
Adware Away interface is quite simple and convenient. Nevertheless, it isn't very clean or attractive.
Trial version can be downloaded from the official web site www.adwareaway.com. Purchases of registered commercial version are made via reputable services using a secure connection.
About the author