INAC Anti Spyware review, free download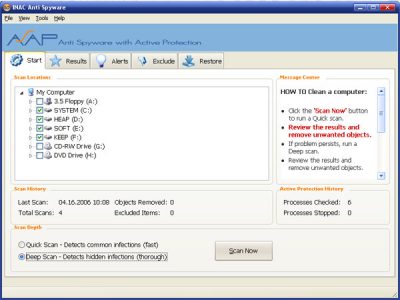 INAC Anti Spyware is a rebranded version of Spyware Nuker XT, a product of TrekBlue, Inc. This program is not a clone, as it is made by the same company. We have carefully tested INAC Anti Spyware on a large number of different computers. Our tests revealed that this product provides effective protection against most spyware and adware threats as well as some dangerous viral parasites.
The application thoroughly checks the Windows registry, running processes, web browser cookies and the entire file system. INAC Anti Spyware can perform a deep scan in attempt to detect hidden infections, and a quick scan in order to identify common threats. The first mode is the most effective, but it takes a lot of time to complete – up to 40 minutes. The second mode is much faster – a regular system can be scanned within 3 minutes. INAC Anti Spyware also allows performing configurable scans. The user can select which hard drives, media or folders will be checked. Scan reports are clear and informative enough.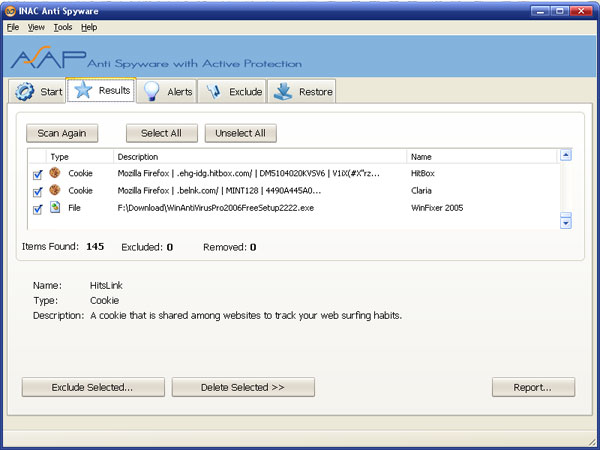 INAC Anti Spyware uses regularly updated spyware definitions database.
The program has an integrated real-time protection monitor, which detects and blocks malicious activity and unsolicited software installation attempts. It also automatically blocks known tracking cookies and prevents web browser hijacks.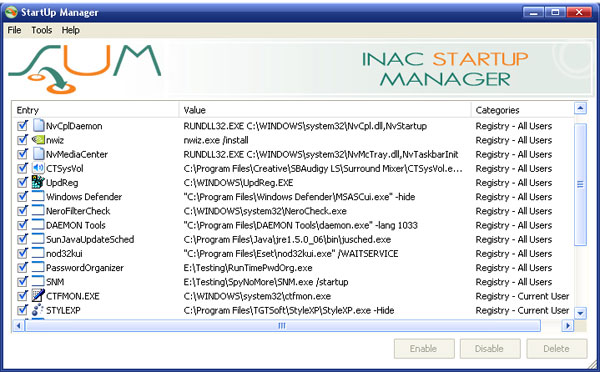 INAC Anti Spyware is an effective, but not feature-rich spyware remover. It does not provide a lot of additional tools and functions. Nevertheless, the program comes with the system startup manager and scan scheduler. It also allows excluding and restoring harmful objects.
Unfortunately, a free version of INAC Anti Spyware is not fully functional. It scans the system, but does not remove any parasites it finds, and asks to register and purchase the full version.
The official web site is www.inac.com. Purchases are made via secure connection.
About the author