Spinach AntiSpyware review, free download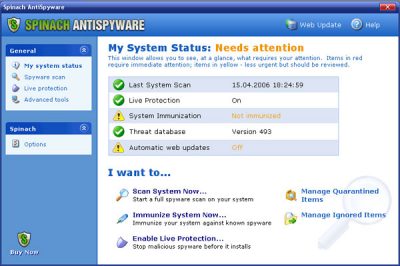 Spinach AntiSpyware is an advanced, but user-friendly spyware remover that implements real-time protection and provides useful security functions. We have carefully tested this program on several computers including absolutely clean machines and PCs infected with different parasites. Spinach AntiSpyware passed our tests producing quite good results. Nevertheless, it is not as much powerful as its major rivals are. Spinach AntiSpyware has difficulties detecting some parasites, even the well-known threats.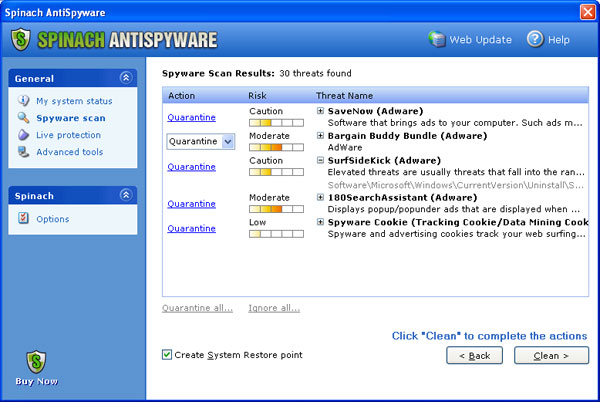 The application thoroughly scans the Windows registry, running processes, web browser cookies and the entire system drive, usually C:. Unfortunately, it does not scan any files or folders located on other drives. This means that the spyware remover may miss certain parasites installed to uncommon locations. Spinach AntiSpyware offers only one default scan mode, which is relatively fast (usually takes up to 5 minutes), but also quite effective. However, the user can also customize scans by selecting system components to check. Scan reports are informative. The program provides exact parasite location, its short description and severity level. Spinach AntiSpyware uses regularly updated spyware definitions database.
Unfortunately, the program fails to detect some well-known dangerous parasites. It also misses even the widely spread threats like SpyFalcon.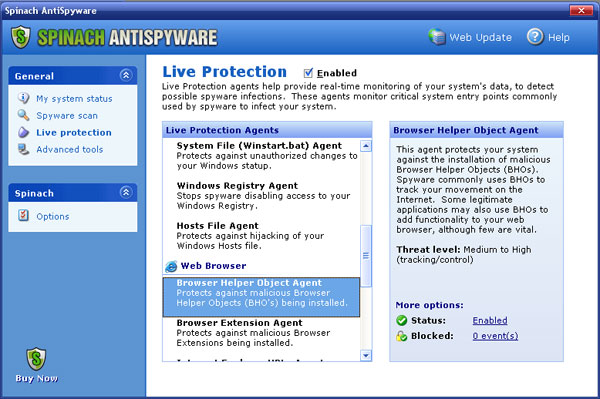 The spyware remover comes with the Live Protection, the set of real-time agents, which monitor the system for spyware, unsolicited software and suspicious activity. Live Protection blocks malicious ActiveX and Java controls, prevents unauthorized applications from running on Windows startup and terminates known spyware processes. Agents also protect the web browser, prevent hijacks, block harmful cookies and stop parasites from modifying the Windows registry.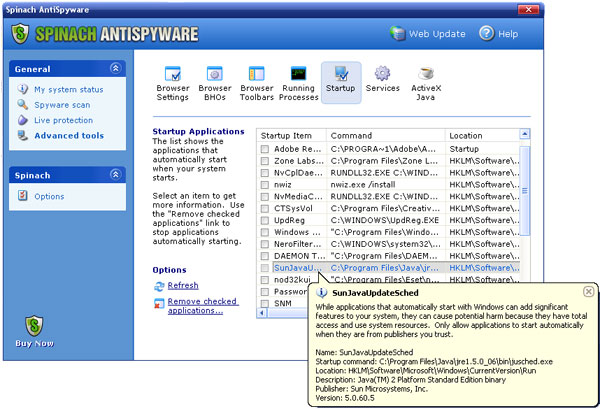 Spinach AntiSpyware provides several additional tools. The Browser Settings utility allows restoring default web browser settings. Browser BHOs and Browser Toolbars utilities can be used to view and remove installed Browser Helper Objects (BHOs). The Services tool allows managing system services and services installed by third-party software. Other tools – Running Processes, Startup and ActiveX Java can be used to list and kill malicious processes, view and remove system startup items and ActiveX or Java controls.
The program offers another useful tool, which immunizes the system in order to protect it over 1900 known ActiveX infections, and therefore prevent malicious software installation attempts. It can also be used to disable Flash animations in Internet Explorer.
The application's interface is simple, attractive and highly user-friendly.
The trial version expires after 15 days. It removes parasites it finds, but refuses to immunize the system.
The official web site is www.spinach.com. Purchases are made via reputable services using secure connection.
About the author