SpyNoMore review, free download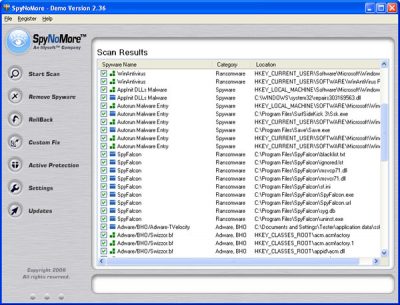 SpyNoMore is a simple, but effective spyware remover implementing advanced real-time protection. We have carefully tested the program on several computers including absolutely clean machines and PCs infected with different parasites. SpyNoMore managed to correctly identify most installed threats. It passed all our tests and produced quite fine results.
The application thoroughly checks the Windows registry, running processes and the entire file system. The user can choose between two scan modes – Smart Scan and Full System Scan. The first one is fast and reliable. It takes a little bit more than one minute, but still detects all the infections. Full System Scan is more thorough. It allows the user to select which fixed drives to scan. Full System Scan usually takes up to 11 minutes when all hard drives are scanned. Scan reports are informative enough. SpyNoMore provides exact parasite location and its type. However, no descriptions are available.
The program uses large spyware definitions database updated on a regular basis.
SpyNoMore comes with Active Protection, the real-time monitor, which terminates malicious processes, prevents unauthorized system and registry changes and protects the web browser. Active Protection also blocks access to known malware web sites and vaccinates the system from widespread infections.
The program does not have a lot of additional tools. It offers only the Custom Fix function, which allows the user to upload a report to the SpyNoMore vendor's server for further analysis. After receiving a report, the vendor issues a fix to correct the user's problem. The Custom Fix functions should be used in case the program cannot get rid of unknown, sophisticated parasites.
The application's interface is simple, user-friendly and convenient.
The demo version does not remove any malware it finds. It asks to register and purchase the full product. Active Protection can be activated in the full version only.
The official web site is www.spynomore.com. Purchases are made via reputable services using secure connection.
About the author