SpywareKill review, free download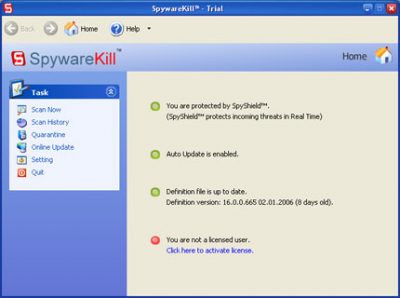 SpywareKill is a quite simple, but yet effective anti-spyware program with a basic set of functions specific to similar middle class products. However, the program implements powerful and accurate real-time protection, which gives SpywareKill a chance to stand out against other less known spyware removers.
We have carefully tested the most latest version of SpywareKill. The application passed all our tests and revealed fine results.
SpywareKill scans the Windows registry, running processes, some local files and folders. The user can choose between two scan modes – Smart and Full, the latter is recommended. However, we didn't find any obvious difference between these two modes. It is no matter which mode is selected, a system scan still will take a little more than one minute. This shows that the program does not check all the objects in the system and thus relies only on its regularly updated spyware definitions database. Nevertheless, we have to admit that SpywareKill's scan engine is effective enough. It found the best part of parasites pre-installed on several our test machines. But, still and all, SpywareKill needs some major improvements, as currently used scan technique in some rare cases may lead to inaccurate scan results.
The program's scan reports should be more informative. Now the user can see only the name and exact location of the parasite, but not its detailed description and other related information.
The application implements a reliable real-time protection based on an engine monitoring running software and its activity. The real-time monitor can block the installation of dangerous parasites and unsolicited software and prevent unauthorized system modification.
The program's interface is simple and clean. However, it could be more convenient and attractive.
SpywareKill requires Microsoft .NET framework, which will add over 20 MB to your download if you don't have it yet.
The vendor provides a trial version, which expires after 7 days.
The official web site is www.spywarekill.com.
It must be noted that SpywareKill was initially classified as a corrupt product because of false positives. It has made to the 2-Spyware.com corrupt anti-spyware list on March 31, 2005 and since then till late December of 2005 its vendor did not seem to be concerned about this fact. The program was detecting harmless legitimate software as dangerous malware for a long time. Although all the problems have been satisfactorly resolved, we would not recommend SpywareKill for everyday use. Nevertheless, the program is effective enough, so it is up to you to decide do you need it or not.
About the author