Why you should avoid Delta Search and other fake search engines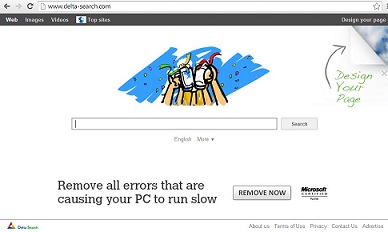 Most of today's Internet users are still NOT aware that there are hundreds of search engines that can pose a serious harm for their computers. Typically, these online charlatans rank websites unlike reputable search engines, such as Google, Yahoo or Bing, and put shady websites in the top of their search results. By doing that, they can easily direct people to domains that sell useless goods, promote unwanted services or, most shockingly, spread malware.
It is also worth mentioning that these search engines use shady schemes for getting inside their target computers and affecting all Internet browsers that are installed there. For that, they mostly rely on browser hijackers that have the ability to infiltrate PCs via security vulnerabilities and modify computers' settings according to their needs. Another popular method, which is also used for that, is based on the freeware and shareware. These programs tend to include fake search engines to their 'Components' list, so please, be very careful when downloading and installing them.
One of these shady search engines, which is spread using these unfair distribution methods and then set to show search results that are filled with junk, is Delta Search. We have decided to pay exceptional attention to this search engine because its creators have started to use quite tricky scheme for convincing PC users that it is legitimate and can be trusted. For creating a misleading image that Delta Search belongs to a reputable company, scammers have started to leave comments in different forums that discuss the trustworthiness of this search engine. Here, they not only call Delta Search legitimate, but also leave their own email, which should help people to uninstall Delta Search from their computers. Of course, it fails to do that.
We highly recommend staying away from all comments that are supposedly sent by representatives of Delta Search. No matter what they claim, this fake search site is designed only to direct unaware web surfers to potentially malicious pages. If you want to feel safe when searching on the Internet, you should use well-known search engines.
About the author
Read in other languages