Restoro computer repair software review 2023
Restoro – a powerful system repair and maintenance tool for Windows platforms
When the market is filled with thousands of products that promise to repair computer issues and remove malware, choosing the one that suits you the best might be challenging. Nevertheless, some programs can do much more than others. Restoro is a comprehensive PC repair and malware removal tool that could help users to improve their systems in many ways. If you want to learn more about this handy software, please read the full review below.
This professional Windows system repair tool is an all-in-one program capable of restoring broken or missing Registry entries and fixing settings, removing junk, clearing faulty files, fixing startup programs, etc. This helps users get rid of useless clutter, free up space, and even increase computer response time, allowing users to enjoy a problem-free device. 
It is easy to fix a computer with this PC repair tool because it is using remarkable technology – it holds a remote database of original and updated Windows system files, which can replace the broken ones on the scanned system. The database is continually updated, so there is no need to worry about replaced files being outdated.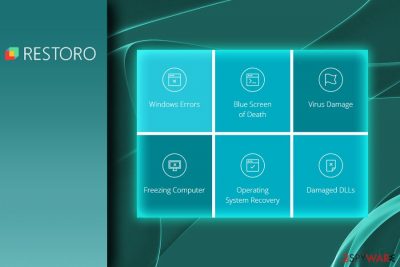 The application is also a perfect solution for adware, browser hijacker, ransomware, trojan, keylogger, and other malicious program removals. There is no doubt that recovering from a severe virus infection might be difficult, and Restoro can be an excellent help in achieving that.
Overall, this repair application is a perfect tool for both IT gurus and less computer-savvy individuals, as the interface is accessible and easy to use. Additionally, users can enjoy a multi-purpose tool for an affordable price. 
| | |
| --- | --- |
| Name | Restoro |
| Type | System repair and optimization software |
| Pros | Fast scans, competitive prices, efficient performance |
| Cons | Limited scan configuration |
| Pricing | One-time license – $28.95, unlimited use for a year – $37.95, three annual unlimited-use licenses – $56.95 |
| Main functions | Repairs malware-caused damage, replaces corrupt/bad files with authentic Windows files, removes junk, corrupted registries, and browser trackers/caches, and fixes Windows issues like BSODs, damaged DLLs, freezing, or lag. |
The software is developed by highly trained IT professionals
Restoro software was first released in 2018. Nevertheless, the developer team consists of professional IT experts and programmers, and the R&D department is continually improving and innovating, and increasing the software's capabilities.
The team is dedicated to its users and is committed to their values: 
Honesty & Reliability, Innovation & Simplicity.
Moreover, users can contact technical support anytime on the phone by calling 1-888-658-5291 or using an online chat function. If you have any questions or issues about anything related to the application (purchasing, license, operation, or other issues), you can call the provided phone number, and you will be helped immediately.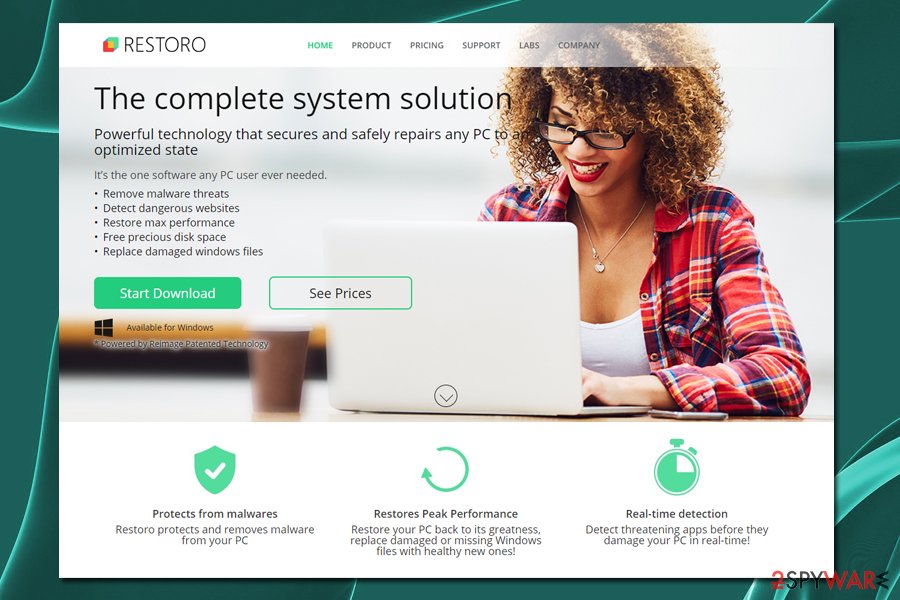 Restoro installation, operation, and pricing
Users can download this software for Windows on the official website. The download and installation process is straightforward – follow the on-screen instructions. The whole procedure does not take a minute, so you will be set up to use the application in no time. There is no hidden bundled software within the installer, so users can rest assured that no additional applications will show up on their systems unexpectedly.
The initial scan will perform the following:
As soon as the installation is complete, the software performs a full system scan. To make use of supreme functionality, it first compiles technical data about the PC –  CPU, mainboard, memory modules, video card, and local drives data. The scan report also includes the total size of your hard drive and free space, the temperature of the CPU, and other parameters.
Restoro for Windows then looks for stability issues, such as program crashes within a few past months. It detects problematic applications, which can result in unstable Windows functionality. Additionally, the app scans the Windows Registry to determine broken or missing Registry keys.
Finally, the repair app scans for malicious applications and possible damage traces left by them. It checks for trojans, ransomware, worms, and other hazardous parasites. This way, users can remove malware with the help of the app automatically.
This analysis is performed, and scan results are displayed for free. Users who want to fix found issues automatically must purchase a licensed version.
Restoro initial scan will identify all problems in your computer's operating system. The repair procedure involves eliminating and substituting damaged files identified during the scan.
The repair process eliminates damage and remedies the harm caused to your Windows OS by replacing corrupted and missing files with new Windows files and components obtained from our constantly updated online database. This will restore and enhance your computer's performance, stability, and security.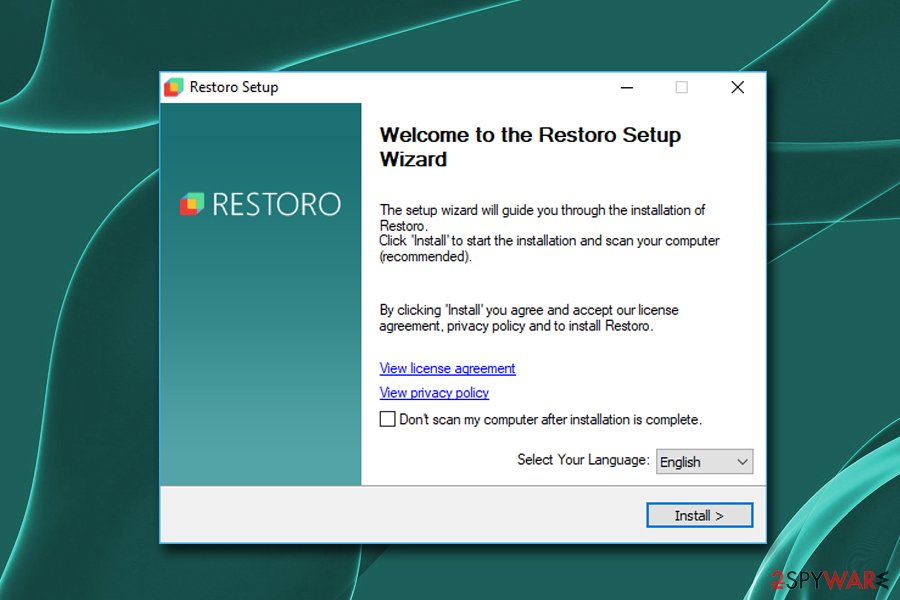 At the moment, users can purchase a full Restoro license for $37.95, which will be valid for a year. If more copies are needed – users can obtain two more for only $10 each, which we believe is a great deal, as typically, there is more than one computer in the household.
So, all in all, users can protect three different machines for $59.95 a year, which comes to approx $20 per piece, which is a fascinating deal. Finally, users obtain a 60-day money-back guarantee. Thus, they can use the software for two months and, if they decide that it is not designed for their needs, can get the entire paid sum back.
Is Restoro safe to use?
Unfortunately, not all repair tools and malware removal applications are fair. If you have never heard of bloatware and scareware, we will explain these suspicious apps.
Bloatware is designed to overload your PC with browser extensions, toolbars, system optimizers, and other useless programs. Unfortunately, this usually happens without your permission, or you are tricked into installing these dubious apps. Bloatware can also be referred to as software that has been pre-installed on a laptop or a mobile device, although it does not benefit the user.
Scareware is a type of software usually designed to scare users by showing bogus scan results. Typically, this functionality applies to system optimizers and even repair tools. To ensure that users are misled, developers of such apps use various scare tactics and often claim that a computer is in a poor state (scan results include thousands of issues displayed using red color, flashing windows, and other social engineering methods).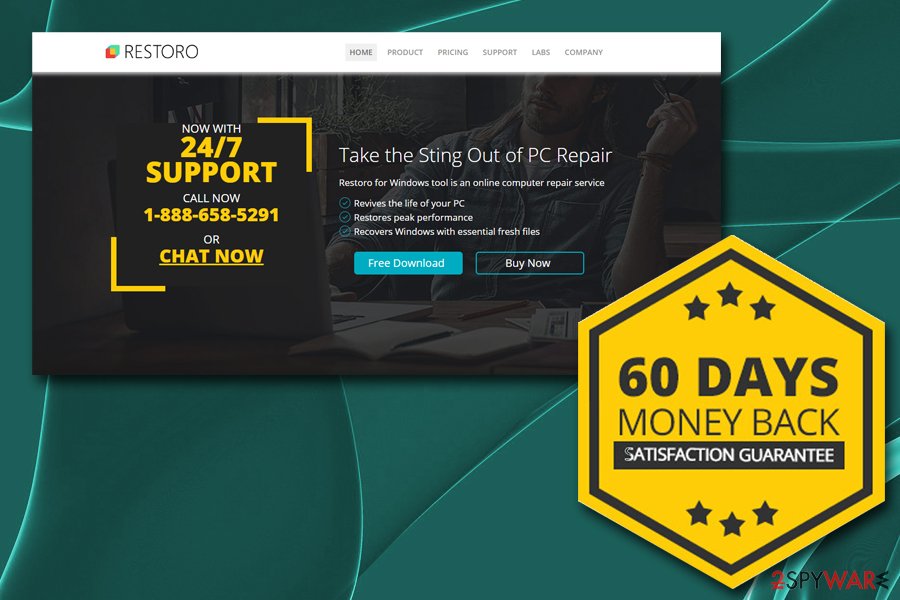 Thus, if you want to know the answer to the question "is s Restoro safe?" we can assure you that it definitely is, and it does not belong to the categories mentioned above. In fact, it would detect such apps as malicious and remove them. Reasons, why the software is safe and legitimate are simple:
It does not bundle any dubious applications – the installation is secure;
The software shows accurate scan results, marking detected issues accordingly. That means that users will not receive thousands of warnings, implying that their computer is on the brink of destruction (typical to scareware) unless it actually is;
The program does not show any intrusive advertisements or redirects to sponsored sites. 
Refrain from pirating software
Certain users are keen on obtaining software illegally – downloading files like Restoro license key or Restoro crack. We do not recommend engaging in such activity because not only is it illegal and punishable by licensing violation law, but downloading dodgy files from file-sharing sites can also result in severe malware infections.
Additionally, the software is a product in which trained IT professionals put much effort and time into compiling their knowledge backed up by countless hours of teamwork. It would be unfair to take from people who work hard to satisfy their customers by providing excellent customer service and an application capable of repairing broken Windows machines.
The conclusion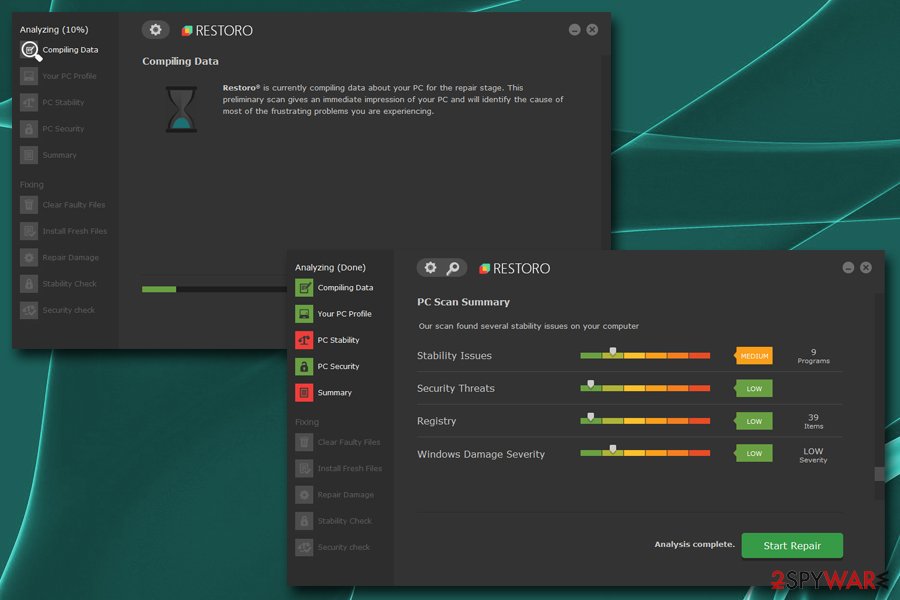 To conclude, we believe that Restoro is a great application that can restore, refresh and fix your computer entirely without reinstalling Windows. It can also repair the damage done by various cyber threats. The application is perfect for running along with anti-malware software, which guarantees a perfectly functioning computer.
We hope this Restoro review was helpful and we answered all your questions. If you need a tool that provides you accurate state of your Windows computer and you want repairs and fixes to be applied automatically, this software is for you.
Note: While the app is an excellent solution for the computer maintenance, error fixes, junk cleaning, as well as malware removal, keep in mind that it cannot serve as anti-malware software. In other words, an app is a complementary tool that can remove viruses but won't stop them from entering.
About the author