Super Spyware Remover review
Super Spyware Remover uses false positives. We have tested free version on clean computer. Scan report contained one registry entry associated with TinyBar adware. However, detected key HKEY_CURRENT_USER\Software\Microsoft\Internet Explorer\Toolbar\webbrowser\itbarlayout actually is related to legitimate Microsoft Internet Explorer. It keeps essential settings of the web browser and cannot compromise the system or violate user's privacy. See screenshot below.

Free version can remove suspicious objects it found. Its functionality is very close to full product's. However, updates are disabled.

Super Spyware Remover is a clone of other corrupt antispyware programs, such as The Spyware Detective, AGuardDog Suite or WebSafe Spyware Secure. It uses the same spyware definitions database, has almost identical interface and produces similar scan results.

The official site is shareware4web.com. It lacks privacy policy and adequate information about the software and its vendors, who apparently have decided to discontinue Super Spyware Remover. Information about it was removed. However, the installation file is still available on the official site.

We DO NOT recommend purchasing and using Super Spyware Remover.

Super Spyware Remover download:
NOT RECOMMENDED
ASK US:
Submit question
about Super Spyware Remover
Corrupt Anti-Spyware Super Spyware Remover spyware remover was carefully tested by 2-spyware.com research center. The review is the result of our test. If you know additional information about Super Spyware Remover please
send us the note
.
Advice
If your Computer seems Sluggish, or you see some unwanted Advertisements, redirects to the strange websites, then we recommend you to scan the system with reputable anti-spyware program. Do some FREE scan tests and you will see if there are some unwanted applications, whitch might be responsible for the tab stability of the system.
We might be affiliated with any product we recommend on the site. Full disclosure in our Agreement of Use.
By Downloading any provided Anti-spyware software you agree to our
privacy policy
and
agreement of use
.
Recommended Software
Negative side:
false positives
knockoff / clone
missing terms or privacy policy
Super Spyware Remover screenshot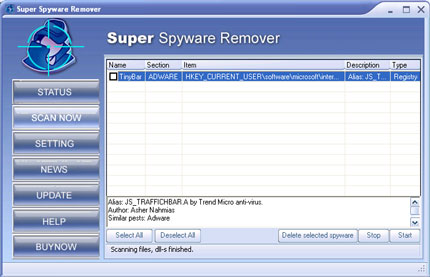 Information added: 2005-04-08 12:15
Information updated: 2011-09-16 05:09
Additional resources:
Attention:
If you know or you have a website or page about Super Spyware Remover, feel free to add a link to this list:
add url
more resources