How to uninstall SpyHunter
Before uninstalling SpyHunter, check its Customer Service
If you opened a post called "How to uninstall SpyHunter", we can guess that you are not satisfied with this program and you want to uninstall it from your computer. However, before doing so you should make sure that you check each of the features that are built into SpyHunter.
If you think that your machine is infected with malware but a scan with SpyHunter does not return any results, you should contact customer service instead of uninstalling the program. Be aware that some computer problems might not be related to malware whatsoever, and technical support would be able to assist you with any type of problems you are having.
Another reason why SpyHunter might not detect malware on your device is due to the outdated database. The anti-spyware scans computer and compares detected files to its virus definitions, so if the infection on your PC is not among them it can be missed.
If this fails to work for you, you should think about using SpyHunter support service, which is called Spyware HelpDesk. It is combined of Custom Fix and Live Technical Support features. More information about customized fix and other great services that can be offered by this security tool can be found in this review.
Use your SpyHunter refund option or make use of Trial version
If you still believe that you want to uninstall SpyHunter, you can use a guide given below. If you have purchased the software (the free version of the program can show you all the threats that were found on your device. However, you can only delete the detected malware by activating a Trial version or purchasing the registration key), you can also receive SpyHunter refund of the amount you paid for the software. Note that the refund request should be initiated within 30 days from your purchase date.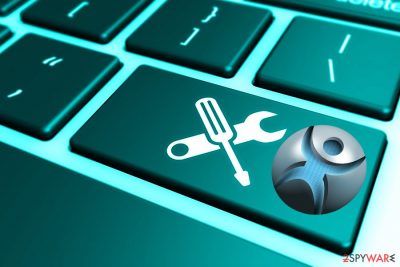 Before you uninstall SpyHunter, try the HelpDesk feature that would allow you speak to tech support directly
If you still have not purchased SpyHunter, however, you can make use of its Trial version – simply click on any of the features that are only available in the registered version – HelpDesk, malware removal, etc., and you will be prompted with three options:
Free Trial Offer
I have already purchased
Buy now!
Pick the first option and then select "Activate Trial in 48 Hours" if you do not wish to pay at the given time, and you will be able to see a full functionality of the product after 48 hours – you will be able to delete all found threats once free of charge.
SpyHunter alternatives
If you want to uninstall SpyHunter, remember that you should never leave your computer unprotected, as malware might enter your device at any time, especially if security holes are present – software vulnerabilities is just one of the methods that allow hackers to install malware automatically, without user interaction whatsoever.
Therefore, you need to have an alternative for SpyHunter ready – we suggest using a reputable tool that can delete detect and delete malware such as ransomware rootkits, spyware, adware, and other threats – Malwarebytes.
Additionally, do not forget that some serious malware infections might damage Windows system files and alter the registry. In most cases, security software is not capable of restoring important files that are needed for Windows operation. Therefore, to revert system modifications and fix virus damage, we also suggest using Reimage along with the regular anti-malware software.
Remove SpyHunter from your Windows computer
Before you uninstall SpyHunter, you should terminate its process in order for the process to be smooth.
Terminate the process of SpyHunter
Click on Show hidden icons arrow at the bottom right of the taskbar
Right-click on the SpyHunter icon and select Exit
When the prompt pops up, click on Yes, Exit SpyHunter

Exit SpyHunter by clicking on the taskbar menu

Now open Task Manager by pressing Ctrl + Shift + Esc
Find SpyHunter entries, right-click and select End task

Open Task Manager and stop SpyHunter's process
Uninstall SpyHunter via Control Panel
Type in Control Panel into Cortana's search box
Select Control Panel from the search results and click on it or simply hit Enter
Once Control Panel opens, go to Programs > Uninstall a program
Scroll through the installed program list until you find SpyHunter entry
Right-click on it and select Uninstall/Change

Right-click on the SpyHunter entry and select Uninstall/Change

When User Account Control shows up, click Yes
Once EnigmaSoft uninstaller shows up, select Yes
As soon as uninstall is finished, you will be asked to reboot your PC

Reboot the PC to finish the uninstallation process of SpyHunter

Do so and you will complete SpyHunter uninstallation procedure.
Reviews in other languages