iPad and iPhone users are tricked by fake warning that locks their Safari and asks $80 for fix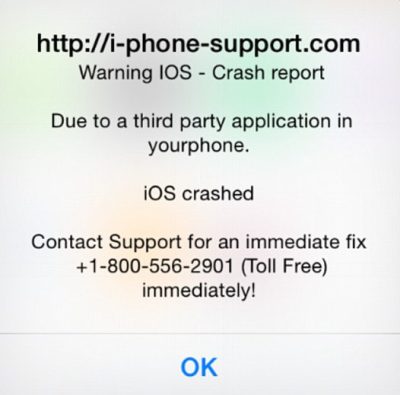 If you are the owner of an iPad and iPhone, please read this story very carefully. We want to warn you about the latest scam, which has been spreading in the US and Great Britain for some time.
The main thing that you have to do for protecting yourself is to ignore the misleading warning message asking you to pay from $47 to $80 for fixing your device (tablet or phone). Beware that this scam warning appears out of nowhere while victim is on Safari browser and says: 'Warning iOS Crash Report – Due to a third party application in your phone, iOS crashed. Contact support for an immediate fix.'
If you would fall for this alert and would dial the given number, you would call for scammers who are clearly trying to rip people off. In this case, you would be informed by unknown person that someone is trying to remove all of your details. Of course, scammer offers to 'fix' everything and asks for credit card details of the victim.
Please, do NOT reveal your financial and personally identifiable information for unknown people! In order to get rid of this fake iOS Crash Report, you should follow these steps:
Exit Safari by pressing the Home button;
Go to Settings and enter Airplane Mode;
Stay in Settings and go to Safari settings;
Clear your browsing history and cookies;
Reopen Safari and look for the fake warning message;
If it is gone, then leave the Airplane Mode.
Source: dailymail.co.uk
About the author