The scope of Fortect: its capabilities and boundaries
Fortect emerges as a comprehensive Windows repair tool with an impressive suite of features. It excels at diagnosing and rectifying common PC problems that include system crashes, slow performance, and perplexing error messages. Furthermore, it is proficient in identifying and substituting damaged or missing system files, effectively enhancing your PC's overall performance.
The software shines in the arena of the virus damage repair as well. By restoring your system to its pre-infected state, it serves as a pivotal player in post-virus cleanup. This tool is not just about repair; it's also about optimization. It's adept at giving your system a performance boost by cleaning junk files, rectifying registry issues, and optimizing the settings.
However, there are areas where Fortect falls short. It does not offer repair or replacement for files associated with third-party applications. While it can efficiently clean up after a virus attack, it doesn't provide real-time protection against such threats. Hence, it is recommended to use it alongside dedicated antivirus software. Also, though the software can detect potential hardware issues, it can't repair physical hardware problems.
In essence, Fortect is a tool designed to optimize your Windows experience, focusing on key areas of system repair and optimization while acknowledging its boundaries in other areas. It strives to offer a robust service that can significantly improve the health and performance of your system.
Fortect customer support and user experience
Navigating a new software solution can be a challenge, but the customer support team and user-friendly policies aim to make the process as smooth as possible. When you purchase or activate the free trial of Fortect, you will receive a confirmation page containing your license key. Even if you accidentally close this page, there's no need to worry – the license key is sent to your registered email address for safekeeping.
Struggling to locate your license key? Customer support is there to assist. You can reach out to them directly or email support@fortect.com. Be sure to provide the email address used for your Fortect order or your Order Number to ensure a swift resolution.
In addition to its paid services, the app generously offers a "Pick & Choose" Repair option as part of its free trial. This gives you the freedom to repair specific categories individually. Once activated, this free trial option remains open for a period of 24 hours.
Subscribing to Fortect's product license may involve creating a user account. This account serves multiple purposes – it's your hub for payments and account management, and it's where you can reach out to support if needed.
When it comes to payments, the experience is smooth and secure. All transactions are processed via a secure third-party payment processor, ensuring the safety of your personal data and the integrity of your transaction.
Finally, your satisfaction is Fortect's top priority. That's why they offer a generous 60-day, no-questions-asked money-back guarantee. If, for any reason, you're not entirely satisfied with the app's services or repairs, you can contact them for a full refund.
Uninstall Fortect
Decided that Fortect isn't right for you? No problem. Uninstalling the application is just as easy as installing it. The process varies slightly depending on your operating system, but it's straightforward in every case.
Uninstalling Fortect from Windows 10/11:
Click Start to open the Settings app on your PC.
Select the Apps option.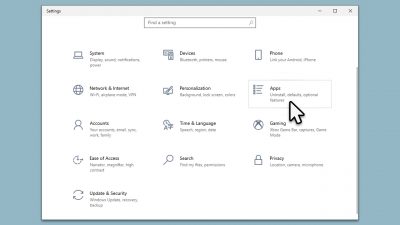 Scroll through the list of installed applications to find Fortect.
Click on the app, then select Uninstall and confirm with Uninstall.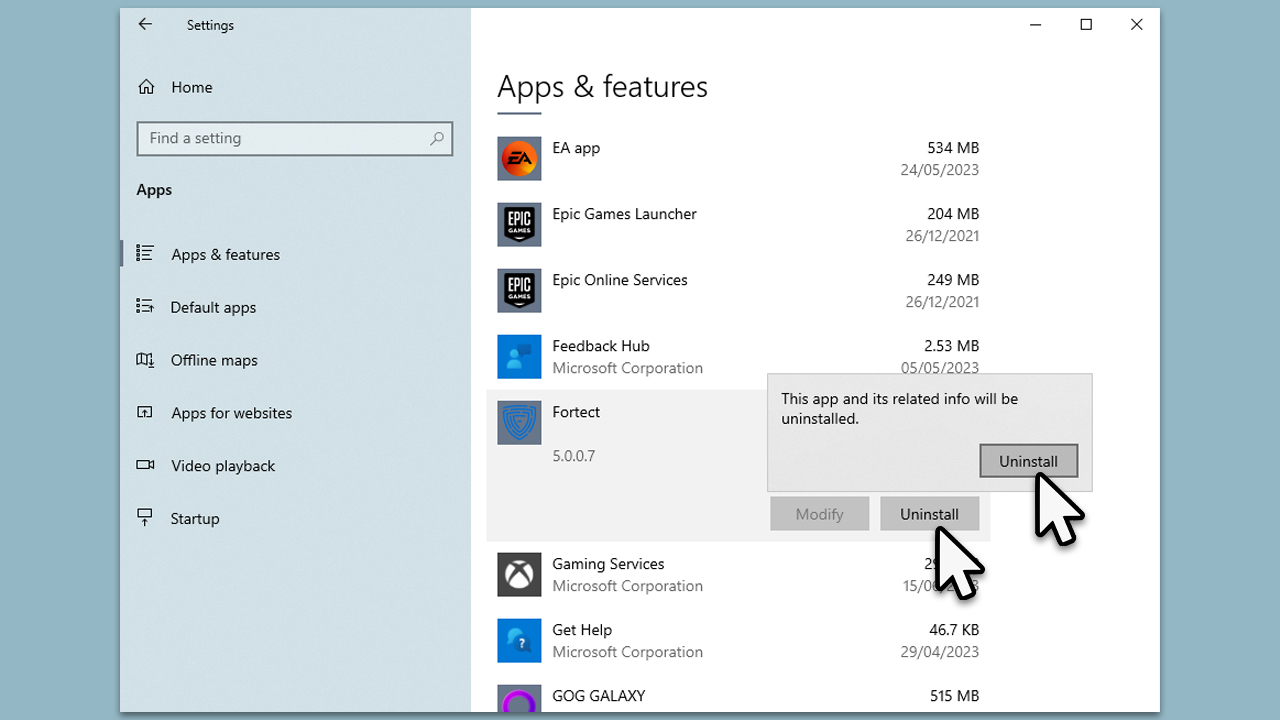 When the prompt shows up, click Yes.
Wait till uninstall process is finished.
Finally, click OK.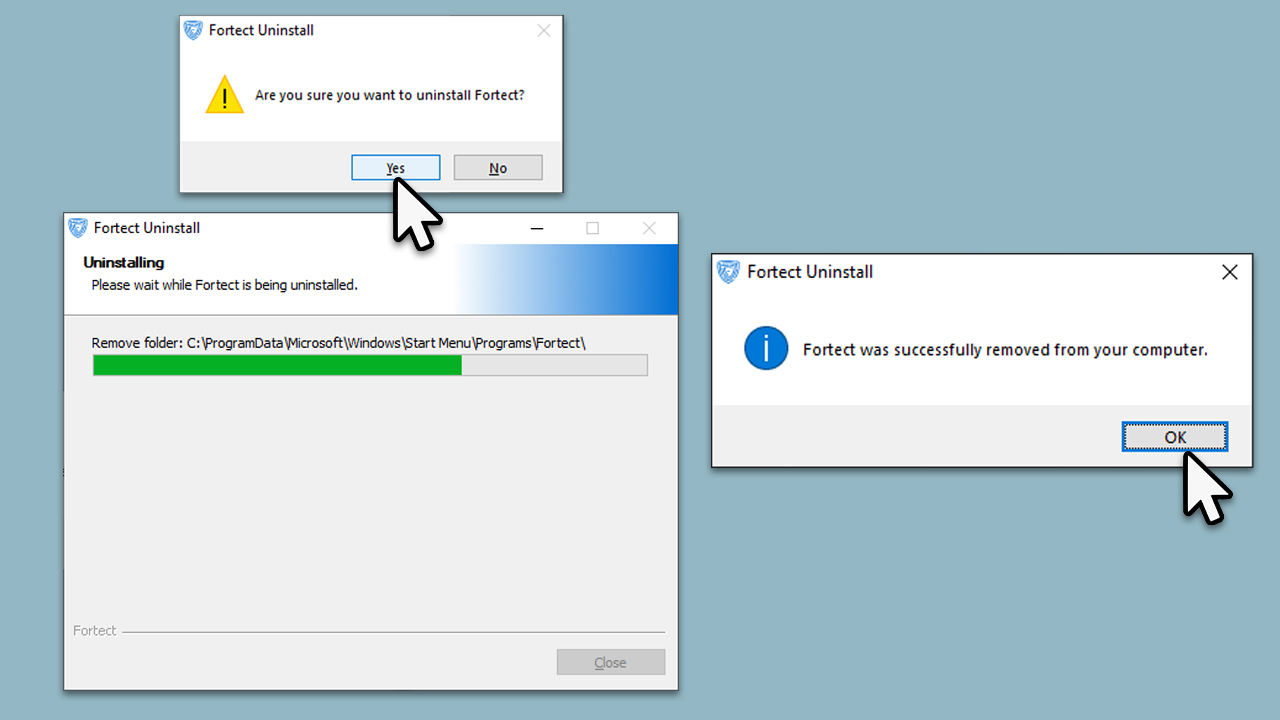 Uninstalling Fortect from Windows 8/7:
Open the Control Panel.
Select Programs, then Programs and Features.
Find Fortect in the list of installed programs.
Click on the app, right-click, and pick Uninstall/Change.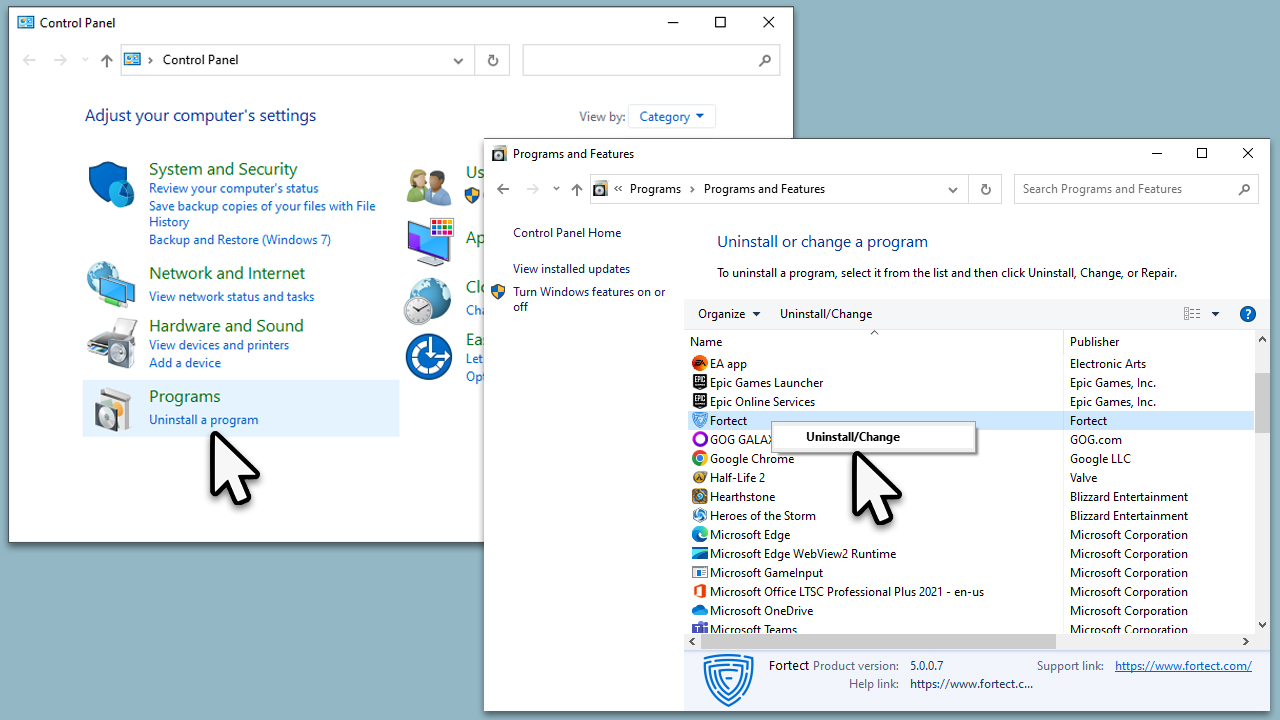 When the prompt shows up, click Yes.
Follow the instructions to complete the uninstallation process.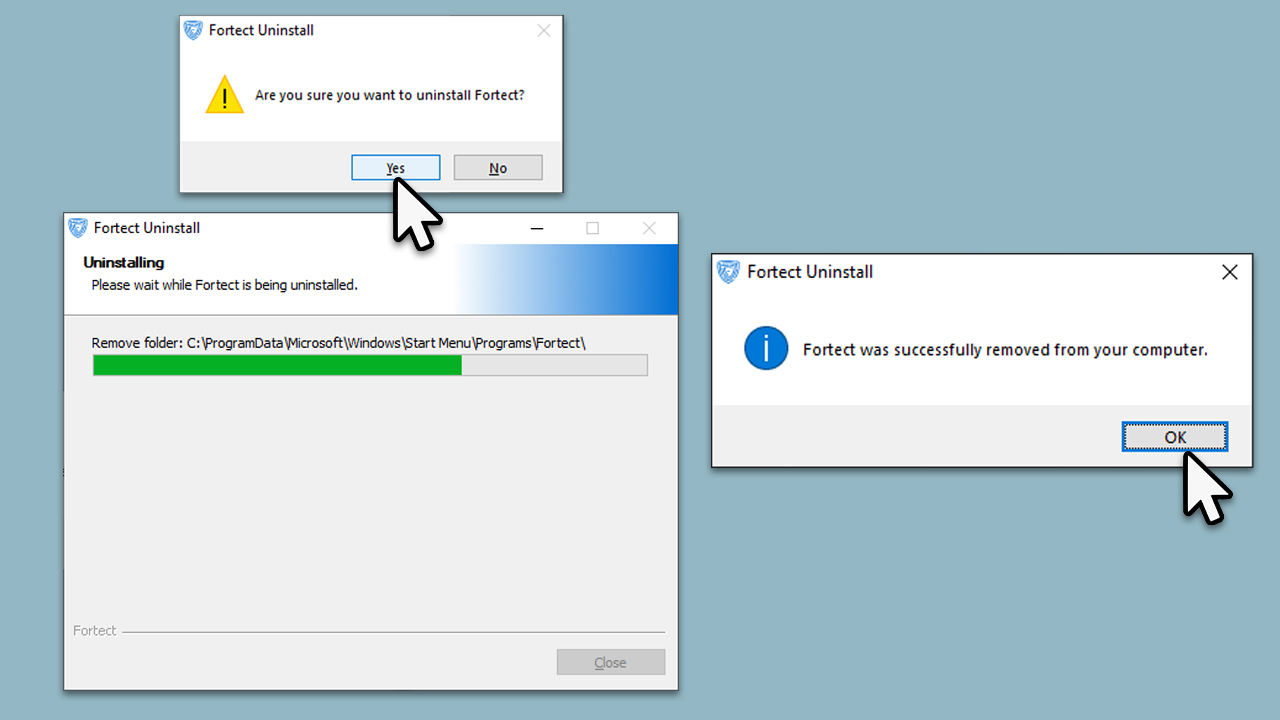 By following these steps, you can quickly and easily remove Fortect from your system. If you encounter any issues or need further assistance, don't hesitate to reach out to the support team.