What is Fortect?
Introducing Fortect: a robust, all-in-one solution for addressing common and complex PC issues. As a robust system repair application, it offers a one-stop solution to address some of the most commonly encountered PC issues and beyond.
With the increased reliance on computers in our daily lives, issues like system crashes, slow performance, or mystifying error messages can create unnecessary hurdles, leading to frustration and wasted time. That's where Fortect steps in. With its advanced capabilities, it diagnoses these problems, pinpoints their root causes, and implements effective solutions to resolve them.
The power of Fortect lies in its sophisticated algorithms and an extensive database of healthy system files. These allow it not only to detect problems but also to replace damaged or missing files, thus restoring your system to its ideal state. Whether the issue stems from file corruption, virus-induced damage, or system inefficiencies, the software is designed to tackle it head-on, ensuring that your PC functions at its optimal level.
But the functionality of Fortect goes beyond just problem-solving. It's also an invaluable tool for maintaining your PC's health in the long run. Its capability to optimize your system ensures smoother performance and longer life for your PC. In addition, its user-friendly interface and detailed scan reports make it a joy to use, even for those who aren't tech-savvy.
In a nutshell, Fortect is not just a repair application – it's a comprehensive tool that provides peace of mind regarding your computer's health and performance. It's an investment in seamless computing and a safeguard against potential issues.
Download and install Fortect on Windows
Download Fortect is easy – simply click the link, and the download process will begin automatically. No matter which internet browser you prefer, you'll see the downloaded Fortect.exe file conveniently positioned at the bottom-left corner of your screen. A simple click on this file kickstarts the installation process.
Once you initiate the installation, a series of prompts guide you through the remaining steps. These easy-to-follow instructions ensure a smooth setup experience, even for those who aren't particularly tech-savvy. Following these steps, the installation process requires only a few minutes, and you'll have Fortect ready to scan, optimize, and repair your system. Follow these steps:
Once you click on the download link, the installer should download automatically.
Click on the Fortect.exe file at the bottom left of your browser window to start the installation process.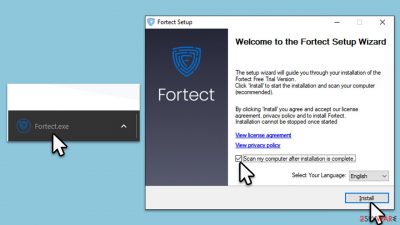 When the User Account Control window asks you whether you want to allow changes – click Yes.
In a few brief moments, you will be shown the configuration window – select your language from the drop-down menu and leave Scan my computer after installation is complete option marked.
Click Install.
Wait till the installer downloads and installs all the needed files.
Finally, click Close.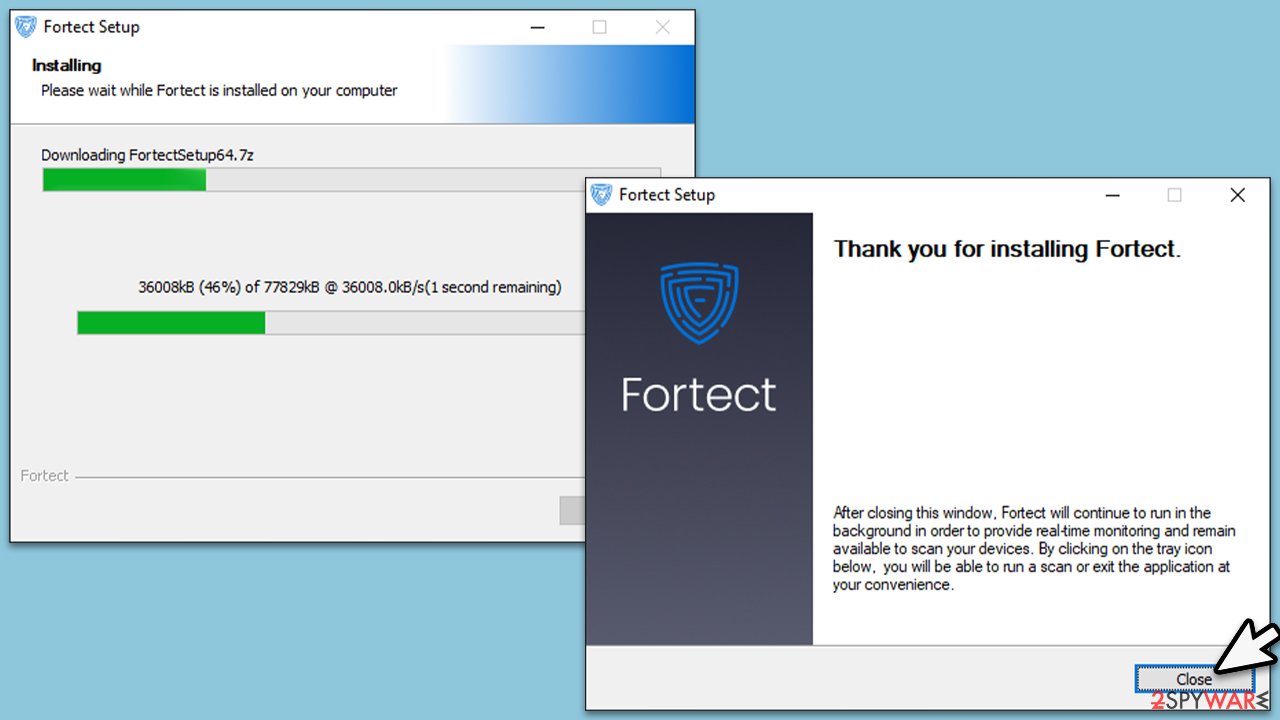 Fortect scan, results, and repair
Following the installation, the scanning process commences immediately unless the option was deselected during the setup. If the scan does not initiate, it's as easy as double-clicking the shortcut icon on the desktop to get things moving.
During the scan, the application goes through a thorough inspection of your system, including the following:
Compiling an in-depth profile of your system hardware and software.
Checking for damaged or missing Windows system files.
Scouring the registry for errors and inconsistencies.
Inspecting DLLs to ensure they are correct and functioning.
Checking privacy issues due to accumulated cookies and other trackers.
Compiling a list of junk files that take up a large amount of space.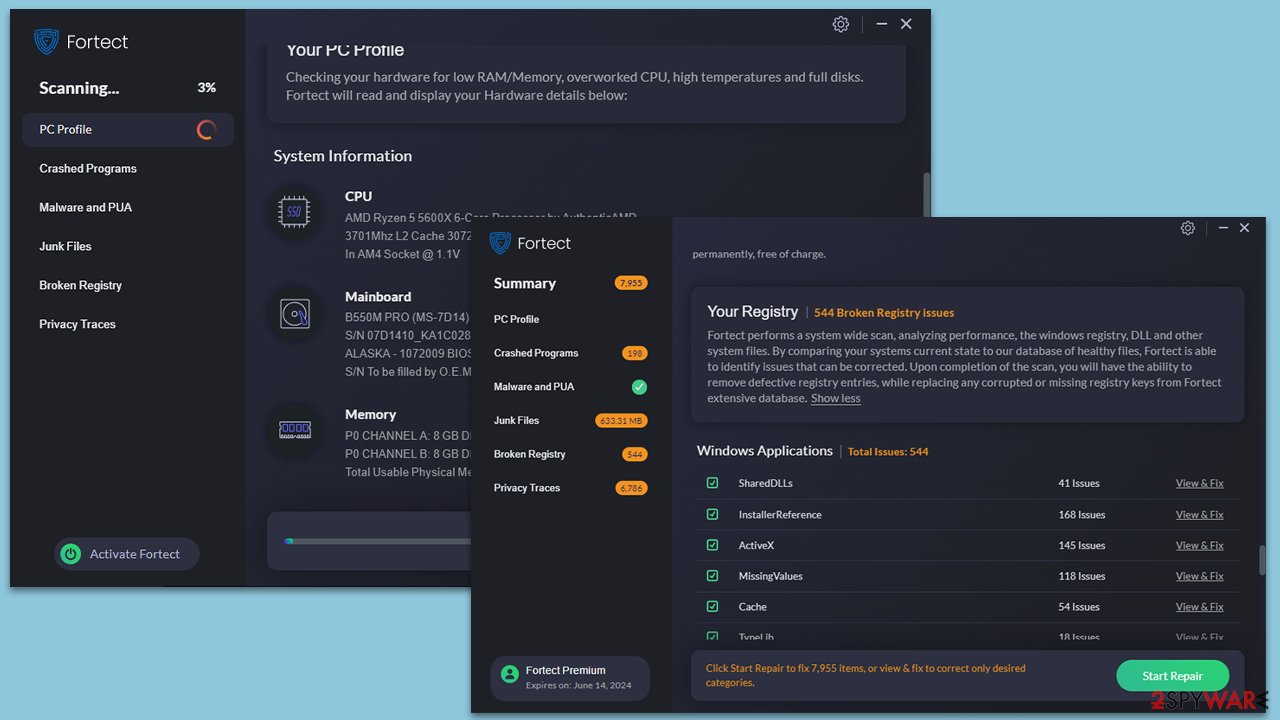 Once the scan is completed, a detailed report showcases the areas requiring attention. You are given the choice of delving into each issue and rectifying them one by one at no cost. Alternatively, you can opt for the "Start Repair" button at the bottom of the screen. This function enables a one-click repair solution, addressing all discovered issues simultaneously.
However, note that this automatic repair feature requires the full software version. If you have not already upgraded, a prompt will direct you to a secure purchase page to acquire the full license. This acquisition gives you unlimited access to automatic repairs and other enhanced software features, providing a comprehensive solution to all your PC woes.