WhatsApp founder leaves Facebook over clashes about users' privacy
WhatsApp co-founder is leaving Facebook after years of tension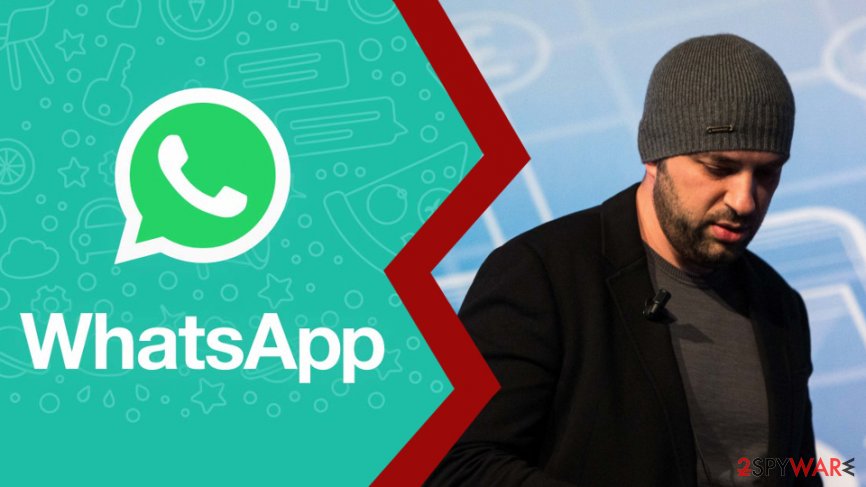 Several days ago, Jan Koum, the founder and the CEO of WhatsApp, announced about his departure from Facebook.
Koum and WhatsApp's co-founder Brian Acton became related to this social media giant in 2014, once they sold the company for $19 billion.[1] Since then, there was an increasing tension between two companies as they had different views on privacy, data encryption[2] and business model of the app. 
Koum has been known as a firm believer of data protection and privacy as he grew up in the Soviet Union and despised the constant surveillance. WhatsApp managed to fulfill their promises by adding end-to-end encryption[3] process in 2016. This change was supposed to prevent anyone from accessing information disclosed by users, including owners of the application.
However, according to the anonymous Facebook executive, Koum became increasingly anxious about Facebook's business model for WhatsApp, as they wanted to focus more on harvesting and selling the private data for advertisement companies. 
The company is left at the crucial time
It seems that both WhatsApp developers found themselves fed up with Facebook and decided to part ways after the major scandal – Facebook's Cambridge Analytica data leak.[4] It was discovered that data of 87 million users was harvested and inappropriately shared, possibly affecting such major world events as Trump's election or Brexit. Additionally, the social network was accused of posting fake news and being involved in Russian election manipulation. 
As a result, Koum's colleague Acton quit the company back in November last year. He donated $50 million of his own money into Signal, a messaging app which firmly stands for data security and privacy. 
Nevertheless, Koum's announcement[5] does not express any sign of privacy concerns related to the company:
It's been almost a decade since Brian and I started WhatsApp, and it's been an amazing journey with some of the best people. But it is time for me to move on. <…> I'm taking some time off to do things I enjoy outside of technology, such as collecting rare air-cooled Porsches, working on my cars and playing ultimate frisbee. And I'll still be cheering WhatsApp on – just from the outside. Thanks to everyone who has made this journey possible.
In response, the founder of Facebook Mark Zuckerberg posted:
Jan: I will miss working so closely with you. I'm grateful for everything you've done to help connect the world, and for everything you've taught me, including about encryption and its ability to take power from centralized systems and put it back in people's hands. Those values will always be at the heart of WhatsApp.
Facebook has always been trying to change WhatsApp's business model 
Koum and Acton founded WhatsApp in 2009. It had an annual fee of $0.99. After the acquisition in 2014, the company had $20 million in revenue, which was not enough for Zuckerberg, so he started to look for new ways to acquire more income.
WhatsApp already collected a minimal amount of data and Facebook promised that it would stay that way. However, it was never cleared how WhatsApp will make money in the future. The annual fee was removed and Facebook pushed WhatsApp to share the phone numbers of users, devices, and operating systems used.
Initially, WhatsApp founders did not mind sharing a certain amount of data with Facebook. However, they did oppose using app's data for the personal ID creation across multiple platforms, such as Instagram and Facebook Messenger, which could later be used for targeted advertisement.
About the author
References