Advertising trojans take top position in mobile viruses
Reviewing the malware trends in 2016, virus researchers noticed a surge in mobile trojans. According to the annual report published by Kaspersky Lab, banking trojans, trojanized mobile ransomware (261,214 infections) and advertising trojans topped the list of mobile infections last year. More than 40 million attacks were detected[1]. In other words, more than 153 000 mobile users have become victims of the trojan attack. The majority of them were targeted at Android devices.
Due to the steady growth of mobile users, cyber villains do not lag behind the new wave. For some hackers, mobile devices are the jackpot for conducting their shady business. It is common knowledge that smartphones are far less immune to virtual threats in contrast to standalone computers. Within last year and recent months of 2017, the virtual community has already seen multiple variations of mobile viruses. Most prominent of them remain Android ransomware and Android banking trojans[2]. The recent upgrade of Android.Lockroid.E disclosed an interesting variation of malware which asked victims to speak the unlock code[3]. 128 886 detected banking trojans suggest that the crooks mastered techniques how to lure victims in their scam, coax out personal data, and access bank accounts[4].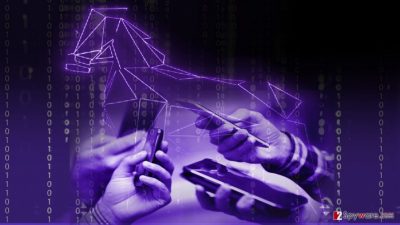 Trojanized ransomware is another popular type of infection. The first signs of such ransomware were detected last year simultaneously with the rise of Pokemon Go app. At that time, a ransom nearly exceeded $50, now the crooks play big by asking several hundred of dollars in exchange for the data locked inside the phone. Regarding the rise of ransomware-as-a-service threats online, there is also an increase in advertising trojans, in other words, mobile malware for sale[5]. This type of infections comprised 16 of 20 detection ration in 2016. Specifically, this sort of mobile trojans is not only capable of bombarding the devices with commercial offers and paralyzing it in other ways, but it can also gain access to user-rights and download apps behind your back. These numbers of mobile infections remind you once again to protect your mobile device with proper anti-virus app and stay cautious while enabling any new features or downloading content to your mobile phone.
About the author
References