Remove Calendar virus - Jan 2021 update
Calendar virus Removal Guide
What is Calendar virus?
Calendar virus is a scam notification created by crooks to profit from fraud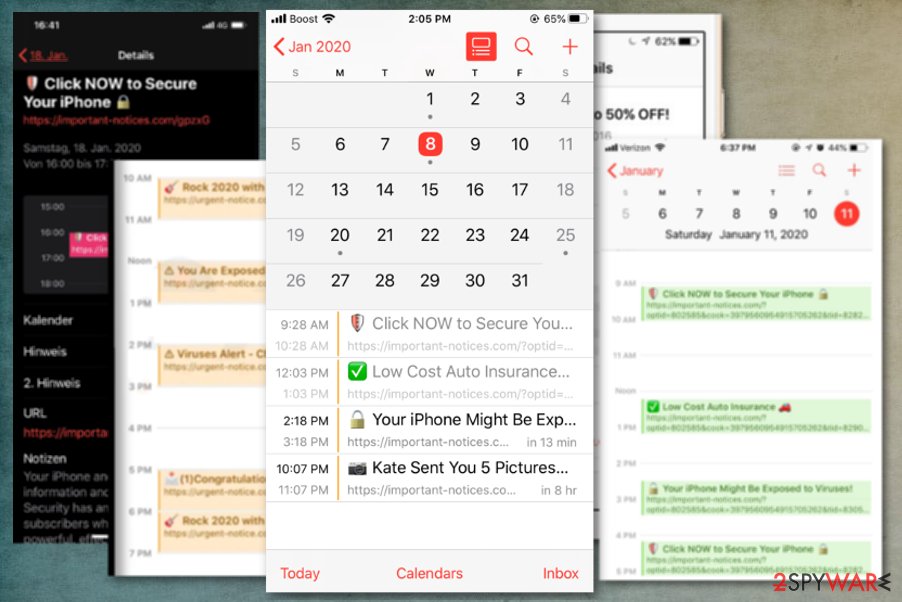 Calendar virus is the threat that affects iPhone devices and infiltrates applications with shady events and entries triggering notification pop-ups and redirect.
Calendar virus is an iPhone-related scam that helps to trick mobile users into clicking on ad-like events. It's a non-typical member of the iPhone virus family as this particular scheme has been programmed to target the Calendar app by filling it with fake event links, which keep displaying reminders when the scheduled time exceeds. Nonetheless, the same activity can be found on Macs[1] as well.
Each notification contains a link and a short description, such as "Kate send you 5 pictures" or "It's your lucky day." However, there's no option to disable the Calendar notifications easily, and that's the main reason this type of issue is particularly disruptive and annoying to users.
These questionable entries appear seemingly out of nowhere. The Calendar spam may invite people to participate in various deals, sales, register to the dating portals, claiming prizes, etc. Often people fall for clicking on suchlike ads as they are displayed within the legitimate app, which makes them seem more trustworthy (it is not the case, however).
In most cases, users believe that the Calendar spam activity is related to malware, although it is not the case. In most cases, deceptive techniques (phishing email, fake alerts on suspicious sites, etc.) are used to add a calendar entry on iPhone or Android or a malicious profile into these devices. Thus, the only way to get rid of these persistent scam messages is by deleting these entries.
Remember, URLs like notice-iphone.club or alert-booster.club should never be trusted. You can find a guide below that shows how to reset browsers, eliminate unwanted notifications and clear the machine fully from any threats like this, so you can avoid any damage and remove Calendar virus.
| | |
| --- | --- |
| Name | Calendar virus |
| Type | Scam/Mac virus |
| Associated | Mobile calendar applications, services |
| Symptoms | The device becomes slower and questionable calendar entries, events get scheduled on the mobile applications out of nowhere and triggers redirects to advertising services, commercial pages, pop-ups, or banners with questionable material |
| Damage | Deceptive sites and pop-up notifications expose the user to possibly malicious content and can trigger direct downloads of PUPs or malware on the machine. Also, online advertisers can access, track, collect and sell information about your online browsing habits |
| Distribution | The scam is spreading around the same deceptive advertising sites that trigger redirects, show advertisements, and so on |
| Elimination | To get rid of Calendar virus, you will have to access its settings and get rid of the event that was added without permission; additionally, if you clicked on links, make sure you scan your device with anti-malware software |
| Repair | For better performance of the device, as well as the termination of junk files and leftovers of malware, scan it with ReimageIntego |
The suspicious activity may appear on many devices, including Windows/macOS desktop machines, as well as iPhone and Android phones. Users say[2] that they have been infected with the iPhone Calendar virus and question the security of their devices because such alerts may seem either dangerous or related to malware.
Variations of Calendar virus include messages like You Have Won iPhone X Max from AppleStore or Your iPhone Xs Max is ready for PickUp that come from various websites, including:
Urgent-notice.com
Iphone-notification.com
Notification-fix.club
Notification-booster.club
Alert-iphone.club
Alert-cellphone.club
Alert-device.club
Notices-cleaner.best
Notices-booster.best
Notices-fixer.best
Phone-notification.com
Protection-iphone.fun
Showingti.me
Protection-fixer.site
Protection-booster.site

Protection-cellphone.fun

Secured-cleaner.club
Attention-device1.site
Notiftoday.online
Protections-cellphone1.site
Biogrammad.club
Penstancew.club
Wacquiriesu.club
Phenomes.club
Evelopingery.club
sputineove.info
unquallydi.info
lybrutalian.info
jidolingoth.info
goultravel.club
happearly.club
sufferenna.club
biogrammad.club
msgcraft.com
msgbaby.com
msgfit.com
msgmagazine.com
notifyclub.com
jrtemployees.club
studiencej.work
tricultmor.space
churchasis.work
familiture.work
cashimmer.com
cashamed.com
cainforma.space
ngseemen.space
uestinepr.space
mblydaught.space
rketbecam.space
msgle.com
cashmsg.com
alitanandhre.space
ayattractory.top
moneymsg.com
asonalman.top
sysmobilenotify.com
efforedev.top
zpredir1.com

Notification-iphone.club
Alert-phone.club
Alert-cellphone.club
Alert-device.club
Alert-fix.club
Alert-cleaner.club
Notice-iphone.club
Alert-fixer.club
Notice-cellphone.club
Protection-phone.site
Protection-phone.fun
Calendar.wpu.sh
Protection-cellphone.club
Notice-fix.site
Secured-cellphone.club
Secured-fix.club
Notice-cleaner.site
Secured-device.club
Notice-fixer.site
Protection-device.site
Protections-device.best
Protection-phone1.site
Notifguide.online
Notices-booster1.site
Protection-cleaner.site
Goultravel.club
Nvengerous.club
Industrate.club
Dinnership.club
Econotify.com
Msgbrand.com
msgbrand.com
econotify.com
evelopingery.club
perstancew.club
wacquiriesu.club
phenomes.club
dinnership.club
hamsg.com
appsevent.com
notifybook.com
msgtravel.com
dadvisorded.club
hospitercli.space
ratedoffici.top
uiredcand.top
planetmsg.com
greatmsg.com
msgeash.com
eventno.com
msgst.com
covarecash.com
getmes.com
getity.com
getlys.com
getlar.com
getatx.com
cashthroat.com
ntcontingss.top
peachlancn.com
coolleftspend.live
beenchairstream.live
load03.biz
rensreache.top

Protections-fixer.best
Protection-fixer.fun
Protection-phone.club
Protection-device.fun
Protection-cleaner.fun
Notices-cellphone.club
Protection-cellphone.site
Protection-iphone.club
Protection-booster.fun
Protections-fix.best
Protection-phone.club
Secured-fixer.club
Protections-phone.best
Notices-iphone.club
Notices-fix.best
Notices-booster.best
Protection-device.best
Notices-cleaner.best, etc.
Notification-cleaner1.best
Cellphone1.best
Notification-fixer1.best
Notices-fixer1.site
Protections-phone1.site
Ectsdividuallyalb.info
Dm3ft0g1booq0.cloudfront.net
Oadesovern.club
Ernmentwei.club
Smenexperio.top
Notices-fixer.best
Fd5.info
Lustricwalt.info
industrate.club
fashionmsg.com
dimsg.com
msgspace.com
iammsg.com
usamsg.com
babymsg.com
moneymsg.com
premsg.com
msgcash.com
msggirls.com
musgone.biz
getund.com
getnes.com
getadi.com
nintrastinst.top
securitypriority.click
eventboys.com
creativemsg.com
cashmolean.com
cationoppo.top
termsma.fun
tickedme.top
ncewinte.top
americanmsg.com
scoverredu.top
nferentapp.top
systemnotices.com
thansendmaterial.live
enrollnotice.com
ossibleslain.top
systemtechnotify.com
togethebi.top
In fact, the list of domains that can cause these changes in the calendar is endless. New related variants appear each day, so it's important to check what is happening on your device every day. Anything that happens on your device without permission should be taken seriously, although many would like to remove Calendar virus just because of its intrusive nature.
Calendar virus is (usually) Apple devices targeting campaign that focuses on deceptive advertisements and push notifications that trigger clicks and permissions so that events can be added to the calendar applications. When people start seeing these entries and other intrusive content, it becomes a difficult process trying to decline, delete them or close additional pop-ups and notifications that appear after a redirect or click on the provided hyperlink.
The event is automatically added to the calendar, and once the date arrives, you get a notification about it. iCloud calendar application and other apps can automatically notify you about every notification, and spammers misuse this feature for their advantage. Pop-up notifications come to your screen repeatedly, tricking you into clicking on them and visiting sites or confirming something. You shouldn't fall for the Calendar virus scam, as if you click on the links and insert your personal information, you may infect your device with malicious software or suffer significant monetary losses.
Interacting with spam can lead to many scenarios. The worst of them could be phishing site redirects,[3] techniques triggering sensitive data collection, or info-stealing malware. If you got exposed to any material regarding advertising pages, software promotions, and other misleading content, try to delete the Calendar virus by exiting those web browser windows and checking the system for malware traces.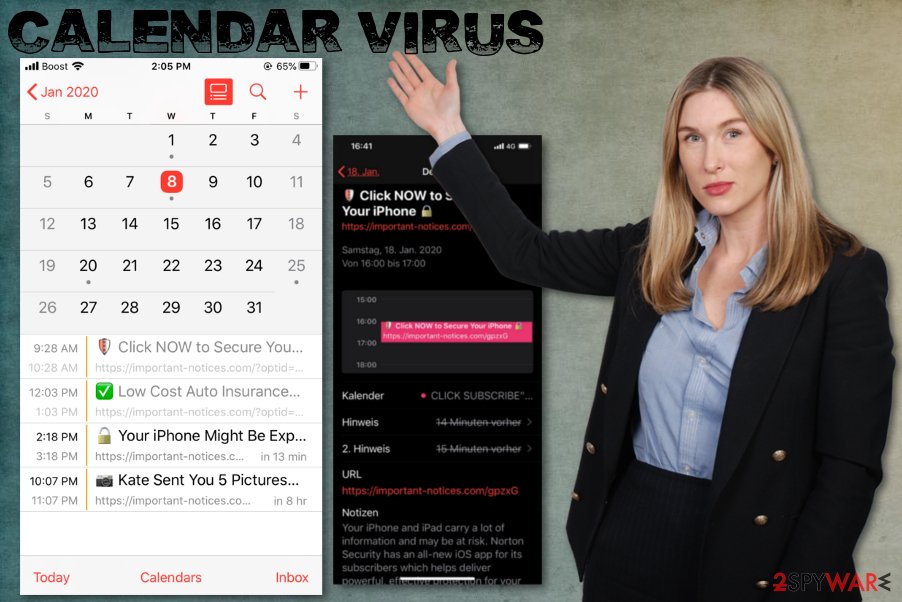 Calendar virus is the scam campaign that makes fake calendar entries with deceptive claims about iPhones you won or possible malware risks to attract your attention.
Unfortunately, there is no particular solution for the issue, and there are many versions of the same Calendar notifications virus. You cannot mark those invites as spam in most cases, but invites can be declined. You can get fraudulent spam events by responding to a scam email, too, regardless if you press Allow or Block.
Pop-up notifications redirect to shady or malicious sites, which might trick many. Then you are left with a hard question and a few methods for Calendar virus removal. Since the intrusion managed to change calendar preferences, it can also attempt to change settings of your machine, add files, programs, or disable some features. You need to consider that and make sure to prevent all potential risks of getting these intrusive symptoms repeated.
If you clicked on links via these notifications and downloaded something, there is a chance that your system is infected, and you need to perform malware elimination ASAP. The best way to do it is by scanning the device with SpyHunter 5Combo Cleaner, Malwarebytes, or another reputable security software.
Some malware, such as info-stealing Trojans, employ techniques that can be used to collect information about your online activities by recording keystrokes or other methods and then sending this data directly to cybercriminals. Thus, do not wait and ensure that your system is cleaned.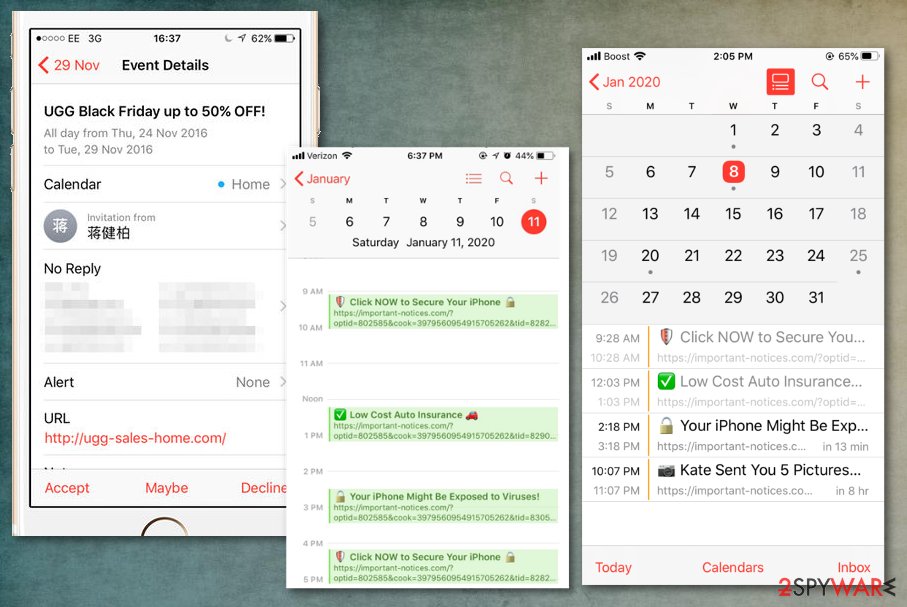 Calendar virus is the campaign that aims to expose people to deceptive content and redirect them to sponsored sites where views get collected.
Calendar virus is connected to hundreds of potentially dangerous domains
Multiple domains could be used to deliver suspicious notifications directly to users' screens. These persistent messages use social engineering in order to make users click on the link and then proceed with whatever crooks intended them to.
Regardless of techniques, all of the scam authors seek only one goal, which is money – be it valuable personal information that could be sold for marketing purposes, installation of unwanted programs that third-parties get a commission on or user exposure to intrusive ads. Below are the most commonly encountered domains that actively distribute the Calendar virus.
Clicking on iPhone ads poses a risk to your PC's security because the provided hyperlinks may be linked to rogue pornographic websites, fake software download sites, or rogue survey domains. Therefore, even though some slogans positioned among Calendar events seem appealing, do not fall for clicking on them. The most common spam ads are:
Try Apple news + free
Clear Your iPhone from Malicious Attacks
Protect Your iPhone from Possible Malicious Attacks
Free your iPhone from Threats
Get Apple News for FREE
Your iPhone may be exposed to 4 viruses
Click now to secure your iPhone
You are exposed online, click to fix
Virus alert – check protection now
(1) Congratulations – you won!
It's your lucky day
You have (1) pending package
iPhoneXs is ready, pick it up, or choose delivery!
iPhone security pack discount
Hackers might try to take control over your iPhone! CLICK NOW to stay protected.
Some of the sites related to the Calendar virus scam
Notice-iphone.club
Notice-iphone.club is one of the most active addresses that are used to deliver Calendar event spam to victims. In most of the cases, users visit websites of poor reputation that provide some type of useful functionality, such as TV show streaming, online gaming, porn videos, etc. These sites are usually filled with intrusive ads that may pop-up seemingly out of nowhere, just at the time when users tap on their screens. As a result, they start seeing notifications from Notice-iphone.club.
Calendar virus prompts from Notice-iphone.club are geo-location-based so that users might see phishing messages in their native language – this is very typical to ad content. Typically, the content of notifications includes messages from alleged secret lover, threatening messages that claim phone vulnerability,[4] claims about malware infections, etc., so users may see Calendar entries like "Kate sent you (5) pictures," "You are exposed online," "Clear your iPhone from malicious attacks!,"Viruses alert – check protection NOW," etc. As evident, you should remove Notice-iphone.club pop-ups instead of clicking on links inside these scam notifications.
Alert-booster.club
Alert-booster.club is another domain that infiltrates iPhones with intrusive Calendar spam. Just as with other similar scams, intrusion happens either when users accept a calendar invitation via a phishing email or when they accidentally click on a link steaming from a malicious website.
Once the new entry is established, users start receiving Alert-booster.club pop-ups via their phones of various content. In most cases, threat actors behind this scam use fake messages in order to intimidate users and make them download unknown applications, provide personal information by registering to some allegedly useful service, or visit websites of dubious content.
In any case, you should not click on Alert-booster.club pop-up messages that read:
Viruses on your iPhone?! CLEAN THEM NOW
Ensure Your Online Protection, Click Now!
Who wants a Free Apple Music Subscription?
Your Phone is not Protected! Click to protect, etc.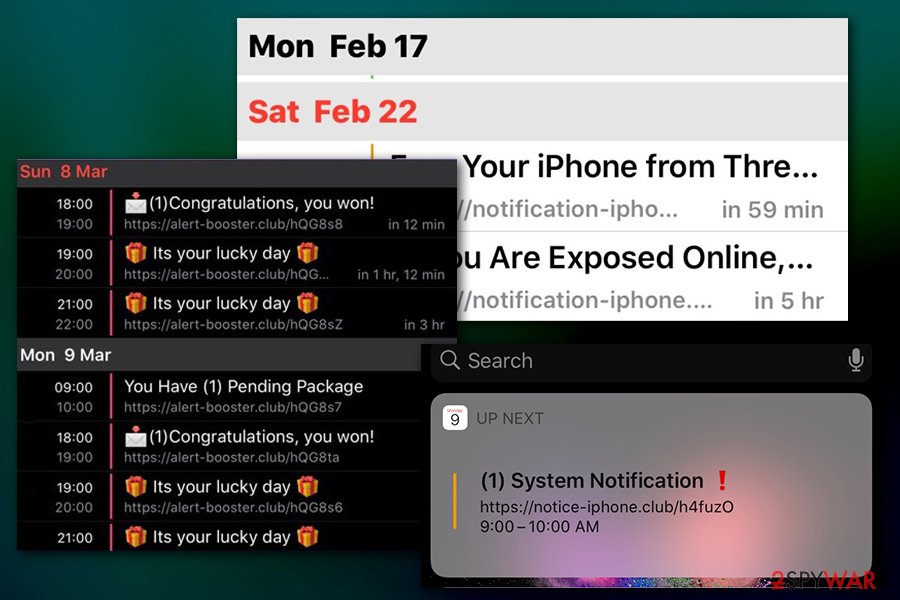 Typically, crooks use domains like Alert-booster.club and Notice-iphone.club to deliver intrusive pop-ups to users
Notices-cleaner.best
Notices Cleaner Best is yet another iPhone Calendar app scam, which may be triggered either by a potentially unwanted program (PUP) on the device or a malicious website that has added calendar events without the user's permission. Also known as notices-cleaner.best, the scam may be used for spreading malware or data extortion campaigns. Notices Cleaner Best scam typically creates a scheduled event saying:
iPhoneXs is ready, pick it up, or choose delivery!
Clicking on the link provided below the notification redirects to a questionable website, which clarifies a supposed reason why you've been selected to participate in a lottery and then asks to fill in the form indicating your name, address, telephone number, and similar information. No matter how seductive Notices Cleaner Best ads may seem, do not submit the required information as you may unconsciously subscribe to useless service or, even worse, get scammed.
Since there is no antivirus software for Macs, experts recommend checking Safari, Google Chrome, or another web browser for unfamiliar add-ons and disabling them. Besides, you can prevent malicious events from being added to the Calendar app by changing Event settings. A full explanation of how to do that is given below.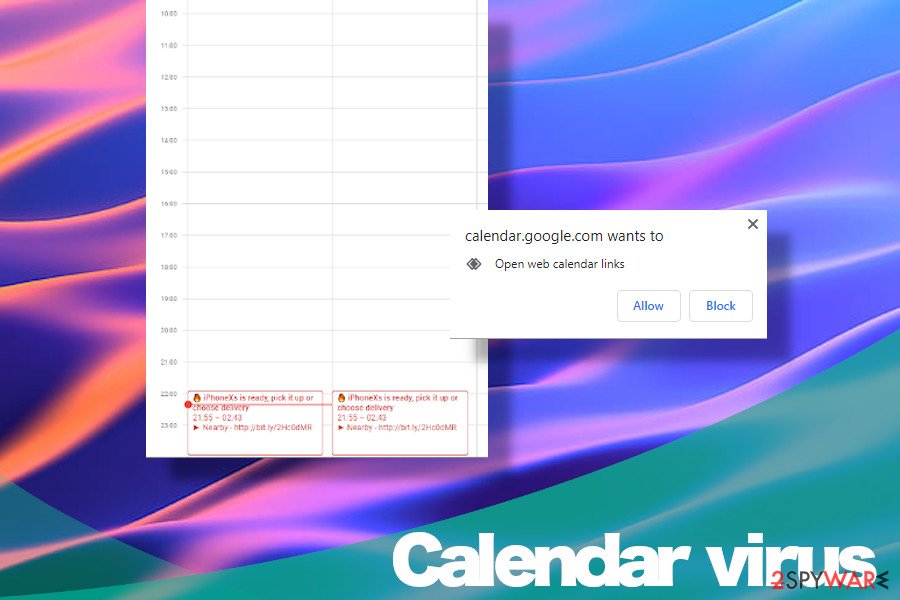 Mobile Apple devices are actively spammed via a Calendar app, which generates fake scheduled events due to malware
Notices-booster.best
The latest Calendar virus has been reported at the beginning of January 2020. Previously referred to as a notices-booster.best virus, the relaunched spam campaign displays misleading Calendar event alerts named as Notices Booser Best, which congrats a potential victim for being a winner of an annual competition and demands to follow the instructions to claim the $1541 worth reward.
Notification №6538 CONGRATULATIONS!
Your e-mail address is the winner of our annual competition! Your prize money is $1541. Follow the instructions on the website to get it (URL address)
The content of the Notices Booser Best scam may vary, though the provided link typically redirects to a bonusmail website, which represents itself as an "International Association of e-mail providers." Clicking on the button "Click on this button to confirm your participation" is the point where people may get tricked in many ways.In any case, do not click on Calendar events related to Notices Booser Best virus as they are used for collecting people's email addresses and subsequently involving them in malspam campaigns and other deceptive activities.
Notices-fixer.best
Notices Fixer Best or notices-fixer.best is yet another misleading Calendar app even notification on mobile Apple devices. According to experts, it's distribution technique does not differ much from its predecessors. Typically the misleading notifications emerge after opening a spam email message that includes an invitation alongside the usual Accept, Decline, or Maybe buttons. It doesn't matter which of the buttons is clicked, malware may be downloaded to the system.
Besides, the sender of the email gets a notification from you as a grant that the email address is active. Consequently, bad actors behind suchlike Calendar virus alerts can leak the targeted email address and keep sending invitations to various events.
If criminals receive permission to add an event to the Calendar app, the intrusive prize giveaways and other hard-to-believe offers start coming out straight from the legitimate app on the iPhone or another device.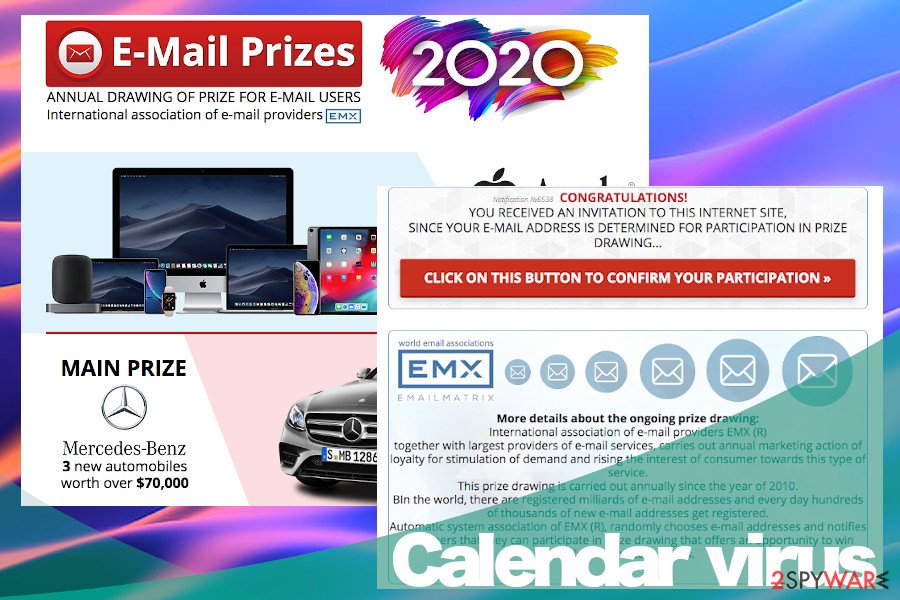 Some of the Calendar app versions trigger redirects to fake websites of a supposed International E-mail Associations
Protection-fix.fun
Protection-fix.fun is the site that meets the general term of the Calendar virus because it shows warnings and pop-up alerts about malware issues or security problems that, in most cases, are not related to the infected machine at all. This is the domain that focuses on the message stating that the iPhone or iPad is not protected.
Of course, the message that shows up in the calendar application and as a pop-up, web browser redirect triggers particular site opening and other pop-ups, traffic reroutes. These claims are false and created to trick people into allowing other site appearance and redirects to shady sites that can promote tools and deliver dangerous or even malicious programs.
Notice-booster.site
Yet another site with deceptive purposes – Notice-booster.site offers to help with virus issues that randomly got detected by the suspicious program. Events on the Calendar application encourages people to allow the program on the system or even purchase the rogue security/ "antivirus" tool. This site can also show commercial content besides those misleading messages, so people risk getting their personal information revealed to third-party or malicious actors.
Your web browsing application gets significantly affected when the particular intruder gets on the device. This type of program can create huge issues and even though it doesn't seem like a big deal, PUPs can damage crucial functions of the computer operating system. The site should be ignored and every redirect avoided. Clicking on any pop-up ad or banner can cause more problems.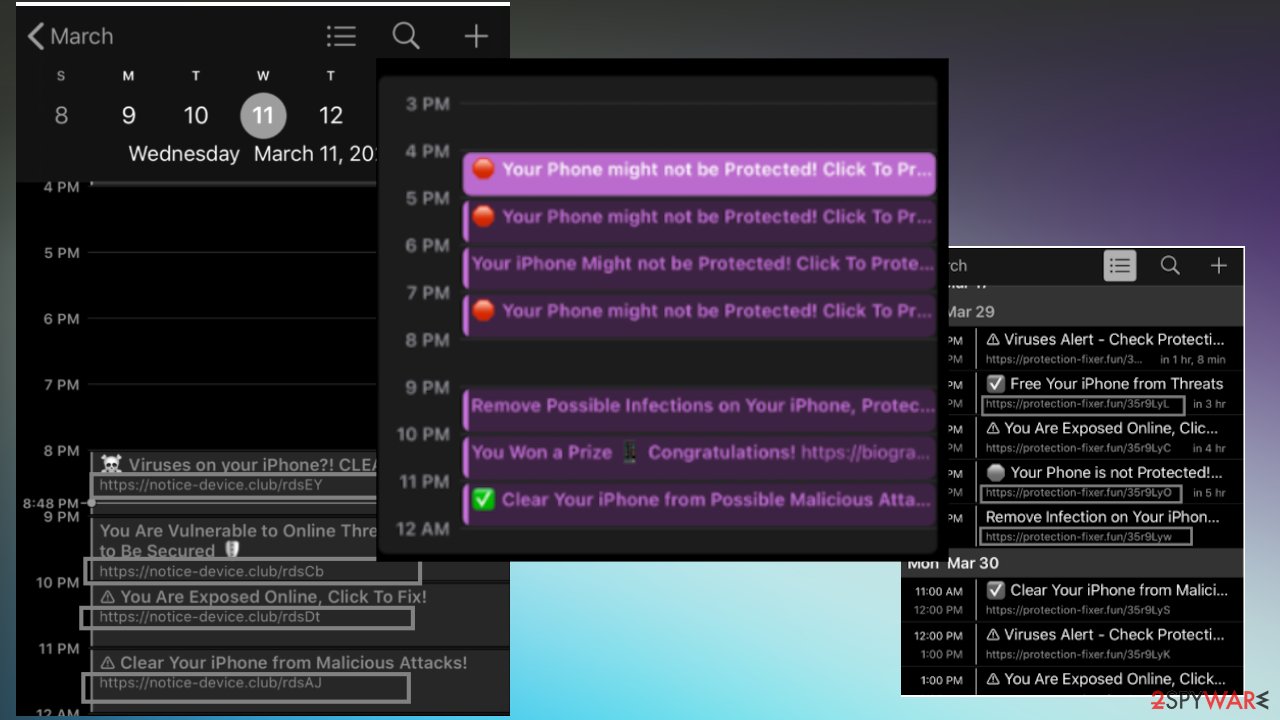 calendar virus versions rely on false claims about system issues and iPhone malware protection.
Notice-device.club
Notice-device.club site appears in the Calendar event message claiming that Your device is vulnerable to online threats, cyber malware, and can get damaged when the user is not taking any actions. Apple devices that this alert shows-up on, in most cases, have no particular issues.
These false alerts all focus on deceptiveness, so the user can be misled to the sponsored page, thrid-party service, and exposed to possibly dangerous content. Even though these alerts and Calendar scam – not malicious, sites that lead to download pages and other rogue domains can trigger malware installations directly on the machine.
Make sure to clear the system properly with tools like SpyHunter 5Combo Cleaner or Malwarebytes, so none of those Calendar virus versions can find the way to serious OS settings and leave virus damage on the machine. If that still happens and the machine gets damaged, rely on ReimageIntego that should find and fix particular parts of the system that need optimization.
Biogrammad.club
Biogrammad is another Apple iOS devices targeting scam campaign that involves interference with calendar applications on mobile devices. It can appear on iPads, iPhones, iPods even. The message that is related to this particular domain states about not protected iPhone and issues regarding malware, cyber infections, or even hardware issues.
It comes on the screen out of nowhere and triggers those entries in the calendar, so people get messages, alerts about the event that is a scammy message instead. These social engineering tactics aim to get users' attention, cause clicks, and page visits on sponsored pages. The particular Biogrammad.club also spreads around by using free application promotions, installations, and shady distributor content.
Moneymsg.com
This browser-based threat appears on various mobile devices and stops the activity with urgent messages that state vulnerabilities, malware issues, and other false claims. This pop-up generates ads and links users to the moneymsg.com site and other shady domains that show nothing but false information or simply redirect to malvertising sites.
You can notice the pop-up on Safari, Chrome browsers, and in your calendar applications. The browsing experience quickly is diminished when the pop-up windows start appearing out of nowhere.
Scammers improve their methods and make their schemes more tricky than ever
Junk email notifications include invitations or additional pop-ups with Accept or Decline buttons. Unfortunately, no matter which button you click they all trigger the same function. In some cases, such deceptive material leads to other push notification redirects, or you encounter direct pop-ups on the desktop from there, install the PUP, or a virus without noticing.
Experts[5] note that this interaction may also be needed for a scammer to make sure that your email address is active and can be targeted more with scammy messages and malware-laced content. You should simply delete the received email that raises questions or is suspicious due to content or the initial sender. This is probably the best way to avoid spam campaigns and exposure to these shady services and online material.
Also, those redirects, sites with false messages about malware infections, other risks, lotteries, prizes, and so on are symptoms of the potentially unwanted program or the adware-type intruder. This application is the one that triggers redirects and the constant appearance of shady websites with questionable content.
PUPs spread around during freeware installations when the person who downloads wanted software chooses recommended or quick options and automatically allows all the intruders to come on the device. You need to choose Advanced or Custom installations and, more importantly, rely on official developers and application providers to avoid this pre-bundling in the first place.
Calendar virus removal options
Since the Calendar virus is the threat affecting various parts of the device it can get pretty dangerous over time. You should clean the machine and eliminate the potentially unwanted program that triggered those unwanted popups or can lead to additional issues with the system. There are tons of domains that trigger redirects to sponsored or affiliated pages and make these spam campaigns happen.
You should go to the Calendar application and tap Calendars at the bottom. You should locate all the suspicious entries and tap the i in the circle to get more information and options. Scroll to the bottom, so you can press Delete Calendar. After that, you may need to block pop-ups on your browsers and clean, additionally installed extensions or tools. To do so, follow the Calendar virus removal guide below.
Remember that when you remove Calendar virus from the machine using manual methods, you still need to run the full system check using an anti-malware program or security tool to make sure that all parts of the suspicious program get cleaned and terminated. Rely on professional tools to avoid additional risks and danger of getting malware installed without even noticing.
TIP: to prevent the spam from reappearing, please follow these steps:
Open your web browser and sign in to your iCloud account.
Open the Calendar section.
Click on the gear icon on the bottom-left corner of the screen.
Select Preferences and then navigate to the Advanced tab.
Find the Invitations section and select Email to [email address].
Click Save to finish.
You may remove virus damage with a help of ReimageIntego. SpyHunter 5Combo Cleaner and Malwarebytes are recommended to detect potentially unwanted programs and viruses with all their files and registry entries that are related to them.
Alternative Software
Different software has a different purpose. If you didn't succeed in fixing corrupted files with Reimage, try running SpyHunter 5.
Alternative Software
Different software has a different purpose. If you didn't succeed in fixing corrupted files with Intego, try running Combo Cleaner.
Getting rid of Calendar virus. Follow these steps
Delete from macOS
If somehow Calendar virus is related to adware or other PUPs, clean the machine to avoid issues
Remove items from Applications folder:
From the menu bar, select Go > Applications.
In the Applications folder, look for all related entries.
Click on the app and drag it to Trash (or right-click and pick Move to Trash)
To fully remove an unwanted app, you need to access Application Support, LaunchAgents, and LaunchDaemons folders and delete relevant files:
Select Go > Go to Folder.
Enter /Library/Application Support and click Go or press Enter.
In the Application Support folder, look for any dubious entries and then delete them.
Now enter /Library/LaunchAgents and /Library/LaunchDaemons folders the same way and terminate all the related .plist files.
Remove from Mozilla Firefox (FF)
Remove dangerous extensions:
Open Mozilla Firefox browser and click on the Menu (three horizontal lines at the top-right of the window).
Select Add-ons.
In here, select unwanted plugin and click Remove.
Reset the homepage:
Click three horizontal lines at the top right corner to open the menu.
Choose Options.
Under Home options, enter your preferred site that will open every time you newly open the Mozilla Firefox.
Clear cookies and site data:
Click Menu and pick Options.
Go to Privacy & Security section.
Scroll down to locate Cookies and Site Data.
Click on Clear Data…
Select Cookies and Site Data, as well as Cached Web Content and press Clear.
Reset Mozilla Firefox
If clearing the browser as explained above did not help, reset Mozilla Firefox:
Open Mozilla Firefox browser and click the Menu.
Go to Help and then choose Troubleshooting Information.
Under Give Firefox a tune up section, click on Refresh Firefox…
Once the pop-up shows up, confirm the action by pressing on Refresh Firefox.
Remove from Google Chrome
Make sure to clear any suspicious installations from your web browsers, so PUPs cannot interfere with your device further
Delete malicious extensions from Google Chrome:
Open Google Chrome, click on the Menu (three vertical dots at the top-right corner) and select More tools > Extensions.
In the newly opened window, you will see all the installed extensions. Uninstall all the suspicious plugins that might be related to the unwanted program by clicking Remove.
Clear cache and web data from Chrome:
Click on Menu and pick Settings.
Under Privacy and security, select Clear browsing data.
Select Browsing history, Cookies and other site data, as well as Cached images and files.
Click Clear data.
Change your homepage:
Click menu and choose Settings.
Look for a suspicious site in the On startup section.
Click on Open a specific or set of pages and click on three dots to find the Remove option.
Reset Google Chrome:
If the previous methods did not help you, reset Google Chrome to eliminate all the unwanted components:
Click on Menu and select Settings.
In the Settings, scroll down and click Advanced.
Scroll down and locate Reset and clean up section.
Now click Restore settings to their original defaults.
Confirm with Reset settings.
Delete from Safari
Remove unwanted extensions from Safari:
Click Safari > Preferences…
In the new window, pick Extensions.
Select the unwanted extension and select Uninstall.
Clear cookies and other website data from Safari:
Click Safari > Clear History…
From the drop-down menu under Clear, pick all history.
Confirm with Clear History.
Reset Safari if the above-mentioned steps did not help you:
Click Safari > Preferences…
Go to Advanced tab.
Tick the Show Develop menu in menu bar.
From the menu bar, click Develop, and then select Empty Caches.
Uninstall from Android
Uninstall unwanted programs from Android device:
Go to Settings -> Apps/Applications.
Expand the full list of the installed apps.
Scroll through the list and tap on a suspicious application once.
Tap on it and select Uninstall.
Reboot the device.
Clear Storage and data files on Android from Google Chrome or other apps:
Go to Settings > Apps/Applications.
Expand the full list of the installed apps.
Tap on Chrome and select Storage & cache.
Clear storage and clear cache of the app.
If you are seeing ads on top of other apps but are not sure what is causing it, perform the following steps:
Go to Apps/Applications.
Tap Advanced.
Select Special App access.
Tap on Display over other apps.
Eliminate apps with these access rights enabled.
After uninstalling this potentially unwanted program (PUP) and fixing each of your web browsers, we recommend you to scan your PC system with a reputable anti-spyware. This will help you to get rid of Calendar registry traces and will also identify related parasites or possible malware infections on your computer. For that you can use our top-rated malware remover: ReimageIntego, SpyHunter 5Combo Cleaner or Malwarebytes.
How to prevent from getting Calendar virus
Choose a proper web browser and improve your safety with a VPN tool
Online spying has got momentum in recent years and people are getting more and more interested in how to protect their privacy online. One of the basic means to add a layer of security – choose the most private and secure web browser. Although web browsers can't grant full privacy protection and security, some of them are much better at sandboxing, HTTPS upgrading, active content blocking, tracking blocking, phishing protection, and similar privacy-oriented features. However, if you want true anonymity, we suggest you employ a powerful Private Internet Access VPN – it can encrypt all the traffic that comes and goes out of your computer, preventing tracking completely.
Lost your files? Use data recovery software
While some files located on any computer are replaceable or useless, others can be extremely valuable. Family photos, work documents, school projects – these are types of files that we don't want to lose. Unfortunately, there are many ways how unexpected data loss can occur: power cuts, Blue Screen of Death errors, hardware failures, crypto-malware attack, or even accidental deletion.
To ensure that all the files remain intact, you should prepare regular data backups. You can choose cloud-based or physical copies you could restore from later in case of a disaster. If your backups were lost as well or you never bothered to prepare any, Data Recovery Pro can be your only hope to retrieve your invaluable files.
About the author
References
Removal guides in other languages