Adware on Google Play Store: what apps you should look out for
With Euro 2016 and Copa America championships on their way, the cyber criminals are not simply going to miss a chance to benefit from the sports fans around the world. A couple of malicious apps deemed as adware have already been released and are successfully infecting the users' devices. In particular, cyber security analysts count four of these suspicious apps which seem to have been created by the same developer but uploaded from different accounts. The cyber criminals are clearly targeting the young audience because all four apps are gaming-based. What is especially concerning, though, is that these applications are distributed on Google Play Store which is commonly known as a legitimate and trustworthy file sharing platform. However, it seems that the cyber criminals have managed to sneak their malicious programs in anyway. This means that if your tablet or smartphone runs on Android operating system, you may be exposed to these risks. So, if you give in to the soccer craze and decide to download some gaming application, you should be very careful not to install an adware virus on your device.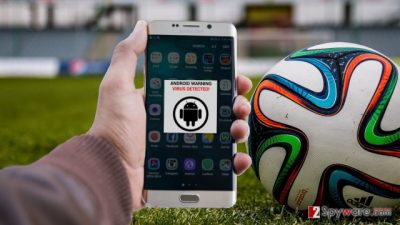 The programs in question are Football 2015, Football 2016 – 2025 and Soccer 2016. There are two variants of the latter, featuring the same name but different icon. All four applications are very poorly reviewed, while the games themselves feel like some poorly-made rip-offs based on the famous FIFA game by Electronic Arts. The games are constantly interrupted by multiple ads as well, so they leave the user with more of an annoyance than enjoyment. On top of it all, the apps also spy on the users and track their data, including IP address, ID of the device, the list of applications, browsing history, etc. Needless to say, you should get rid of such apps immediately and choose some more acknowledged applications instead. Do not let the annoying viruses ruin your championship experience!
About the author