Android OS is now the most popular operating system
When asked what is the most popular OS, you would probably answer –"Windows." According to the latest StatCounter report[1], Windows OS will bathe in glory no more. You are wrong guessing that the position is taken over by Mac or Linux OS. For your surprise (or not), the new celebrity in the cyber space is Android. Due to the rapid increase in the use of smartphones, Android steadily takes over. However, some might wonder, what does this Android victory mean to the virtual community?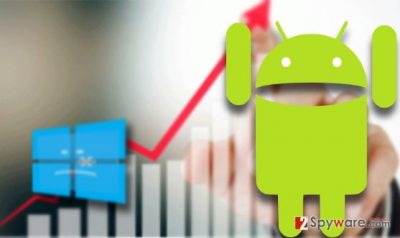 While the news is disappointing for Microsoft, Android OS does not win by a landslide. In fact, Android topped the records only by a one-hundredth: 37,93% over Windows (37,91%). The report identifies three main reasons for such outcome – Asia's role in the global market, deteriorated sales of PCs, and the rising numbers of smartphone users. However, Windows still retains its position when it comes to desktop use. The other share of users opts for using Mac and Linux operating systems. Due to easy manual and affordable price, Android-based smartphones steadily earned users' sympathies. Nonetheless, Android OS still has its obvious limits: low-data processing capacity, inability to use MS Office pack programs fully, etc.
Meanwhile, Android is still lagging miles away from Windows when it comes to security. If the company intends to retain the top position, it must deal with its fatal security flaws[2]. Due to them, it remains an easy target for ransomware developers[3]. Likewise, the virtual community has been already struck with vivid versions of Android ransomware. Crooks, as well as companies of various ilk, seem to take an advantage of the popularity of this operating system. Chinese companies have been again caught in installing malware and spyware in cheap Android devices and shipping them to the US as well as other economically developed countries[4]. The problem is that certain countries are supplied solely by China's production. Furthermore, this operating system is still vulnerable for advertising trojans[5]. Annoying ads are not the only bother. Less attentive users might fail to notice spyware which silently transmits personal data to a remote server. Lastly, not all antivirus utilities have their counterparts compatible with this operating system. As hackers techniques become more elaborate, users should rely more on their vigilance and cautiousness rather than fully depend on cyber security software.
About the author
References