Apple fixed the security flaw used in cyber attack on the 911 system
Last autumn, the 18-year-old living in Arizona became famous for taking advantage of the iOS bug and created a malicious code that forced iPhones repeatedly call 911.[1] Everyone knows that calling the emergency line without no reason is not a joke. Thus, this teenager has been arrested and accused of carrying out a cyber attack.[2] He posted a malicious link on Twitter that has been clicked 117,502 times that initiated numerous hang-up calls to various emergency centers. However, after five months Apple managed to fix this flaw in its iOS 10.3.[3] Therefore, emergency centers across the United States should be relieved as well as iPhone users. At least for a while, there won't be any fake calls to 911.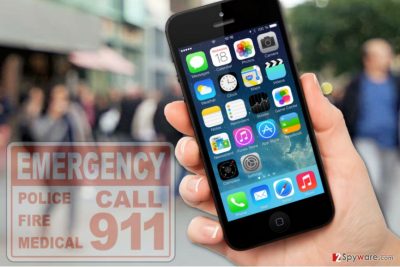 Meetkumar Hiteshbhai Desai, a teenager who is responsible for creating this prank, found the vulnerability in JavaScript and took advantage of the iPhone's feature to call necessary number by simply tapping on it. It wrote a malicious code that triggered various pop-ups and made phone calls to 911. In October 2016, he posted a malicious link on Twitter. Sadly, it was clicked more than hundred thousand times. When people clicked on it, their phones started dialing 911. The problem was that victims of this prank couldn't hang up. The only way to stop the call was to switch off the iPhone. A dozen of emergency centers across the United States has suffered from these calls. For instance, the police department in Surprise, Arizona received more than 100 hang-up calls. Nevertheless, it might look like a childish joke; these calls interfered the normal work in the emergency centers. What is more, these fake calls prevented people from reporting crimes or asking for help.
Desai was not the first one who found the security flaw in Apple iOS. A few years ago another bug was spotted crashing iPhones and making the shut down automatically.[4] What is more, back in 2008 the same phone-auto-dial vulnerability was noticed.[5] Fortunately, security researcher Collin Mulliner reported Apple about it, and it was soon fixed. Thus, hopefully, Apple managed to find and fix all recent security vulnerabilities that might cause problems to users, organizations, and public sector.
About the author
References