Avast: Chrome - the most popular app, Windows 7 - the most used OS
Avast PC Trends Report 2019 is released, the most important facts highlighted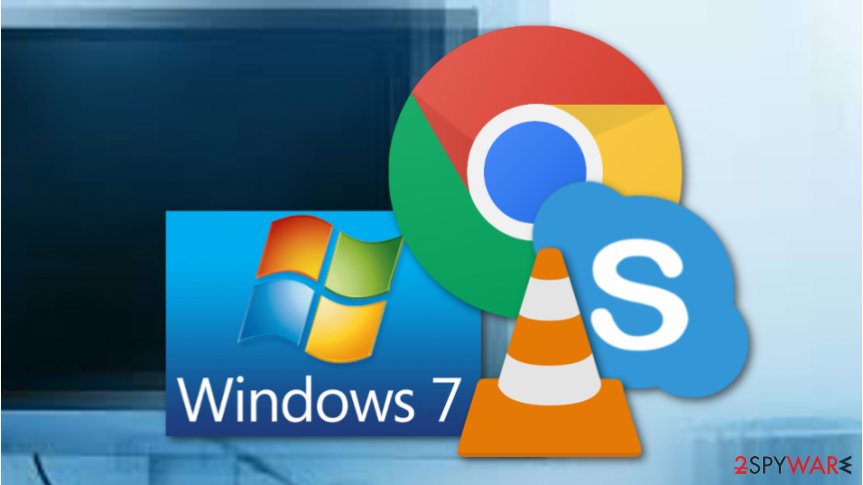 Since the Internet has become natural environment and browsing the web – one of the most common activities for the most of us, it is kind of interesting to know which app was the most used one in 2018 and which type of OS users trusted the most. However, thanks to the PC Trends Report 2019 by Avast,[1] we can also know that users tend to use outdated software – more than half of all PC applications are not updated. In most of the cases, users neglect updates from such apps as Adobe Shockwave, VLC Media Player, and Skype.
Avast reports Google Chrome as the most popular application worldwide
Talking about the most commonly downloaded and installed programs, at the top of the list is our beloved Google Chrome.[2] This web browser seems to be the most used app which installs go up to 91%. In the meanwhile, other web browsers such as Mozilla Firefox have reached only 42%. The Chrome application overtakes even another well-known program called Adobe Acrobat Reader which ranks only 61% and it is 30% less when compared to Google Chrome's rating!
Chrome has been around since 2008, however, it still is very compatible and looks like it is not going down in some upcoming period of time.[3] According to research, the main reason why it is the most popular web browser is that it is very easy to use, even for a low-experienced user. Besides, it provides such features such as quick and comfortable browsing and various helper extensions which work only with Chrome.
Windows OS 7 is still the most used OS. But is it?
According to Avast, the most used OS in 2018 was Windows OS 7. Even though Windows 10 is the newest version of Windows OS, many users still stay with the older 7th version as it seems to be very user-friendly. The rank of this version reached 43% in 2018, while Windows 10 was trying to keep up with its 40%. As we can see, there is just a tiny difference between the usage number of these two versions. Why so?
Well, even though Windows 7 is comfortable, it is not the newest version which means that some of its programs, applications, and services are becoming out of date. For example, computer protection software cannot be updated for this variant anymore which means that the computer system is kept open for various infections and issues. This is the main reason why the usage of Windows 10 increased with time and, in fact, has already taken over Windows 7 in 2019[4] as it provides more safety features.
An interesting fact is that Windows Vista has been the least used Windows operating system (1.3%) between users as it is clearly lacking usability and helpful features which are included in the newer versions.
Many users are still using software that is out-of-date which might provoke system issues
Nevertheless, the most important findings that have been reported by Avast is that more than half of all programs worldwide are out-of-date. According to Avast's report, from the past year until now, the usage of out-dated software and applications has reached 55%. As the company explained, not upgrading your programs and using older versions can cause various trouble:
Not updating applications can cause bugs and incompatibility problems. More importantly, many outdated applications, including frameworks and tools, contain vulnerabilities and for security reasons should be updated immediately. For example, in May 2018 7-ZIP fixed an issue in the RAR extraction logic that could allow a DoS attack or execute harmful code embedded in RAR files.
Adobe Shockwave, Skype and VLC Media Player are the apps programs which updates are mostly neglected. Some users just do not receive messages for recommended updates, others just ignore them. Nevertheless, if you are not forced to update your programs, you should still catch up with Microsoft's posts as the company might be posting all recommended upgrades only on its official website[5] and forums.
About the author
References