Free anti-spyware comparison
Comparison of free spyware removers
Spyware parasites are among the most dangerous and prevalent malicious programs that severely affect our privacy and harm our computers. These threats are like spies that appear in your computer insensibly.
Spyware infections are devastating. Being sloppy in such situations isn't the right thing. Using the Internet without any protection is a suicidal practice.
Nowadays, there are plenty of programs to protect from spyware. Some of them are effective, some can be called corrupt. How to choose the right one?
We provide a summary of the best FREE anti-spyware programs. In the table below you can see the features and capabilities of each program, so you can decide which is the most suitable for you.
However, "free" doesn't mean "best" here. If you want to choose between the most effective and reliable spyware removers, please take a look on the Anti-spyware comparison table.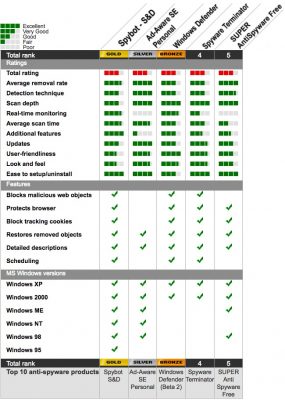 About the author