Did 1,7 million Snapchat users' data leak really take place?
Hacking acquires new shades of meanings. Cyber crooks engage in such activities not only for profit-seeking purposes. Recently, Indian hackers supposedly took revenge on the Snapchat company for the offensive comments about Indian being "poor country"[1] Such notes fueled up felon' rage, and they decided to teach the company a lesson and hack into their servers. India Times[2], Daily Mail and News Week quickly took up the bait and spread the news about the supposed data breach. It also encouraged IT specialists to investigate the case. Interestingly, the results turned out to be slightly different than expected.
Data breach cases involving messaging and video services provider Snapchat was quickly picked up by the media. It is not surprising since data breach indeed took place in 2014. At that time more than 4.6 million Snapchat usernames and phone numbers were leaked[3]. The culprits of such act claimed that their initial intention was not the profit, but rather they wanted to attract attention to obvious and crucial cyber security flaws. The hackers slightly disguised the phone numbers but they easily could have been linked to users' Twitter and Facebook accounts. At that time, Snapchat has received much criticism for indifference to the alerts.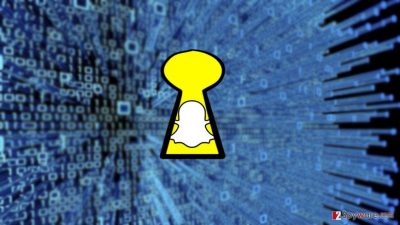 Three years later, the story repeated itself. At least, that what some of the users thought after hearing the recent news. This time, the offender staged the attack not for educational purposes. He got displeased by the supposed comment and claimed to have stolen over 1,7 million users' data. Furthermore, such personal numbers and passwords were supposedly leaked on the dark web. Fortunately for the users of Snapchat, the overall range of the data leak encompassed over 4000 usernames and phone numbers[4]. No passwords were detected. The entire leaked data merely contained the information acquired from the last 2014 data breach hack. Cyber security companies reassured that no actual damage was inflicted upon the community of SnapChat. However, this incident serves as another reminder to reconsider your browsing habits and limit the amount of shared personal information[5]. Picking the right messaging app gains more relevance in the modern cyber space. On the final note, change regularly the password. Avoid using a simple combination of letters. Lastly, before uploading another photo, video or entering personal information, bear in mind the fragile state of cyber security.
About the author
References