Did Yahoo actually help US government to spy on users' emails?
It seems that Yahoo is no longer a trustworthy company, especially if your personal space matters to you. After the infamous Yahoo's data breach, another scandalous event came to the surface, and this one might finally encourage you to delete your Yahoo account. It appears that in 2015, Yahoo Inc silently developed software capable of scanning all incoming emails going into Yahoo users' inboxes. It has been done at the behest of U.S. intelligence, either FBI or NSA. It seems that U.S. government is looking for certain information, so it gave an order to Yahoo, Inc to create software that can detect certain words and phrases in incoming messages, however, it is still unknown what information was U.S. government looking for. All that is known that the software was meant to look for a particular set of characters.
This information has been revealed by three former employees and another source that was familiar with the matter. It appears that Yahoo Chief Executive Marissa Mayer and the General Counsel Ron Bell decided to obey to the directive but what is interesting, that it was meant to be a top-secret operation, so secret that even Yahoo's Security Team did not know what was going on. Due to these events, Chief Information Security Officer Alex Stamos resigned from Yahoo, stating that "he had been left out of a decision that hurt user's security." And it seems that Stamos was right. Now he has a top-security job at Facebook, Inc, and he does not provide any additional comments on this matter.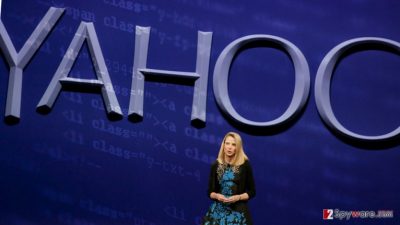 Speaking of comments, Yahoo, Inc seems to be modest, too. The company provided nothing more than one sentence regarding the topic – "Yahoo is a law-abiding company, and complies with the laws of the U.S." However, Google and Microsoft Corp, which are also major email service providers, have also expressed their position and said that they have never been involved in such espionage. The spokesman for Google stated that "We've never received such a request, but if we did, our response would be simple: 'No way.'" Meanwhile, Microsoft spokesperson declined to comment when asked if the company has received a similar request, and stated that the company has "never engaged in the secret scanning of email traffic like what has been reported today about Yahoo."
However, it seems that U.S. government knows how to convince Yahoo to reveal private information, and previous events illustrate that very well. In 2014, Yahoo released 1,500 documents from a failed suit against NSA, exposing U.S. Government's threats to fine the company with 250,000 USD each day it refuses to disclose user data to NSA. Besides, the daily penalty was set to double each week of defiance. According to U.S. laws, intelligence agencies can demand U.S. phone and Internet companies to reveal private information about users to help these organizations for various reasons. However, since the former NSA contractor Edward Snowden leaked classified information about NSA and showed how far U.S. authorities could go, surveillance programs have been scaled back to protect privacy rights. However, it goes without that Yahoo disappointed its users by following directives and not showing any opposition this time.
UPDATED. When the international news company, which was the first to report about data espionage, first asked Yahoo about the matter, they provided a short answer "Yahoo is a law-abiding company, and complies with the laws of the United States." However, just a few hours ago Yahoo has released a public statement claiming that the article is misleading and that Yahoo "narrowly interprets every government request for user data to minimize disclosure," and providing a vague statement that "the mail scanning […] does not exist on our systems." This statement does not strictly deny Reuters' statement that such email-scanning software existed – it only claims that it does not exist now.
About the author