Dropbox finally discloses details about the security breach back in 2012
The year 2012 was especially lucky for the computer hackers. Four years after, we keep finding out about security breaches that took place that year. Major MySpace, Tumblr, and LinkedIn leaks have already been revealed, and this week, DropBox has been officially added to the list. Though the representatives of this cloud storage giant have initially confirmed the event, no additional information was ever announced. Only earlier this week Dropbox admitted that over 68 million (68,680,741 to be precise) users had their login details stolen. Though the hackers were only interested in exposing celebrity nudes? Well, you may have to think again. The evidence shows that Dropbox user records from 2012 are still circling the web. The hackers use "email:password_hash" format to spread this data around. An interesting fact is that hashing of the passwords was split in half. One part of them was hashed with bcrypt, while the for the other SHA1 algorithm was applied.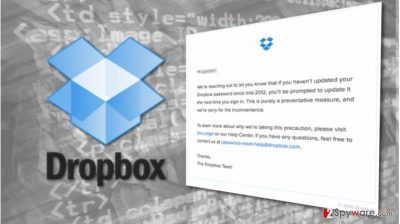 The experts claim that SHA1 algorithms cannot be cracked that easily and that such database is virtually useless. Nevertheless, Dropbox has sent out notifications to all the application users urging them to change their passwords just for the security's sake. On our behalf, we also recommend going through all of your accounts to make sure they all have unique and strong passwords. If you have trouble inventing or remembering a lengthy combination of random numbers, letters, and symbols (a recommended form of a secure password), try using password managing tools. We must also warn you to manage your email very carefully. Although you can change your passwords, the email address you used to log into the app is still freely accessible. There is no guarantee that it will not be used to spam you or try to sneak some malicious software like, for instance, Cerber ransomware on your computer. So stay away from the unfamiliar emails and, most importantly do not downloading suspicious attachments.
About the author