Experts reveal software vulnerability statistics of 2016
The official Heimdal security website has recently posted an important article[1] in which the virus analyst Andra Zaharia is summarizing CVE Details statistics to single out most vulnerable software of 2016. It comes naturally that software vulnerabilities would not be as important if there would not be a large number of hackers waiting to exploit them. So, knowing what tendencies have dominated the cyber crime scene the previous year can also be very helpful in determining what can be expected in the upcoming months. So, be sure to read this article through very carefully and take proper action to prepare your system for the new challenges in 2017.
Heimdal security researcher has categorized the vulnerable software into four main categories: operating systems, mobile operating systems and IoT, web browsers and utilities. Interestingly, within the first category, the biggest market share holders Windows 7 and Windows 10 do not contain most vulnerabilities. It is the Mac OS X that scores highest in the number of vulnerabilities detected. This does not mean that Mac OS X users suffer most malware attacks, though. Sure, as the market share of Apple products grows[2], they are being targeted by malware more often. However, Mac OS X regularly receives updates which ensure that the users are always up-to-date with the latest security requirements. A whole another situation can be observed in the case of Windows XP which is still used by more than 9%[3] of all computer owners but does not receive security updates from Microsoft anymore. This only suggests that the operating system will grow more vulnerable with time. Thus, if you are still using it, we recommend upgrading it to some later Windows versions and do it fast, before some malicious ransomware like Locky or Cerber locks away your files.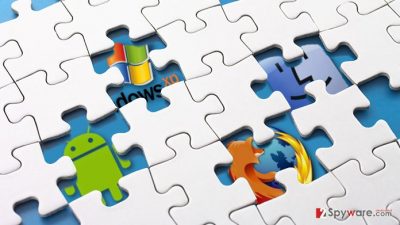 What concerns other the analyzed categories, say mobile and IoT systems, Android OS has been experiencing most vulnerability issues back in 2016. Though Google's bug report program[4] may have added significantly to such results, looking at the Android security reports, it becomes obvious that this operating system is not only the most vulnerable but also most commonly attacked by malware — 97% of all mobile malware has been reportedly detected on Android devices[5]. Such attacks are made easy by the users downloading malware on their smartphones themselves along with corrupt applications such as Mario Run virus or Pokemon Go malware.
An important lesson we should all learn is that any vulnerabilities (regardless whether they are found on operating systems, mobile software or utilities) are dangerous and may put users under a great risk. Under the right circumstances, security flaws may become gateways which allow viruses, worms, Trojans and other malware to steal personal data, phish some sensitive information[6], spy and carry out other activities which may end up in serious privacy infringements or financial loss. To keep on top of your device security, it is crucial to make sure the operating system and the installed software is up-to-date, while the device itself is clean from unnecessary programs and junk files.
About the author
References