Firefox Focus, a Mozilla browser that sets new Web privacy standards
With the raising demand of online privacy, Web developers are simply obliged to step up their game and focus on providing private and secure services that the users can rely on and trust. Firefox Focus, a recent creation of the well-known Mozilla Corporation offers just that. This new web browser is designed and adapted specifically for the users of iOS. Mozilla developers claim to have released this free, handy and fast application in response to the lack of "trust and meaningful controls" the users experience while browsing online. Firefox Focus is now equipped with a bunch of useful features, some of which we will discuss below.
Decluttered design
If you get easily irritated with tabs, menus and all sorts of additional clutter that builds up on the web browsers, you will love Firefox Focus. App developers have applied the minimalist design iOS is well known for and created a clean and simple program that incorporates the powerful functionalities of the best web browsers.
Increased privacy
Despite the innovative and modern interface, it is not the app's design that sounds most appealing. The browser developers offer a top-class privacy-focused features that extend the limits of a regular Internet browsing application. With just a single tap on the "Erase" button located on top-right of the screen, you can clear your iPhone or iPad from all the digital trace that might be left after browsing the Internet, including the history of the visited websites and pages, search queries, passwords, and cookies.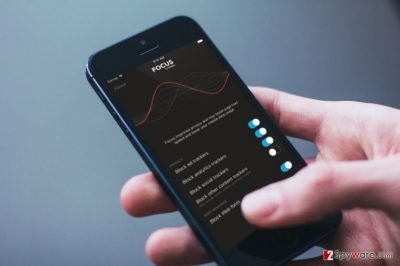 No more tracking
Another major benefit of the Firefox Focus is the ability to control the extent of the online tracking. The application blocks social, analytics and ad trackers (widely used by adware programs such as DNS Unlocker or Offers4U) by default, but you can also adjust the app settings manually and decide for yourself whether you want any of your visited websites to collect and store information about you. An additional advantage of disabling tracking technologies on websites is the increased browsing speed.
Add-free browsing
Probably the most prominent characteristic of this new browser is its focus on online advertising. Firefox Focus enables ad blocking functionality that is similar to one used in the default iOS browser Safari. Though the advertisements will not disappear from your browsing entirely, you will have the ability to set standards for the type of advertising you are being displayed. So, for instance, by blocking the ad trackers, you will not take away the monetization ability from the providers of free and legitimate content.
Firefox Focus is definitely a step towards the new era of Web browsing that gives the users a chance to create an environment that he or she is comfortable with. This application is also a significant addition to the overall Web security, so the users of iOS are lucky to be the firsts to give it a try.
About the author