Football fans might be at risk of FIFA 2018 hacking attack
Russian spies can target football fans and hack their devices during World Cup 2018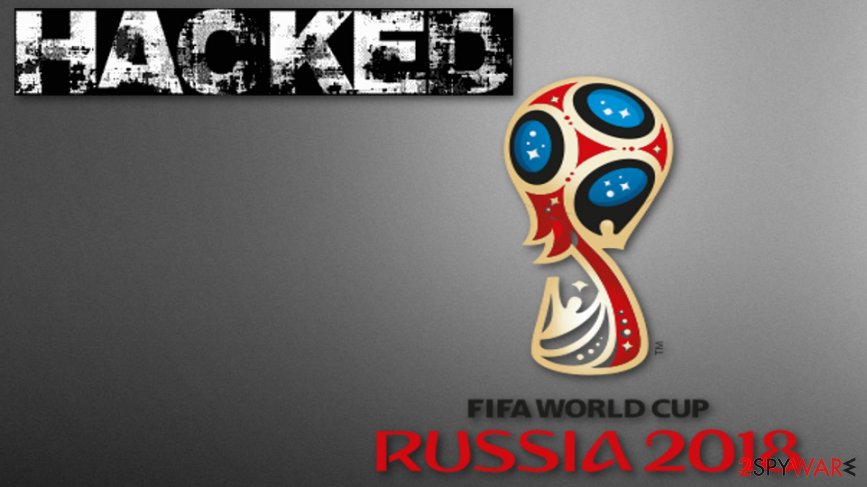 Hackers can target ordinary and not so ordinary people who travel to Russia for the football championship. US intelligence official William Evanina[1] says that people who travel the world to FIFA World cup can bet at high-risk and need to be aware of that. Spy tries to convince people that they need to leave their devices at home if planning on traveling to Russia or at least to remove their batteries when a device is not used.
Anyone traveling to Russia to attend the World Cup should be clear-eyed about the cyber risks involved.
It is believed that people in relation with corporate or government are most at risk, but ordinary people should beware of this too. Moscow's cyber spies might not be this picky. The U.S spy warns people due to the previous Russian hacker attacks, for example, during the American presidential election in 2016[2].
If you're planning on taking a mobile phone, laptop, PDA, or other electronic device with you — make no mistake — any data on those devices (especially your personally identifiable information) may be accessed by the Russian government or cyber criminals.
There is another anonymous source from the U.S that also provides many suspicions towards FIFA World Cup 2018 and Russian hackers. Britain's National Cyber Security Center has also been advised regarding England's football team, which is competing for the World Cup this year.
Russian hackers have already been spotted contemplating
Earlier this year we talked about VPNFilter malware[3] that many cybersecurity experts thought was created to use during FIFA 2018 specifically. Further analysis and reports revealed that malware aims at different routers mainly in Ukraine in order to compromise targeted devices, monitor or replace web traffic or even steal personal information. The attack was revealed by the U.S Justice Department and immediately linked to Russian hacking group.
This router hacking was not the first in Ukraine and not the first strike from that specific Russian hacking group APT28[4] who was responsible for many cyber attacks in Europe. This malware might be linked with the possible hacking Evanina is talking about too, because there were many speculations and allegations that this was a demo version released in May. But the main scam[5] target might be the FIFA 2018 World Cup.
Learn how to protect yourself from scams like this
If you are not planning on going to the championship yourself, you might be contemplating and looking for streaming sites where you can watch the matches. If you are going to watch World Cup on your computer screen, you need to understand that there is a lot of security risks that require precautions.
Most of those streaming sites are illegal and used by cybercriminals. Most likely you would get intrusive advertisements while streaming on these but there might be more malicious campaigns designed to expose football fans to risks. Additionally, they might include cryptocurrency mining scripts and use your computer's CPU while you are watching the match or until your PC burns down due to the overheating.
Besides, you can get deceptive emails about you winning the contest you have not competed in. Or just random earnings from the FIFA or associated companies. If these emails, ads, links demand you to put in any crucial personal information, be aware that this is a scam and this may lead to cyber infections and, possibly, more prominent malware. As always, be aware when browsing online, find more trustful streaming sites and be cautious when clicking on random advertisements.
About the author
References