Football star Avery Moss is another victim of the Fappening 2018
Football star from New York Giants is embarrassed after leaked nudes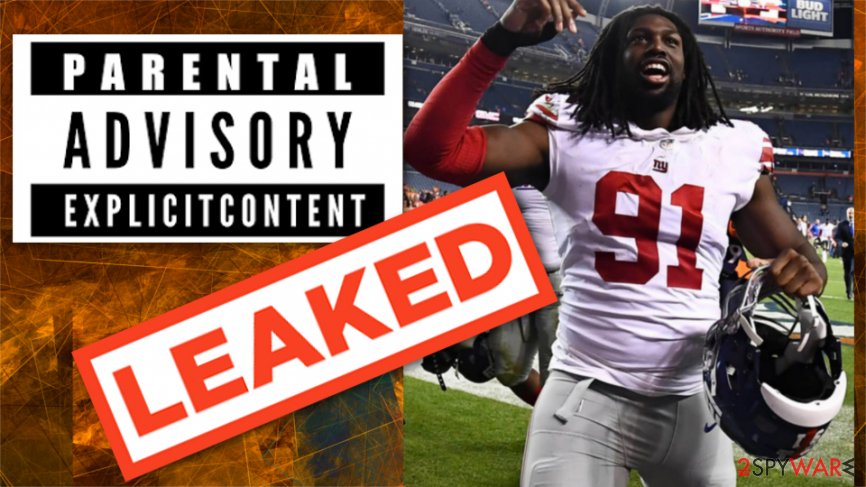 First Monday of June was embarrassing and frustrating for New York Giants defensive end Avery Moss. He became a victim of the Fappening 2018. His social media accounts were hacked, and several X-rated photos and videos got leaked in public. This content was published on Twitter by hackers and remained there for about 30 minutes. Until NFL security[1] stepped in and resolved the problem.
Since my Instagram got hacked guess I gotta learn how to use Twitter now
Avery Moss addressed the issue himself before the weekend and photo leak. So we can see that the attack was planned before and hackers were on to him all along. This hack was not only about social media. Allegedly athlete had the same passwords to many accounts on several services. His email and Venmo[2] account also got hacked.
This was a coincidence, but the player has some history regarding indecent behavior. Moss was charged with indecent exposure in Nebraska, December 2012[3]. Athlete exposed himself to a female that was a student worker. This happened twice inside the convenience store on campus. Avery after the incident was banned from the university in 2014 because he violated restraining order that he had no idea about, as he said. The restraining order was set that he is not allowed to be in the campus dormitory.
My true freshman year, I came in when I was 17, and I got charged with indecent exposure. I got dismissed for going into a dormitory hall that I was banned from for a year. It is what it is.
Not so typical Fappening scandal
Typically the Fappening[4] scandals were related to iCloud accounts. Many celebrity nude photos were leaked because of the security issues. Phishing[5] message scams were the most used tool for these leaks. After gained access to various celebrity accounts, the primary goal was to get those X-rated photos and videos and spread them out to the public. Most of this content was on iCloud for backing purposes or in social media direct messages.
Many celebrities, that got hacked like this, reported these breaches to police, but this is repeatedly happening. It is not known if Moss is going to reach to legal services regarding this scandal or not. Those photos got deleted in a half an hour, but there is no guarantee that this explicit content is not going to appear on other platforms later.
Lack of knowledge about online security might lead to embarrassing situations
Many celebrities got hacked, and various personal information leaked for the public eye. They are all humans and have relationships, own life, but famous people mostly targeted because of their popularity and the value of their personal content. They probably have never thought about this security issue enough. Hackers make good use out of this and probably gained a lot of money from those nude photo scandals. However, this unpleasant situation might happen to anyone who is not famous.
Yet this is avoidable. Firstly, you need to use complicated, long preferably 12 characters. Also, do not use the same password for several accounts. Use specific apps for password generating or combine something close to your heart just in different patterns. Do not share your passwords with others and use two-factor authorization when you can.
About the author
References