Fortnite virus infects 78 000 computers via V-bucks app
Fortnite players fell into a trap by downloading allegedly V-bucks farming app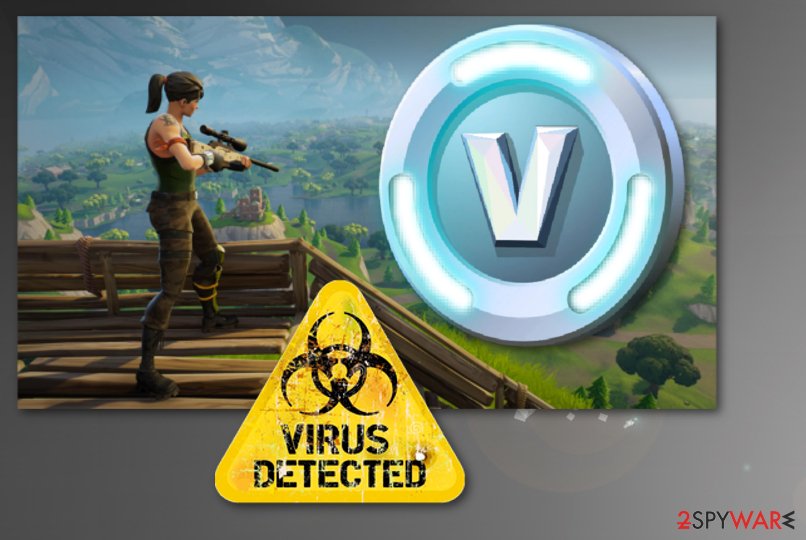 Fortnite players wanted to hack their way up in the game and used an app for free V-bucks[1]. As many as 78,000 players who wanted to cheat their accuracy using aimbot, installed a virus on their devices.
Andrew Sampson from the RainwayApp wrote about this issue in a recent blog post[2]. He noted that game streaming platform Rainware started receiving thousands of error messages, apparently for no reason at all. It was then determined that the connections came from ad-supported platforms, because, originally,  the app does not provide any sponsored content.
Researchers found out that the malicious app delivered Man-in-the-Middle attack[3]. This activity altered requests on the webpage of users' PC by adding tags for ad service Adtelligent. 
After the filed abuse report the app in question was removed. Nevertheless, thousands of users have already downloaded malicious payload and compromised their devices.
Unfortunately, the ad service website linked to this scam Adtelligent did not answer when contacted by the streaming service providers. Nevertheless, the company warned users and increased platform security to prevent attacks in the future. Rainway CEO Andres Sampson wrote in his blog post:
:
An excellent personal security tip is that if something is too good to be true, you're probably going to need to reformat your PC. It is hard to outright prevent people from being malicious, but that doesn't mean its hard to prevent spread.
The whole issue started with the YouTube video that claimed to offer freely generated units of V-bucks currency used in Fortnite. Rainway researchers initially thought that the problem is the streaming platform itself. It was later confirmed that all infected users had one thing in common – they were all Fortnite players. Sampson concluded with the following:
We finally found a match in a hack claiming to allow players to generate free V-Bucks and use an aimbot, two birds with one stone, how could someone resist?
Not the first time Fortnite videos on Youtube blamed for spreading viruses 
Malicious actors used Fortnite's popularity to their advantage for a while now. Earlier it was discovered that cybercriminals used YouTube to generate ad revenue or tricked users into trying to download a fake version of Fortnite for Android[4] while it is still not released. People can believe and download whatever they find in the description of a video.
In another case, there was malware that enabled cybercriminals to secretly control applications on mobile devices and send text messages to premium rate phone numbers[5]. 
Other reports have stated that there are fake Fortnite apps which contain various spyware. These infections might be capable of harvesting people's information and deleting data from computers. According to researchers, only the Fortnite game is this widely used by cybercriminals:
It is unique right now for Fortnite because of the hype around this popular game and the anticipation of an official announcement of a legitimate app 
The biggest video game of this year popular in a cyber world
Fortnite[6] becoming more of a cultural phenomenon throughout this year. This is why so many cyber attacks, scams, and viruses are linked to the video game. This popularity urges cybercrooks to take the opportunity as a chance to gain free money.
Since Minecraft, no other game could rise this high that fast. What makes this video game so popular worldwide?
Fortnite has hundreds of exciting narratives, although it is not the first in Battle Royale genre – gamers were recently attracted to – still popular – PlayerUnknown's Battlegrounds game. However, Epic Games took a new approach to the game, and they added multiple functions to the game that were not available before, which urged users to experiment, explore and… reach Victory Royale.
Fortnight success also lies in the social aspect of the game. Memes, inside jokes and similar, urges players to play together while having fun. This makes history in the gaming and social world. 
About the author
References