Google Play store reviews and ratings might trick you into downloading malware!
Let's say, you got bored of your old app gallery and wanted to spice up your Android experience with some new, exciting applications. The first place you turn to is probably the Google Play store. This software distribution platform contains thousands of different programs you can purchase or download on your device for free. Apart from the well-known Facebook Messenger, Whatsapp or Google Maps, there are numerous smaller companies that offer using their products as well. Frankly, there is probably an app for everyone. But are they all worthy of installing? Definitely not. Recently, we have spoken about fake Prisma and Pokemon Go applications circling the Google Play store. The hackers have taken advantage of the popularity and the established name of these programs and created deceptive applications with the sole purpose of making profit. The question is, how do you differentiate between the legitimate and shady software then?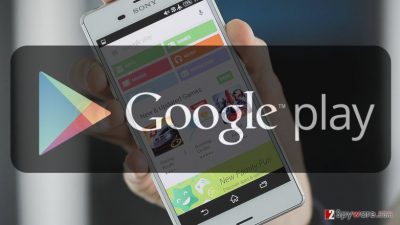 The Android users claim to know the key to downloading safe applications. All you have to do is look for the highest-rated and best-reviewed software. Sadly, it's not all that simple. Though this community feedback system looks ingenious, it isn't flawless. For instance, low-rated applications do not necessarily have to be malicious. Perhaps this program is just newly uploaded. Besides, the ratings themselves can also be rigged. This is mostly a nasty work of Android Trojans. For instance, the Guerilla Trojan is specifically designed to target the users' Google Play credentials, so that it can later connect to this platform on their behalf and download, purchase, review and rate various apps. Consequently, the shady applications can accumulate quite a moderate rating and create an impression of being reliable.
To be more confident while downloading new software on your device, take these aspects into consideration:
Try remaining on the "safe path" and look for applications that are submitted by trusted developers. On the platform, they will be indicated by a blue diamond icon. If you are in doubt, you can always check the feedback online.
Talking about the feedback, you should always read through the app reviews on Google Play store. Usually, the reviews generated by Trojans are very obscure, for instance, "Very good", "Works perfectly", "The best app", etc. Thus, we recommend looking for longer, more in-depth software evaluations which could also help you decide whether the software is worth downloading or not.
About the author