Hackers leaked "Pirates Of The Caribbean 5" on Torrent sites
Online piracy became an issue in the digital world as soon as first file-sharing programs became available on World Wide Web. Nowadays, it's easy to find, watch or download latest movies or TV shows for free. While film studios, lawyers, and creatives are looking for solutions how to stop such crimes, cyber criminals found new ways how to cause problems to the movie industry. Recently, the group of hackers, known as The Dark Overlord, attacked the Disney. When first rumors about the attack appeared, it was speculating that it was either the fifth movie from Pirates Of The Caribbean series or Cars 3. Today this guessing game probably came to an end. On Wednesday, May 17th, Pirates Of The Caribbean 5: Dead Men Tell No Tales has been noticed on The Pirate Bay.[1] However, the torrent links were quickly taken down,[2] and there's no chance to watch the movie before the official premier which is in less than two weeks. Well, it's expected that shortly we will see copies of the film on torrent sites again.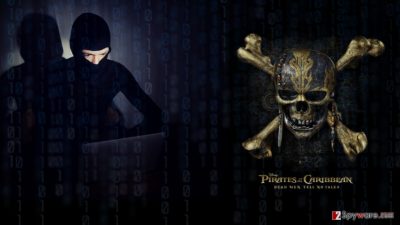 A few days ago, the first announcements about the cyber attack to Disney started showing up. The head of the company Bob Iger did not reveal to media which movie was stolen. However, the assumptions that it was the fifth part of Pirates Of The Caribbean series were made quickly, and it seems, they were true. Iger also did not tell how much money cyber criminals were asking to pay. However, it is already known that hackers threatened to upload parts of the film if Disney doesn't pay the ransom until May 26. According to Deadline's information,[3] hackers were planning to release five minutes of the movie first. If it does not scare the company and they still avoid paying the ransom, they will start uploading 20-minute length parts of the film.[4] It seems that movie company is not afraid of blackmailing. Instead of following hackers' orders, they began working with FBI and launched the investigation.
When information about the hack hit the headlines, some rumors speculated that it's a fake issue. The lack of accurate information and mysterious details made people believe that it's a marketing strategy to promote the movie. However, judging from the latest cyber news, it might be much worse than quite harsh PR move. We haven't forgotten what had just happened to the Orange Is The New Black. The fifth season of Netflix series was leaked online when the company refused to pay the ransom. It seems that The Dark Overlord gang decided to launch more attacks to blackmail entertainment industry. Hackers are also accused of stealing several HBO series, Fox's New Girl, and more.[5]
About the author
References