Issues on Mac and Windows OS? No problem! UGetFix can now help to fix them easily
UGetFix is a we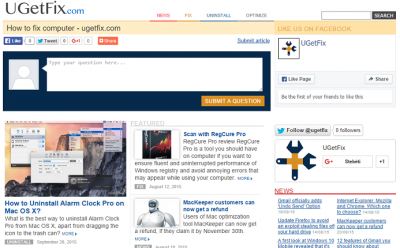 bsite that has recently been released and is managed by the team of 2-spyware. For many years, our team has been interested in and dealing with computer viruses (adwares, browser hijackers, malware, spyware, keyloggers, ransomwares, rogue anti-spywares, etc.). While the aforementioned computer threats are causing the majority of the problems that prevent users from using computers and browsing the net normally, the emergence of AskIt feature in 2-spyware revealed that people quite frequently need help with such seemingly simple tasks as software removal too. Therefore, we have stored the questions unrelated to viruses, divided them into several categories, come up with the most frequent technical issues that people face when using computers, and started explaining how to deal with them on UGetFix.
UGetFix is oriented to both Mac and Windows OS users. It has been revealed that a wide array of free applications that may improve browsing experience, ease some tasks or simply give pleasure, has caught users into the vicious circle of install-remove-install programs. Since it is very difficult to find a program that would meet the expectations completely, people keep installing and removing new apps every day. However, the problem is that the vast majority of computer users still believe that removing programs is as easy as installing them. Unfortunately, removal requires both time and effort because a complicated database of registries has to be checked and all related files removed as well. Be honest, do you uninstall programs in a proper way? Probably not. The consequences of inappropriate software uninstalling may vary. They may range from irritating system pop-up alerts, boot problems, slowdowns, crashes, lack of RAM and disk storage, and so on. That's why the number of the help requests asking how to remove certain applications on Windows or Macs has increased.
In addition, the database of UGetFix website also contain lots of articles explaining how to fix .dll / .exe file errors. In this case, we are specifically dealing with Windows OS because it consists of thousands of executable files that are capable of being executed or run as a program in Microsoft DOS or Windows. As soon as one of the .exe or .dll files is damaged or corrupted, people may start receiving an error message, which should be considered as a serious warning that Windows system needs optimization. Articles in UGetFix website explain in great details what triggers such errors and provides a comprehensive explanation how they should be fixed.
Finally, our security experts have carefully analyzed what kind of software is offered for optimizing both Windows and Mac OS. They have distinguished the ones that are most appreciated all around the world and provided with the links to reliable download sources. Note that all recommended software is free to download. In addition, for those who are not keen on using additional software, UGetFix will explain how to uninstall programs or fix errors manually. All in all, if you face any difficulties with your Mac or Windows OS, try visiting UGetFix.com for a solution. If you cannot find a relevant topic, you can always use AskIt feature and raise a heated issue to the surface!
About the author
Read in other languages