Menace descends upon Apple users: malware assaults through DDoS attacks
Computer gearheads have shifted their attention to a new target – Apple users. The newly detected malware features DDoS (distributed-denial-of-service) attacks to paralyze Mac OS users' computers. Specifically, countless email dialogue windows open up simultaneously. The virus targets only Safari and iTunes. Others applications seem to be unaffected. The surge of these attacks against Mac OS users sparks questions about the motives of these assaults.
Hackers' attempts to hack users of this brand are not a novelty. Some crooks have already found ways how to terrorize the victims. They even devised a technique to turn the computers into spying tools [1]. The activity of Windows-based file-encrypting threats ignited felons' to device a crypto-malware menace for Apple users as well. The introduction of the first-ever Mac ransomware last year served as a wake-up call for the users [2].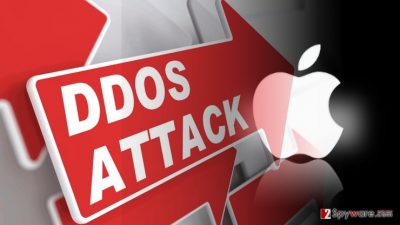 Elaborating on the specifications of this cyber assault, the current DDoS attack generates multiple email dialogue windows to flood a Mac computer. The series of inquiries overfill computer memory which results in the ceased PC performance. Reappearing email windows contain notices "Warning! Virus Detected!" alarm netizens even more [3]. Interestingly, this behavior is relevant for Safari browser. The scam is suspected to have been activated due to a significant flaw in the mentioned browser. Furthermore, the other application, iTunes, has been reported for similar behavior as well. The alerts also include a fake tech support number which discloses cyber criminals' intentions [4]. Speaking of the distribution, the very scam is said to have occurred when users visit a corrupted website. However, the title of the domain has not been detected yet.
Questioning the causes of such increase in the virtual attacks on Apple users, one might come up with several theories. One of them is that crooks shifted their direction to find new ways of profit-making. But why have such attacks been delivered now? Who or that stands behind these cyber assaults? Are these attacks only a smaller part of the bigger cyber project? These and many more questions remain unanswered. Meanwhile, users should be preoccupied with finding ways to stay secure online [5].
About the author
References