Patch Tuesday is back: 18 security updates from Microsoft
After two months break,[1] the Patch Tuesday is back and even bigger than expected. Microsoft released 18 bulletins that include important and critical security updates.[2] Almost 150 updates are designed to fix vulnerabilities in various Microsoft products, such as Internet Explorer and Edge web browsers, Microsoft Office, Adobe Flash Player, and other Windows services. The biggest attention is devoted to the critical updates that resolve issues that might allow cyber criminals to use remote code execution (RCE)[3] in order to get administrative rights to the computer. What is interesting, that other vendors have already disclosed some of these vulnerabilities.[4] Though, Microsoft deserves some compliments for acting quickly and solving these issues with their products.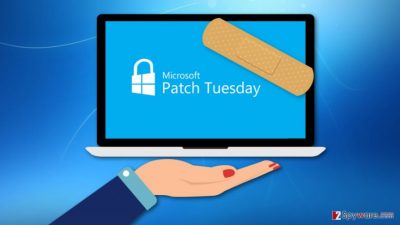 The biggest attention is dedicated to four critical bulletins – MS17-006, MS17-007, MS17-012, and MS17-013. Cumulative security updates for Internet Explorer (MS17-006) and Microsoft Edge (MS17-007) resolves the issue with remote code execution (RCE). Using these vulnerabilities, cyber criminals could get administrative access to the computer. This problem might arise any time when user visits infected or crafted website with the outdated web browser. Thus, users should update these browsers immediately in order to avoid possible damage. What is more, these two browsers have built-in Adobe Flash Player, and the attackers often use this application for their dirty job. However, Microsoft also released a critical update for the Adobe Flash Player (MS17-023) to fix vulnerabilities in this product.
Windows operating system had many flaws and issues with security. Thus, in order to make OS safer, Microsoft released a security update for Microsoft Windows (MS17-012). Using flaws in Windows operating system cyber criminals might get full access to the attacked computer by using particular malicious applications that allow connecting to an iSNS Server. The company also identified and fixed vulnerabilities in Microsoft Graphics Component (MS17-013). This bulletin resolves issues in Microsoft Windows, Microsoft Office, Skype for Business, Microsoft Lync, and Microsoft Silverlight. Vulnerabilities might also allow remote code execution for the cyber criminals in several ways. For instance, when a user visits a malicious website or opens an infected document, the attackers might get access to the computer. What is more, Microsoft also released a security update for Microsoft Office (MS17-014). Nevertheless, this bulletin is marked as "important" it still can allow attackers to access remote code execution. Hopefully, this patch will make ransomware distribution more complicated. Developers of the file-encrypting viruses often use crafted Word documents to install and activate malware executable.
Patch Tuesday[5] is an unofficial name for the monthly update release from Microsoft. The company releases patches for their software on the second (or forth) Tuesday each month since 2003. However, on February 2017, Microsoft delayed the release for the first time. Thus, the March patch was expected to be huge and surpassed the expectations. Microsoft users are encouraged to install latest updates immediately. Outdated software might lead to malware or virus attacks and cause lots of problems from data loss to identity theft.
About the author
References